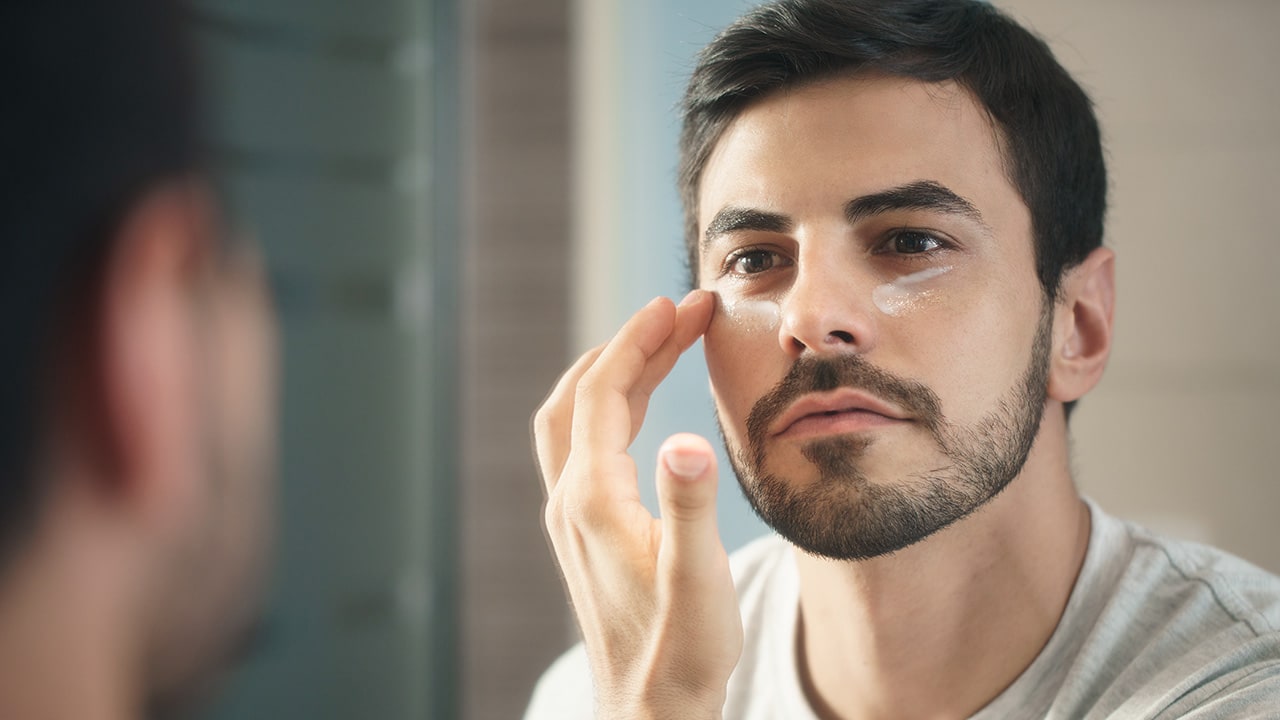 skin care concerns
8 Mistakes To Avoid Making With Your Eye Cream
Eye cream happens to be one of our favorite skin care products and with face masks making eyes a big focus these days, it's more necessary than ever. If you have dark circles, puffiness, or crow's feet, using an eye cream as part of your daily beauty regimen may help reduce the appearance of your under-eye concerns. But, whether you're an eye cream novice or an early adopter, there's a chance you could be making some common mistakes with how you use (or don't use) this essential skin care product. Below, find out how to correct your eye cream errors so that you can incorporate this important product into your skin care routine the right way.
Eye Cream Mistake #1: Using Too Much Of It
Keep in mind that the skin surrounding your eyes is quite a small area. Generally, a pea-sized amount of eye cream should be enough to cover the skin under both eyes. And, when it comes to eye treatments and creams, most come at a higher price point than other beauty products, so this way you'll also get the most bang for your buck. If you're looking for a product that can multitask, try using the L'Oréal Paris Age Perfect Eye Renewal Cream. Its formula is infused with an antioxidant, and it works to target five signs of aging ranging from dark circles to smoothening the look of crepiness.
Eye Cream Mistake #2: Applying It Out Of Order
Whether or not you realize it, the order you apply all of your skin care products matters. One easy rule to keep in mind is that usually, you should apply products based on thickness. If your eye cream is richer and heavier than your moisturizer, it should go on top. If it's lighter than your serum, make sure it goes under your moisturizer. Of course, always check the instructions on your eye cream's packaging to see what the cosmetic chemists who formulated the product advise.
Eye Cream Mistake #3: Using It On Dry Skin
This is another pro-tip that not enough people realize: If you want to get the most out of your eye cream, you should apply it to damp skin. That's because applying a cream to wet or damp skin can help lock in hydration, keeping it soft and moisturized. So, before dabbing your face with a towel after you wash it, tap the eye cream onto the skin under your eyes while your face is still damp.
Eye Cream Mistake #4: Putting Product Too Close To Your Eyes
If you're applying product to your eyelids or near your lashes, that's too close. Simply dot the product along the orbital bone, right under your eyebrow, and under your eyes in a semi-circle shape about half an inch below your lash line. When you apply eye cream any closer, you risk it migrating and getting into your eyes, which can burn and lead to irritation.
Eye Cream Mistake #5: Harsh Application
The skin surrounding the eyes is the most delicate skin on your face, so there's no reason to handle it roughly. Instead, blend the eye cream out with your ring finger by using gentle patting and tapping motions. The ring finger has a more delicate touch compared to your other fingers. Another option to ensure a gentle application is by using a wand applicator. The L'Oréal Paris Age Perfect Hydra Nutrition Manuka Honey Eye Gel has a rollerball wand applicator that helps de-puff and can be used as part of a delightful facial massage. Yes, please!
Eye Cream Mistake #6: Moving Too Fast
Give your eye cream a little time to settle in before moving on to makeup and applying foundation or concealer on top. This can help ensure the product has time to absorb and keep it from shifting when you layer on other products.
Editor's Tip:
If you're in a hurry and don't have time to wait for your eye cream to dry before applying makeup every day, try the L'Oréal Paris True Match Eye Cream In A Concealer. It's a multi-tasking product that will save you time in the mornings and leave you with instant dark circle coverage. Its formula also includes 0.5 percent of pure hyaluronic acid, which will help keep your eyes hydrated for 24 hours.
Eye Cream Mistake #7: Skipping It In The Morning
Just as you should cleanse your skin and moisturize twice a day, you should also apply your eye cream morning and night. Looking for a recommendation? L'Oréal Paris Eye Defense is a light, non-greasy gel-cream that is formulated to defend against signs of premature aging around the eyes. Its formula includes caffeine and hyaluronic acid, which can help reduce the look of puffiness, fine lines, and dark circles. Be sure to massage it gently around your eye area until thoroughly absorbed in the AM and PM.
Eye Cream Mistake #8: Not Paying Attention to Your Specific Concerns
It's important to note that eye creams are formulated to treat different concerns, so you'll want to find one that will work for your skin's specific's needs. If your biggest concern is dark circles, use a cream that will help brighten your under eye area. Check out Our Best Eye Creams for Dark Circles Under the Eyes. Got wrinkles? The L'Oréal Paris RevitaLift Triple Power Eye Treatment can reduce the look of wrinkles and under-eye bags with continued use over time. Even if wrinkles and dark circles aren't your main concern, you should still be using an eye cream regularly to keep your under eye skin hydrated.
Next: 3 Reasons Why You Should Start Wearing Eye Cream Today
Discover more tips & tricks
Keep your skin happy
See all articles
Shop Featured Skin Care products
Discover More