makeup trends
How to Spring Clean Your Makeup Collection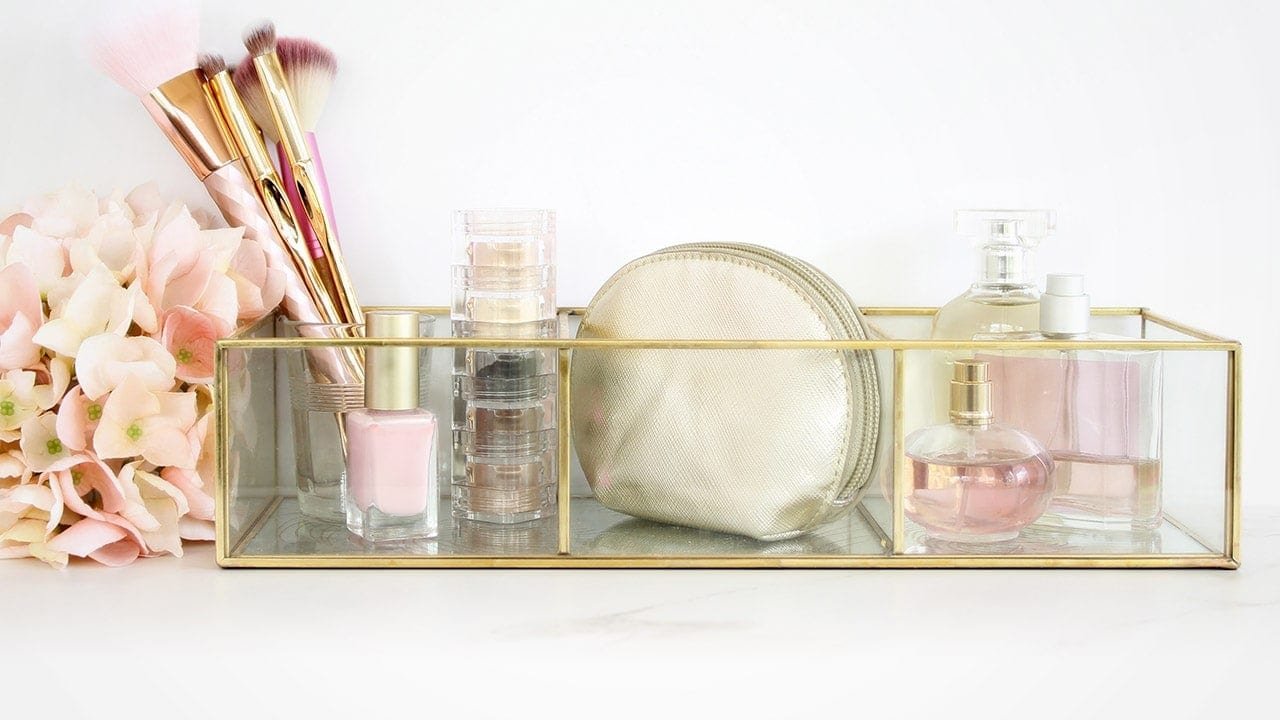 It's that time of year again—spring! The flowers are beginning to bloom and you can finally trade in your winter coats and boots for flats and sundresses. Another, not as fun, task that spring brings, however, is spring cleaning. But with the right tips and tricks, spring cleaning can actually be very gratifying—we promise! While you might think the term spring cleaning refers to getting your house in order, we'd implore you to consider using this time to freshen up your makeup collection, too. Let's face it: You almost certainly have old, broken blush compacts and dried-up mascara lingering in your makeup bag, which likely won't ever be used again. Don't you think it's time to give those up? If you're on board, here's how to spring clean your makeup collection in six easy steps.
STEP 1: GROUP LIKE ITEMS TOGETHER
First off, you'll want to take everything out of its place—everything! While this will make a big mess in the moment, it will allow you to really see what you have. Once all of your products are laid out, start splitting everything into groups of like items. Put all of your lipstick in one pile, all the foundation in another pile, and so on. It may seem tedious, but this step will allow you to see which products you have the most of. You might not realize how many old eyeliners you've been hoarding, for example. Once you've got everything separated into groups, move on to the second step.
STEP 2: OUT WITH THE OLD
You might not realize it, but just like food, makeup has a shelf life! That foundation you've been holding onto for two years? It's definitely time to part ways. During this step, take a minute to mentally and visually run through your entire collection and pick out any old, outdated products that you no longer use or need, or are simply past their prime. If you aren't sure whether a product needs to go, look at the bottom of its package. There should be a small symbol—a jar with a number inside—denoting how long the product is meant to be kept for.
STEP 3: WIPE EVERYTHING DOWN—INCLUDING YOUR MAKEUP BAG AND MEDICINE CABINET
Spring cleaning may seem like it's really all about organizing, but it's also the perfect time for a good deep clean. While your makeup bag and medicine cabinet are free of products, use it as an opportunity to wipe them down. Even if you fancy yourself a pretty clean person, there's sure to be a bit of makeup grime that's built up since your last big cleaning session. During this step, grab a wet washcloth, paper towel, or disinfectant wipe and clean everything off. That includes the shelves in your medicine cabinet and the inside of your makeup bag or whatever storage compartments you use to house your makeup collection, as well as the packaging of your products. We bet you'll be surprised at how much makeup residue, such as eye shadow dust and broken powder fragments, you'll wipe away.
STEP 4: ORGANIZE BY PRODUCT TYPE OR SIZE
Now that you've decided which products to keep and you've dusted and wiped them down until they're all as good as new, it's time to reorganize them. One way to do this is by product type and size. Since products of the same type are usually similar in size, these two organizing methods go hand in hand. We recommend keeping eye makeup together, face makeup together, and lip makeup together. It can also be a good idea to organize a separate section with just your go-to, everyday products.
STEP 5: IF SPACE IS AN ISSUE, RE-STOCK YOUR COLLECTION WITH MULTI-USE PRODUCTS
If you're looking to save a bit of space, consider replacing the products you're tossing with multi-use makeup products. For example, instead of repurchasing a dozen different single eyeshadows, invest in an eyeshadow palette, such as the L'Oréal Paris Paradise Enchanted Scented Eyeshadow Palette. Similarly, rather than having a bunch of different color-correctors, use a color-correcting palette, like the L'Oréal Paris Infallible Total Cover Color Correcting Kit. Once you start looking for them, the multi-use makeup product options are endless—and they will certainly free up some space in your makeup bag.
STEP 6: CLEAN YOUR BRUSHES
You should really be doing this step every other week, if possible, but since we're talking about spring cleaning, it's a good time for a refresher course on how to clean your makeup brushes and blenders and why it's so important to do so. Cleaning your beauty tools regularly is a must because not only will dirty tools not work as well when it comes to applying your makeup, but they can harbor bacteria if not cleaned properly and frequently. When you're using unclean makeup brushes and blenders on your complexion, you could be spreading bad bacteria all over your face. Of course, this will only lead to bad things, i.e., breakouts. Instead, take a couple of minutes each week to clean your tool arsenal. Simply use warm water and a bit of soap on all of the makeup brushes, blenders, and other tools you've used over the course of the last week. A gentle facial cleanser or shampoo will do the job, too. Once they're clean, lay them out on a paper towel to dry—storing them upright while they're wet can ruin the brush handles.
Once you've made it through these six steps your makeup collection should officially be in order! Now, you can move on to spring cleaning your skin care products or prepping for spring break. If you're opting for the latter, why not check out our article on How to Pack Your Makeup When You Travel?
Discover more tips & tricks
Keep your skin happy
See all articles
Shop Featured Makeup products
Discover More