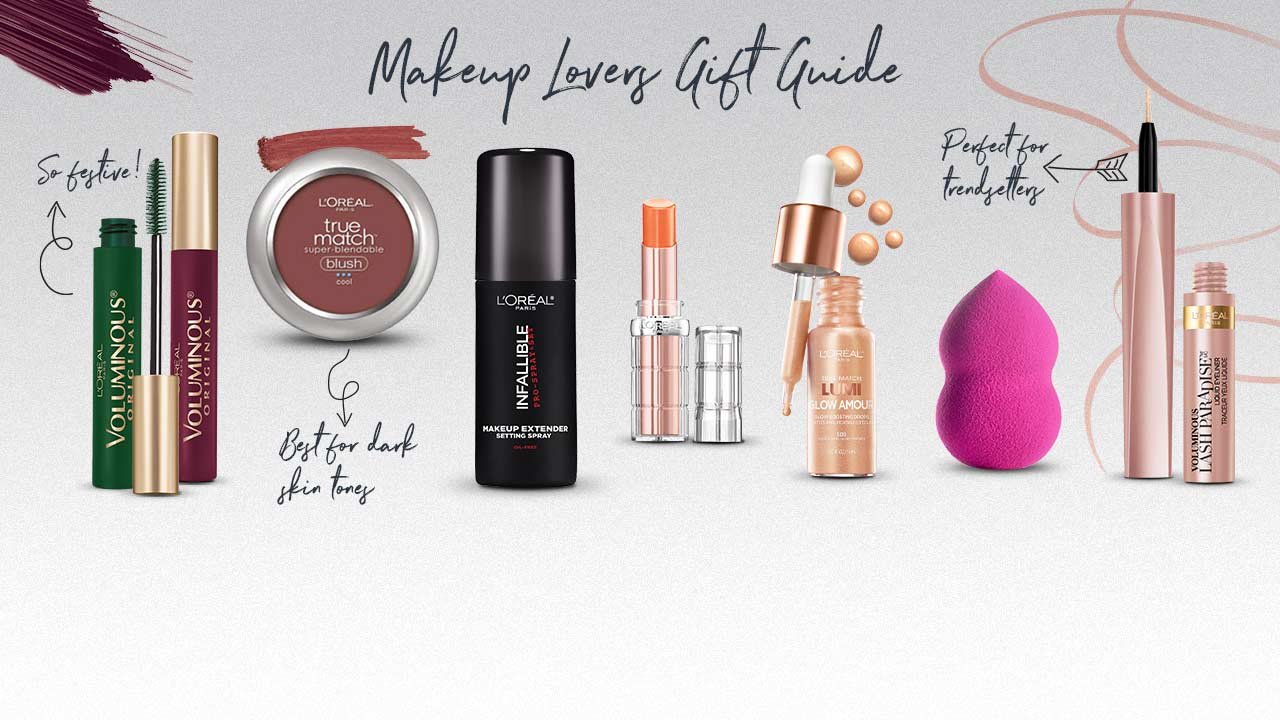 makeup trends
The Best Beauty Gifts for Makeup Lovers
It's that time of year! Holiday shopping is upon us, and if you're brainstorming the best gifts for makeup lovers, you've come to the right place. Whether you're looking for stocking stuffer inspo or something a little grander, we'd bet money that with these gifts, you'll see a wide, lipstick-lined smile plastered across the face of your special someone. Read on for the 15 best beauty gifts to give the makeup lovers in your life. Consider this your holiday gift guide!
BEAUTY GIFT IDEA #1: MAKEUP GIFT BASKET
If you're really wanting to show your friend or family member some love, put together a DIY makeup gift basket. All you have to do is gather a few of their favorite makeup products (or a few of yours—it's the perfect excuse for them to try something new!) and place them in a basket. Decorate the basket with ribbon, tissue paper, and whatever else you see fit for a beauty gift that will be worth posting on Instagram.
BEAUTY GIFT IDEA #2: EYESHADOW PALETTE
Let's be honest—who doesn't want an excuse to add a new eyeshadow palette to their collection? Mom can't say, "Another one?" with a scolding glance if it was a gift! Give your pal an out and some stunning new shades to add to their collection. Our favorite? The L'Oréal Paris Paradise Enchanted Fruit-Scented Eyeshadow Palette.
BEAUTY GIFT IDEA #3: MAKEUP BLENDER
When it comes to getting a flawless makeup look, the tools used are just as important as the products. One tool your fellow makeup lover will always have use for is a makeup blender! It's safe to say you can never have enough of these, so wrap up the L'Oréal Paris Infallible Blend Artist Foundation Blender.
BEAUTY GIFT IDEA #4: MASCARA
Speaking of products you can never have enough of, we'll always say yes to trying a new mascara! The perfect stocking stuffer, grab a tube or two for your favorite makeup lover. If you want to put a spirited spin on things, opt for a festive shade like the L'Oréal Paris Voluminous Original Mascara in Deep Green or Deep Burgundy.
BEAUTY GIFT IDEA #5: MAKEUP ADVENT CALENDAR
Another way to get festive with your beauty gift is by creating a DIY makeup advent calendar. You've likely seen this makeup advent calendar idea popping up across your social media feeds, and creating your own is the perfect way to customize a gift that keeps on giving!
BEAUTY GIFT IDEA #6: HIGHLIGHTER
Glowing skin will never go out of style. Give your loved one the gift of radiance with the help of a new highlighter. Opt for a multi-use option, like the L'Oréal Paris True Match Lumi Glow Amour Glow Boosting Drops, which can be used on its own or added to foundation or moisturizer for an all-over glow.
BEAUTY GIFT IDEA #7: PLUMPING LIPSTICK
A pillowy pout will never go out of style, but not all of us are blessed with full lips. For a lip product that works double duty, gift the L'Oréal Paris Colour Riche Plump and Shine Lipstick, Sheer Lipstick, which visibly plumps while coating the lips in a subtle flush of color.
BEAUTY GIFT IDEA #8: DIY MAKEUP BRUSH HOLDER
Remember when we mentioned tools? Well, staying organized with all of those blenders and brushes is easier said than done, huh? Get crafty and create a personalized, DIY makeup brush holder for your friend to put on display. How cute!
BEAUTY GIFT IDEA #9: LIP LINER
Sure, we all have our share of lipsticks, but do you have a lip liner to pair with every shade? The truth is, the ratio of lipsticks to lip liners owned isn't the best for most of us, and it probably isn't for your special someone either. Give your favorite makeup lover lasting lip power by adding a few new lip liner colors to their collection.
BEAUTY GIFT IDEA #10: SETTING SPRAY
Those obsessed with makeup are bound to take their time perfecting a seamless look. Why let all that effort go to waste? To ensure their flawlessly blended eye shadow and daringly sharp eyeliner stays put, pop the L'Oréal Paris Infallible Pro-Spray & Set Makeup Extender Setting Spray into a gift bag.
BEAUTY GIFT IDEA #11: METALLIC EYELINER
Is the makeup lover in your life a trendsetter? If so, the best beauty gift you can give is one that's in line with the latest trends, like metallic eyeliner. A fun, statement hue isn't fit for just anyone, but the makeup obsessed won't shy away. Pick up the L'Oréal Paris Voluminous Lash Paradise Liquid Eyeliner in Rose Gold and add a ribbon for good measure.
BEAUTY GIFT IDEA #12: MAKEUP FRIDGE
Prepared to go all out for your gift? We have the perfect idea: a mini makeup fridge! This handy appliance can make all the difference in one's beauty look—not to mention it's totally adorable. Learn all about makeup fridges and why they're worth gifting in our article, Trend Alert: Mini Makeup and Skin Care Fridges.
BEAUTY GIFT IDEA #13: SCENTED LIPSTICK
For loved ones with a sweet tooth, combine their love for sweets and makeup by gifting a sweetly-scented lipstick. The L'Oréal Paris Infallible Pro Matte Les Chocolats Scented Liquid Lipstick has an indulgent chocolate scent while the L'Oréal Paris Infallible Pro-Matte Les Macarons Scented Liquid Lipstick features notes of almond, cream, and vanilla.
BEAUTY GIFT IDEA #14: POPPING BLUSH
When most of us are stocking (and restocking) our makeup collection, we rarely think about picking up a new blush shade. The makeup lover you're buying for will be oh so grateful for a new color to paint their cheeks with. For an on-trend option, wrap up the L'Oréal Paris True Match Blush in Spiced Plum.
BEAUTY GIFT IDEA #15: MAKEUP BAG
Last but not least, every makeup lover needs somewhere to store their beloved makeup products! And no one can be sad about getting a cute new makeup bag to add to their vanity or purse. You can even pop a few products inside if you're feeling generous!
Next up: Need more gift inspo? Consider wrapping up one of the 20 Makeup Product Essentials Every Woman Should Own.
Discover more tips & tricks
Keep your skin happy
See all articles
Shop Featured Makeup products
Discover More