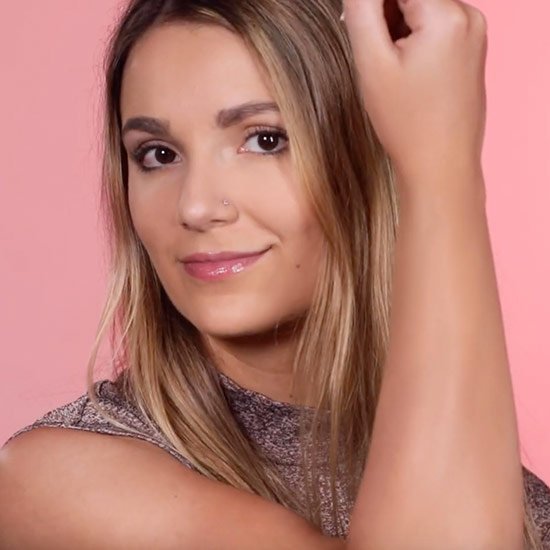 makeup looks
How to Temporarily Cover Up Tattoos With Makeup: The Complete Tutorial
These days, it seems like just about everyone has one tattoo (or more!)—but what if you want to use tattoo cover-up to temporarily disguise your body art? Of course, you know that tattoos are permanent (duh)—and obviously, you love showing yours off. Still, chances are there some occasions in which you may want to consider using tattoo cover-up makeup to hide them for a little while. Perhaps you have a job interview coming up, or you're meeting your S.O.'s parents for the first time—depending on the situation, you may feel more comfortable using makeup to cover your tattoos temporarily. Whatever the case, the good news is that it's pretty easy to conceal a tattoo if you have the right makeup products, like tattoo concealer. Phew.
Want to learn how to hide your tattoos with makeup? Follow along with our step-by-step tutorial for the best tattoo cover-up routine—using concealer, foundation, and a handy-dandy makeup blender to hide your tattoos.
THE BEST MAKEUP TO COVER TATTOOS
When it comes to masking a tattoo for a short period of time, having the right makeup products on hand is key.
1. Full-Coverage Foundation
The first thing you'll want at your disposal is a full coverage foundation. Using this type of foundation is essential as it'll serve as the base of your tattoo makeup and help ensure that you don't need to use a ton of concealer afterward. In need of a full coverage foundation recommendation? Don't worry, we've got you covered—literally. Try the L'Oréal Paris Infallible Total Cover Foundation. This long-lasting full coverage foundation has a weightless feel and comes in 12 shades so that you can easily find one that pairs best with your skin tone, and you won't have to be nervous about it coming off midway through the day.
2. Full-Coverage Concealer
As far as tattoo concealer goes, you're going to want to use a full-coverage formula that'll conceal your tattoo in a single swipe. The L'Oréal Paris Infallible Full Wear Concealer Waterproof, Full Coverage comes in 25 shades and has a full-coverage, waterproof formula, making it perfect for the job.
3. Color-Correcting Crayon
You may also want to consider using a color corrector to help hide your tattoo. If your tattoo has red in it, for example, a green color corrector, like the L'Oréal Paris True Match™ Color Correcting Crayon in Green, can help neutralize the appearance of the red tones in your tattoo—and thus cut down on the amount of foundation and concealer you'll need to apply on top of it.
Editor's tip: Keep in mind that not all foundation, concealer, and color corrector are designed to be waterproof and these products only offer a temporary way to cover up tattoos.
HOW TO USE TATTOO COVER UP MAKEUP TO TEMPORARILY HIDE A TATTOO
Ready to get to work and hide a tattoo? Follow these steps to temporarily conceal a tattoo with makeup. We promise it's easy!
Step #1: Prime Your Tattoo
Before moving on to the concealing portion of this tutorial, it's important to prep your tattoo for makeup application with a primer. Primer can help ensure you have a smooth base to apply the rest of your makeup as well as allow your makeup to wear evenly throughout the day. Try the L'Oréal Paris Infallible Pro-Matte Lock Makeup Primer. Apply an even layer over your tattoo; then you're ready to move on to the next step.
Step #2: Use Color Corrector
This step is optional—if you have a tattoo that's colored, then you may want to start concealing with a color-correcting crayon. Choose one that you know will help mask the appearance of the colors in your tattoo.
Step #3: Apply Foundation with a Makeup Blender
Now that you have your foundation ready to go, it's time to apply it. The best way to apply your foundation to help temporarily hide a tattoo is by using your fingers to dab on the product, then using a makeup blender to help create a more even, seamless finish. Apply a full coverage foundation to your tattoo, then use the L'Oréal Paris Infallible Blend Artist Foundation Blender to blend. Build up coverage as needed until the majority of your tattoo is disguised.
Step #4: Follow Up with Concealer
Next up is concealer! Use a shade that most closely matches your skin tone. As with the foundation, apply the concealer with a makeup blender, dabbing the formula on top of the foundation until you've completely concealed your tattoo.
Step #5: Set with Face Powder
We're betting you want your tattoos to stay covered until you're ready to wash your makeup off, which means it's a good idea to set everything with a face powder. Use a fluffy brush dipped in the L'Oréal Paris Infallible Pro Sweep & Lock Loose Setting Face Powder to set your makeup and keep the concealer and foundation from disappearing as the day goes on.
Step #6: Spritz on Makeup Setting Spray
If you want your makeup to have even more staying powder, it can't hurt to follow up with a makeup setting spray. A few spritzes of the L'Oréal Paris Infallible Pro-Spray and Set Make-Up Oil-Free Setting Spray, and you're good to go.
Step #7: Take Your Makeup Off at the End of the Day
Once you're ready to show your tattoo to the world again, it's time to take off your makeup. Reach for a micellar water, a no-rinse cleansing option that is powered by tiny micelles—oil molecules—that act as a magnet to lift dirt, oil, and makeup up and away from the skin. Look for a micellar water formula that has the ability to remove waterproof and long-wear makeup (since that's what you covered your tattoo up with!), like the L'Oréal Paris Micellar Cleansing Water Complete Cleanser Waterproof - All Skin Types. All you have to do is saturate a cotton pad with the micellar water and wipe the pad across your tattoo until all of the makeup comes off. Follow up with a little moisturizer, and you're back to your normal tattooed self.
OTHER WAYS TO HIDE A TATTOO
Using foundation and concealer isn't the only way to disguise a tattoo. If you don't have the time to work through an entire makeup routine, then you can settle for a quick fix. When you're in a rush and need to hide a tattoo ASAP, choosing the right clothing and accessories will help you do exactly that.
If your tattoo is on your neck…simply wear your hair down to cover it. You can also wear a scarf or thick, chunky necklace to conceal a neck tattoo.
If your tattoo is on your wrist…pop on a large bangle bracelet to disguise it. Of course, know that if the bracelet moves up and down your wrist, you could risk exposing your tattoo.
If your tattoo is on your arm…wear a shirt with sleeves that can cover it, whether it's small or large.
If your tattoo is on your ankle or foot…put on tights and shoes that mask it.
Of course, it should go without saying that your body art is beautiful and a great expression of your personality—so show it off whenever you can!
Next up: Want to make something else "disappear" with the magic of makeup? Here's How to Cover Up Acne with Makeup.
Discover more tips & tricks
Keep your skin happy
See all articles