makeup looks
3 Tips for Mastering the Reverse Cut Crease
Eyeshadow lovers, this one's for you.
April 15, 2022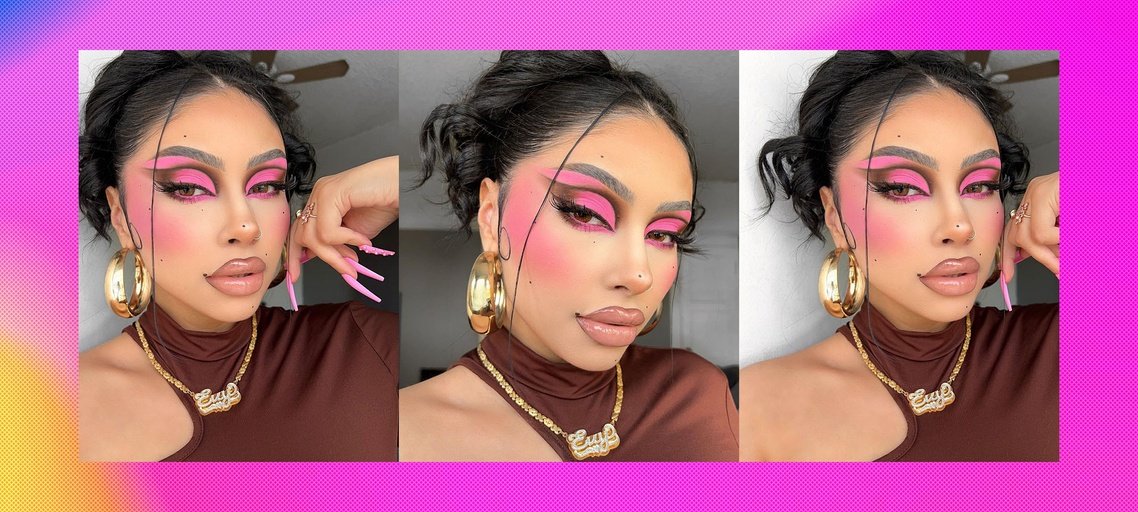 If you've been a loyal member of the beauty community for the last five years, then chances are you're familiar with the cut crease eyeshadow trend. The trend features an eyeshadow technique that heavily accentuates the crease of the eyes to make them appear more round — and after gaining virality on YouTube and Instagram, it's become a staple makeup look in the beauty industry.
While beauty lovers have been gushing over dewy skin and blush draping as of late, some of the spotlight has been given to over-the-top eyeshadow looks — like the cut crease's cool older sister, the reverse cut crease.
If you've got some solid makeup skills and you're looking to try out this eye-catching trend of the moment, keep reading on for tips to help you nail the reverse cut crease.
What Is the Reverse Cut Crease?
The reverse cut crease is pretty much what it sounds like — a flipped version of a traditional cut crease. It entails creating a regular cut crease, and then inverting the eyeshadow on the brow bone instead of leaving it blank.
To put it another way, the same color that is the focal point of the lids is also placed on the brow bone to create a dramatic, elongated eyeshadow look. The dramatic shape, vivid colors and eye-extending illusion have been popular features in drag makeup for decades, as the color placement makes the eye space look larger.
3 Tips to Master the Reverse Cut Crease
It's no secret that this look isn't a simple smokey eye — but here are some helpful application tips.
1. Start With a Base
Because this look features sharp lines and bold colors, going right in with powder eyeshadow and a fluffy brush won't allow you to achieve the precision and pigmentation that make this look what it is. Start by priming your eyes with eyeshadow primer or concealer, then trace your shape with an eyeliner pencil like the L'Oréal Paris Infallible Pro-Last Waterproof, Up to 24HR Pencil Eyeliner.
2. Use a Flat Dense Brush
Another key element to mastering this eyeshadow look is to use a small, flat dense eyeshadow brush for color payoff and precision. Using a short brush and tapping the color on instead of blending with a fluffy brush will give you precise product placement with less fallout.
Dense packing brushes are great for applying eyeshadow and layering it up to achieve your desired level of opacity. Simply dip the brush into your eyeshadow and pack it onto your lids using patting motions.
3. Groom Your Brows
Because the signature of this look is the bold color on the brow bone, you'll want as much open space in the area as possible to apply the color, so it's important that your brows are cleaned up and polished.
Groom your brows and brush the hairs in place with a brow gel, like the L'Oréal Paris Unbelieva-Brow Longwear Brow Topcoat, Waterproof Universal Transparent, to get the look.
Next: 5 Different Ways to Wear Crystal Cat Eyeliner
Written by: Alyssa Kaplan, Photo Credit: IG/@evyxo_
Discover more tips & tricks
Keep your skin happy
See all articles
Improve your routine
Show your new look more love:
makeup