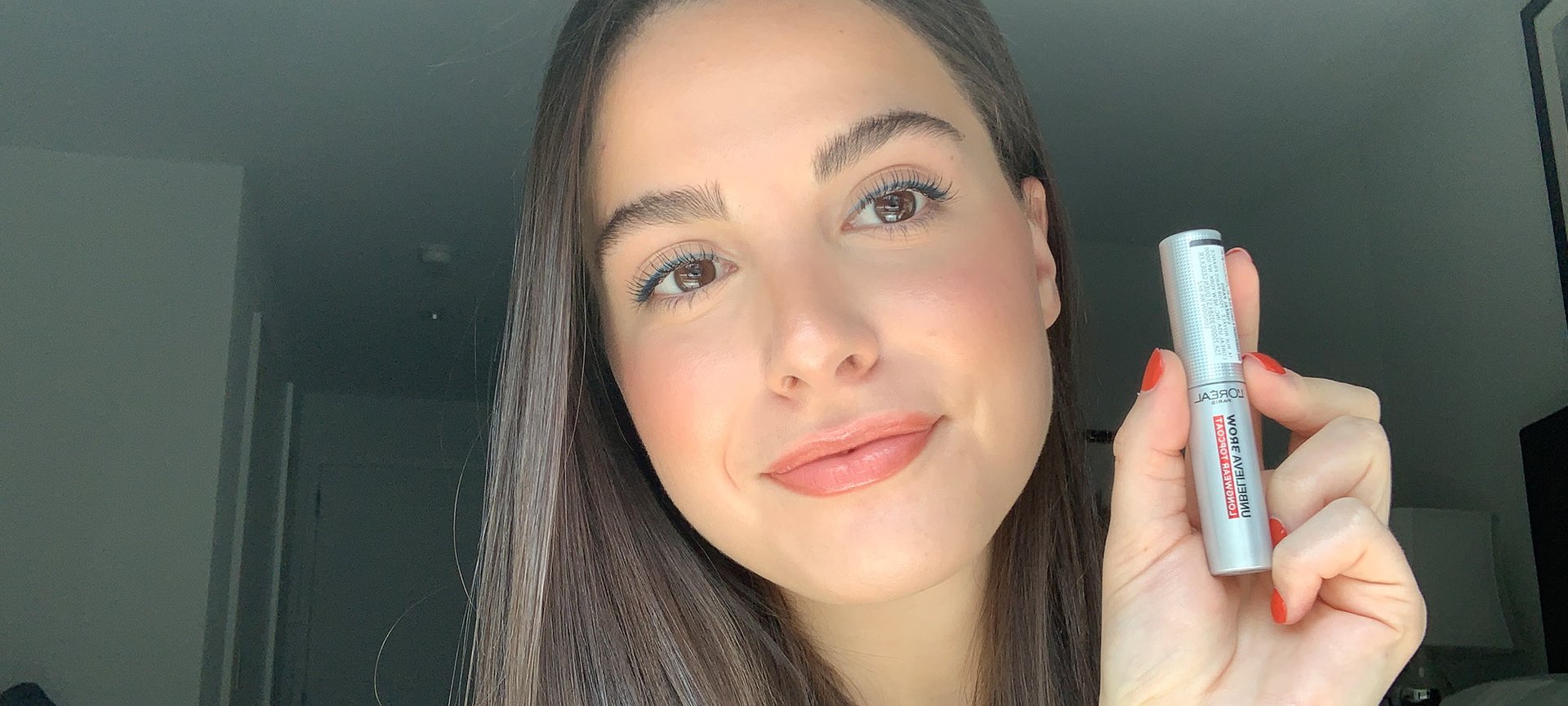 eye makeup
Still Using Hair Gel On Your Bushy Brows? Try This Eyebrow Top Coat Instead
The results may shock you.
One of the first things I notice when looking back at photos of myself as a child is my eyebrows—or should I say eyebrow. I pretty much rocked a unibrow for the first eleven years of my life. I can remember becoming keenly aware of my eyebrow situation during the later years of elementary school when the concept of comparison really began for me. Thankfully I didn't fall victim to cruel comments, but I knew something on my face looked quite different from those around me.
Finally, at the tender age of eleven my mom took me to get my first brow wax (I was only in the fifth grade). While I didn't know it at the time, I would grow to appreciate the thickness of my eyebrows. Luckily, my mom was adamant that not too much hair was removed, as she was a victim of over plucking in the '80s that left her with ultra-thin brows.
All of this to say that while I now have two separate eyebrows, they're full and the hair is incredibly thick. Despite all of the eyebrow gels I've experimented with, nothing has had solid staying power or has kept them brushed up and even the way I like them. I prefer a lightly laminated look, and the ultra-thin consistency of most brow gels on the market simply haven't cut it. For someone with eyebrow horror stories that date back to childhood, it matters.
Because of this, I've turned to using hair gel to get me my desired look. While the thick consistency of hair gel works for locking my brows in place, it can get a bit messy, so finding a fuss-free brow gel alternative has been on my wishlist. When the L'Oréal Paris Unbelievabrow Long Wear Brow Topcoat, Waterproof Universal Transparent came across my desk, I decided to put it to the test. It claims to keep your brows sealed for up to thirty hours while remaining waterproof and transfer-resistant—sounds like a solid opponent for my hair gel.
My daily eyebrow makeup and grooming routine consists of two steps. First, I pluck any stray hairs that pop up in between my eyebrows to ensure my unibrow doesn't make a comeback. Then, I comb the hairs in place with a light coating of hair gel. That's it. That's the routine.
THE BEST CLEAR EYEBROW GEL
I'm all about a one-and-done product for my brows and need three things out of it: all day staying power, ease of use, and easy to carry (in case I need a touch up). Finding an already packaged product without needing a separate spoolie or having to get gel on my hands is the dream.
Admittedly, I was skeptical that this brow topcoat would work for me given my failed history of finding brow gels that keep my hairs where I place them. I was even more skeptical when I went to apply this topcoat and felt how thin and lightweight the formula is. How would the performance rival that of my hair gel when their consistencies are so different? Just one minute after combing it through my eyebrows, the gel dried down and my hairs were all in place. While I didn't get that laminated brows look that I get with my hair gel, they were still brushed up and in place and didn't feel hard—which I also get with my hair gel and could really do without. The true test came when I did a midday check-in: My brows looked exactly the same—no drooping in sight and no crunchy feeling.

While I didn't test it out for a full thirty hours (removing my makeup before bed is a non-negotiable for me), I got a solid twelve hours out of it. Hairs stayed in place with no drooping and no flaking? This topcoat is a winner for me.
Photo Credit: Alyssa Kaplan
{ "@context": "https://schema.org/", "@type": "WebPage", "speakable": { "@type": "SpeakableSpecification", "cssSelector": ["speakable-content"] }, "url": "https://www.lorealparisusa.com/beauty-magazine/makeup/eye-makeup/editor-reviews-eyebrow-topcoat" }
Discover more tips & tricks
Keep your skin happy
See all articles
Improve your routine
Show your new look more love:
makeup
{ "@context": "http://schema.org", "@type": "BreadcrumbList", "itemListElement": [ { "@type":"ListItem", "position": 1, "item": { "@id": "/", "name": "Home" } } , { "@type":"ListItem", "position": 2, "item": { "@id": "https://www.lorealparisusa.com/beauty-magazine", "name": "Beauty Magazine" } } , { "@type":"ListItem", "position": 3, "item": { "@id": "https://www.lorealparisusa.com/beauty-magazine/makeup", "name": "Makeup Tips For Every Look" } } , { "@type":"ListItem", "position": 4, "item": { "@id": "https://www.lorealparisusa.com/beauty-magazine/makeup/eye-makeup", "name": "Eye Makeup" } } , { "@type":"ListItem", "position": 5, "item": { "@id": "https://www.lorealparisusa.com/beauty-magazine/makeup/eye-makeup/editor-reviews-eyebrow-topcoat", "name": "editor-reviews-eyebrow-topcoat" } } ] }