makeup looks
Your Guide to the Perfect Punk Eyeliner Makeup Look
A fresh tutorial on the edgy throwback.
December 03, 2021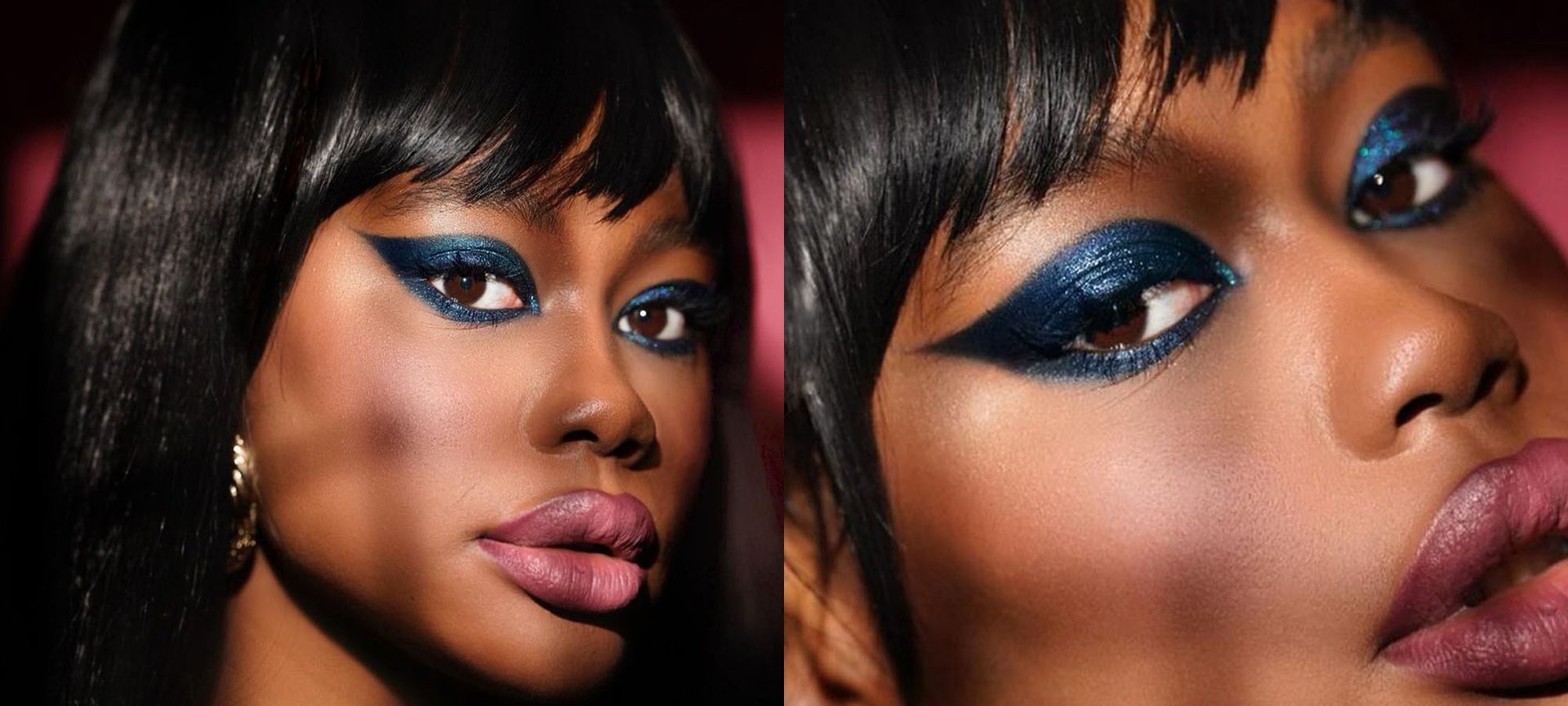 They say history repeats itself and that's also true when it comes to makeup trends. Some of the hottest looks gracing today's runways, such as overly lined lips and sparkly eyes, are all revamped versions of iconic looks from the past. With the bold eyeliner trend on the rise, it's no surprise that the punk eyeliner look is becoming popular again. To help you bring this '80s inspired eye makeup into the present day, we're giving the scoop on how to achieve the perfect punk eyeliner look just like a pro.
How to Get a Punk Eyeliner Look
This look is the perfect mix of glam and grunge that comes together with just a few simple tricks. Don't worry about being too precise — to get the right punk persona you want to color a bit outside of the lines. So keep that in mind when following the steps below to get a gorgeous punk eyeliner look.
Step 1: Prime Your Face
To ensure your makeup look lasts, always start with a makeup primer. Set the stage by applying the L'Oréal Paris Infallible Pro-Matte Lock Makeup Primer to your face to create a smooth base for your makeup application. Don't forget to add your eye makeup primer too.
Step 2: Create a Complexion Base
Every makeup look begins with a fresh complexion and foundation can help give you the appearance of one. Reach for a full-coverage foundation like the L'Oréal Paris Infallible Up to 24HR Fresh Wear Foundation, Lightweight, and apply with the L'Oréal Paris Infallible Blend Artist Foundation Blender for precise application. Finish your face by adding a bit of highlighter to your cheekbones, the tip of your nose, and cupid's bow and swipe on some blush for a touch of flush on your cheeks.

Step 3: Create a Smudgy Eye
A dramatic, dark smokey eye is what brings this punk makeup to life. To get the look, use a pencil eyeliner like the L'Oréal Paris Infallible Pro-Last Waterproof Pencil Eyeliner in Black to line the eyes, followed by a dark eyeshadow shade to make a clean but smudged eyeliner look.


The experts at L'Oréal Paris recommend using a pencil eyeliner as a base for eyeshadow. After applying eyeliner allover the lid, use the warmth from your fingers to lightly smudge the liner. Then, set it with eyeshadow for an intense, long-wearing finish.
Don't forget to smoke out your lower lash line by bringing the black eyeshadow down, smudging it against your lower lashes with a thin liner brush.


Step 4: Line Your Eyes
No punk eye makeup is complete without a bold, black rockstar wing. Grab a felt tip eyeliner like the L'Oréal Paris Matte Signature Liquid Dip Eyeliner, Waterproof in Black, and draw your sharpest winged eyeliner along your upper lash line. For a bolder eye and fuller-looking lashes, create an "invisible eyeliner" effect by tightlining your eyes. Carefully apply the eyeliner directly on the base of the lashes, filling in any gaps between individual hairs. After applying liner on the upper waterline, firmly close your eyes right away. This will transfer the color to the roots of your bottom lashes for a more dramatic look.
Step 5: Boost Your Lashes
Tie your eye makeup altogether with a volumizing mascara. Swipe a few coats of the L'Oréal Paris Air Volume Mega Mascara, Lightweight Mega Volume Washable onto your lashes for wicked weightless volume.
Step 6: Add a Bold Lipstick
Finish your punk look with a bold lip color that will make your dramatic eyeliner stand out. Try a coat of the L'Oréal Paris Infallible Pro-Matte Liquid Lipstick in Mademoiselle Mango, to add a bright orange appeal to your pout.
Step 7: Seal The Look
To keep your rocker makeup rolling all day (and night), spritz on the L'Oréal Paris Infallible Pro-Spray & Set Make-Up Oil-Free Setting Spray. Hold the bottle a few inches away from your face and spray in "X" and "T" motions.
Next: Take A Trip Back To The '90s With Ombré Lips
Written by: Lauren Paige Richeson, Photo Credit: Ana Cucuta, IG/@anamcucuta
{ "@context": "https://schema.org/", "@type": "WebPage", "speakable": { "@type": "SpeakableSpecification", "cssSelector": ["speakable-content"] }, "url": "https://www.lorealparisusa.com/beauty-magazine/makeup/makeup-looks/punk-eyeliner" }
Discover more tips & tricks
Keep your skin happy
See all articles
Improve your routine
Show your new look more love:
makeup
{ "@context": "http://schema.org", "@type": "BreadcrumbList", "itemListElement": [ { "@type":"ListItem", "position": 1, "item": { "@id": "/", "name": "Home" } } , { "@type":"ListItem", "position": 2, "item": { "@id": "https://www.lorealparisusa.com/beauty-magazine", "name": "Beauty Magazine" } } , { "@type":"ListItem", "position": 3, "item": { "@id": "https://www.lorealparisusa.com/beauty-magazine/makeup", "name": "Makeup Tips For Every Look" } } , { "@type":"ListItem", "position": 4, "item": { "@id": "https://www.lorealparisusa.com/beauty-magazine/makeup/makeup-looks", "name": "Makeup Looks" } } , { "@type":"ListItem", "position": 5, "item": { "@id": "https://www.lorealparisusa.com/beauty-magazine/makeup/makeup-looks/punk-eyeliner", "name": "punk-eyeliner" } } ] }