makeup looks
Militza Yovanka's Easy Winged Eyeliner Makeup Look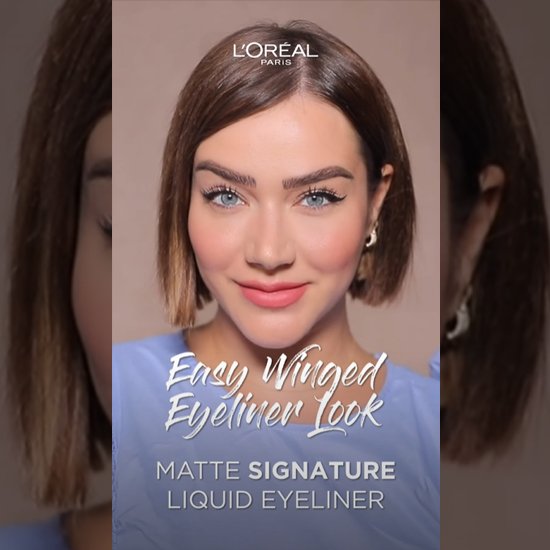 It's no secret that creating the perfect wing makeup can be a challenge for even the biggest beauty lovers. While you may think that means this timeless beauty look is out of reach, it's possible to master. Thanks to beauty influencer Militza Yovanka, you can learn to tackle it with no fuss involved. All you need are the right makeup essentials and application techniques to create a winged makeup look you can be proud of. Watch the video above and follow the steps below to see how Militza's easy makeup look comes to life.
What you'll need:
L'Oréal Paris Brilliant Eyes Shimmer Liquid Eye Shadow Makeup in Crystal Shine
L'Oréal Paris Matte Signature Liquid Dip Eyeliner, Waterproof in Black
L'Oréal Paris Le Liner Signature Easy-Glide Mechanical Eyeliner, Waterproof in Noir Cashmere
L'Oréal Paris Voluminous Lash Paradise Washable Mascara in Blackest Black
L'Oréal Paris Summer Belle Makeup Glowing Lip Gloss
Get the look by following these simple steps:
STEP #1: COLOR YOUR LIDS
First things first, you'll want to begin by adding a touch of shimmer to your eyes. Apply a small amount of the champagne eye shadow to the tips of your fingers, and gently blend the color onto your lids.
STEP #2: BRING ON THE LINER
This is where things pick up speed—it's time for your eyeliner. Grab a black liquid eyeliner and carefully draw a diagonal line at the outer edge of your eye to start your wing. Starting from the end of this line, draw another diagonal line and connect it to the outer corner of your lash line. You should be left with a triangle shape. Next, fill in the triangle to complete your wing. Line across your upper lash line, stopping short of your inner corner to give your eyes a bigger appearance. Be sure to touch up the edges of your wing for a neat and polished look.
Editor's note: Liquid eyeliners not your style? You're in luck! You can switch it up and use a mechanical eyeliner for wing makeup. Simply line your lash line as you normally would. Once you reach the outer edge, flick the liner outward to create a wing. Easy peasy!
STEP #3: PUMP UP THE VOLUME
Of course, no eye makeup look is complete without some volumizing mascara! Swipe a few coats of black mascara onto your lashes, making sure to sweep upward to turn up the volume.
STEP #4: PAINT YOUR POUT
While your eye makeup look may be complete, that doesn't mean you should leave your lips out of the equation. Layer your pout with a shiny, sheer lip gloss for the perfect tinge of color.
HOW TO COMPLETE YOUR MAKEUP LOOK
Think your look could use something more? A solid base will really take this look to the next level. Here's what you need to do:
STEP #1: PRIME, PRIME, PRIME
Before reaching for any of your face makeup, it's essential to set the stage with primer. Smooth the L'Oréal Paris Pro-Glow Lock Makeup Primer over your face, being careful not to disturb your eye makeup.
STEP #2: PERFECT YOUR COMPLEXION
Once your primer has dried, you can apply your foundation! Since you want your wing makeup to pop, you'll want to use a formula that will give you a luminous complexion, like the L'Oréal Paris Infallible Pro-Glow Foundation. Squeeze a small amount of foundation onto the L'Oréal Paris Infallible Blend Artist Foundation Blender, and blend onto skin in rolling and dabbing motions.
STEP #3: CONCEAL
Take a look at your visage. If you see unwanted blemishes peeking through your foundation, apply the L'Oréal Paris True Match Super-Blendable Multi-Use Concealer for seamless coverage. For a bright-eyed look, apply the concealer in an upside-down triangle under your eyes, and blend until even.
STEP #4: BRONZE IT UP
Take things to the next level with the help of bronzer. Apply the L'Oréal Paris True Match Lumi Bronze It Bronzer to the hollows of your cheeks and temples for a sun-kissed glow.
STEP #5: ADD SOME BLUSH
To round out your face makeup, it's time to accentuate your cheekbones. Reach for a natural blush shade from the L'Oréal Paris True Match Blush line, and sweep the color over your cheeks to seal the deal.
STEP #6: LOCK IT IN
Congratulations, you've made it to the finish line! To ensure that your makeup lasts throughout the day, spritz L'Oréal Paris Infallible Pro-Spray and Set Make-Up Oil-Free Setting Spray over your face in 'X' and 'T' shapes. This spray will give you a "just applied" makeup look that goes the distance.
Discover more tips & tricks
Keep your skin happy
See all articles
Shop Featured Makeup products
Discover More