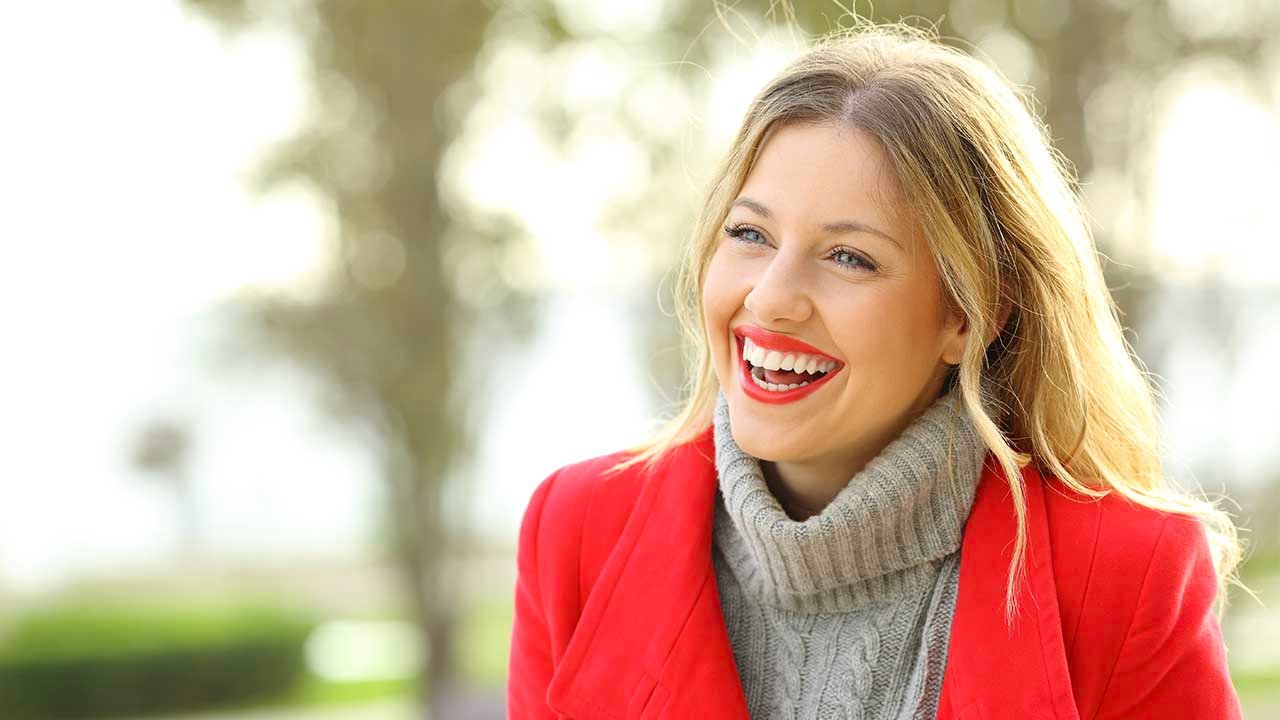 makeup looks
How to Rock Effortless Makeup with a Bold Red Lip
No makeup, makeup, effortless makeup, whatever you want to call this minimalistic makeup look, one thing's for sure: It looks seriously stunning when paired with a not-so-minimalist bold red lip. The bright pop of color can help balance your look for an equally subdued, equally eye-catching beauty look that we can't help but stare at. Want to try it out yourself? Read on for the step-by-step makeup tutorial to make your minimalist makeup dreams a reality.
STEP 1: PRIME YOUR COMPLEXION
Whenever you apply makeup, it's to create a more flawless-looking visage, yes? In line with that through process, the best way to create an evenly smooth canvas to apply makeup—even the most minimal, effortless sort—is to start with primer. When choosing the best primer for an effortless makeup look, remember that dewy skin pairs especially well with a bold red lip. So, try using the L'Oréal Paris Infallible Pro-Glow Lock Makeup Primer. After blending your primer of choice onto your face, move on to the next step.
STEP 2: APPLY A HIGHLIGHTER LOTION
Just like no makeup, makeup, when the goal is effortless makeup, you still want that little hint of coverage. Instead of reaching for foundation, try using the L'Oréal Paris True Match™ Lumi Glotion Natural Glow Enhancer. It's designed to help even skin tones while creating an enviable glow. For an even dewier finish than this lotion already creates, be sure not to use your fingers or a brush to apply it—use a makeup blender instead. We love the L'Oréal Paris Infallible Blend Artist Foundation Blender and imagine you will, too.
STEP 3: APPLY CONCEALER
Next, use concealer on any areas you want a little extra coverage—like under your eyes, around your nose, or any blemishes you might have. If the goal is to help even out discolorations, like redness, dullness, sallowness, or dark circles, use one of the L'Oréal Paris True Match™ Color Correcting Crayons. If you have redness, use the green concealer; if you have dullness, use the purple concealer; and, if you have dark circles, use any of the peachy tones. In terms of regular concealing—anywhere you hope to hide or brighten, reach for the L'Oréal Paris True Match™ Super-Blendable Multi-Use Concealer. Again, instead of using your fingers or a brush, rely on a squishy makeup blender, like the L'Oréal Paris Infallible Blend Artist Concealer Blender, to blend your concealer into place.
STEP 4: ENHANCE YOUR CHEEKS
Even the most effortless makeup routine calls for a little cheek love. To get the job done, start by blending some of the L'Oréal Paris Infallible Longwear Blush Shaping Sticks into your cheeks. Use a L'Oréal Paris Infallible Blend Artist Contour Blender to gently blend the rosy color in for a natural-looking flush. Top your cheekbones off with a swipe of the L'Oréal Paris Infallible Longwear Highlighter Shaping Sticks and, again, use the contour makeup blender for a seamless look. Just be sure to use the other side so as to not accidentally apply more rosy color.
STEP 5: ACCENTUATE YOUR LASHES
Keep it simple, babes! A little mascara can go a long way. To get the perfect effortlessly beautiful lash look, start with a swipe of the L'Oréal Paris Voluminous Lash Paradise Mascara Primer/Base followed by a swipe or two of the L'Oréal Paris Voluminous Lash Paradise Mascara in Mystic Black. Easy, peasy!
STEP 6: GROOM YOUR EYEBROWS
No look is complete with at least partially groomed eyebrows. So, even if you keep your arches lowkey for your effortless makeup look, a quick swipe of the L'Oréal Paris Brow Stylist Boost & Set Brow Mascara can go a long way. Before applying any eyebrow makeup, start by using a spoolie brush to comb your eyebrow hairs. Then, when applying, just be sure to brush your eyebrows up afterwards, as that slightly disheveled look will tie together your no makeup, makeup look.
STEP 7: SEAL IT WITH A BOLD RED KISS
And now, the moment you've all been waiting for. Before applying your bold red lip, take a look at just how flawless, not to mention effortless, your face makeup looks. Pretty sweet, right? Now top it off with a coat of the L'Oréal Paris Colour Riche Shine Lipstick in Enamel Red or L'Oréal Paris Colour Riche Matte Lipstick in Matte-ly In Love and be on your way you gorgeous thing, you.
Love how simple this makeup routine was? Our article, 3 Braid Hairstyles for Lazy Girls, will show you the beauty of an easy-to-achieve hair care routine, too.
Discover more tips & tricks
Keep your skin happy
See all articles
Shop Featured Makeup products
Discover More