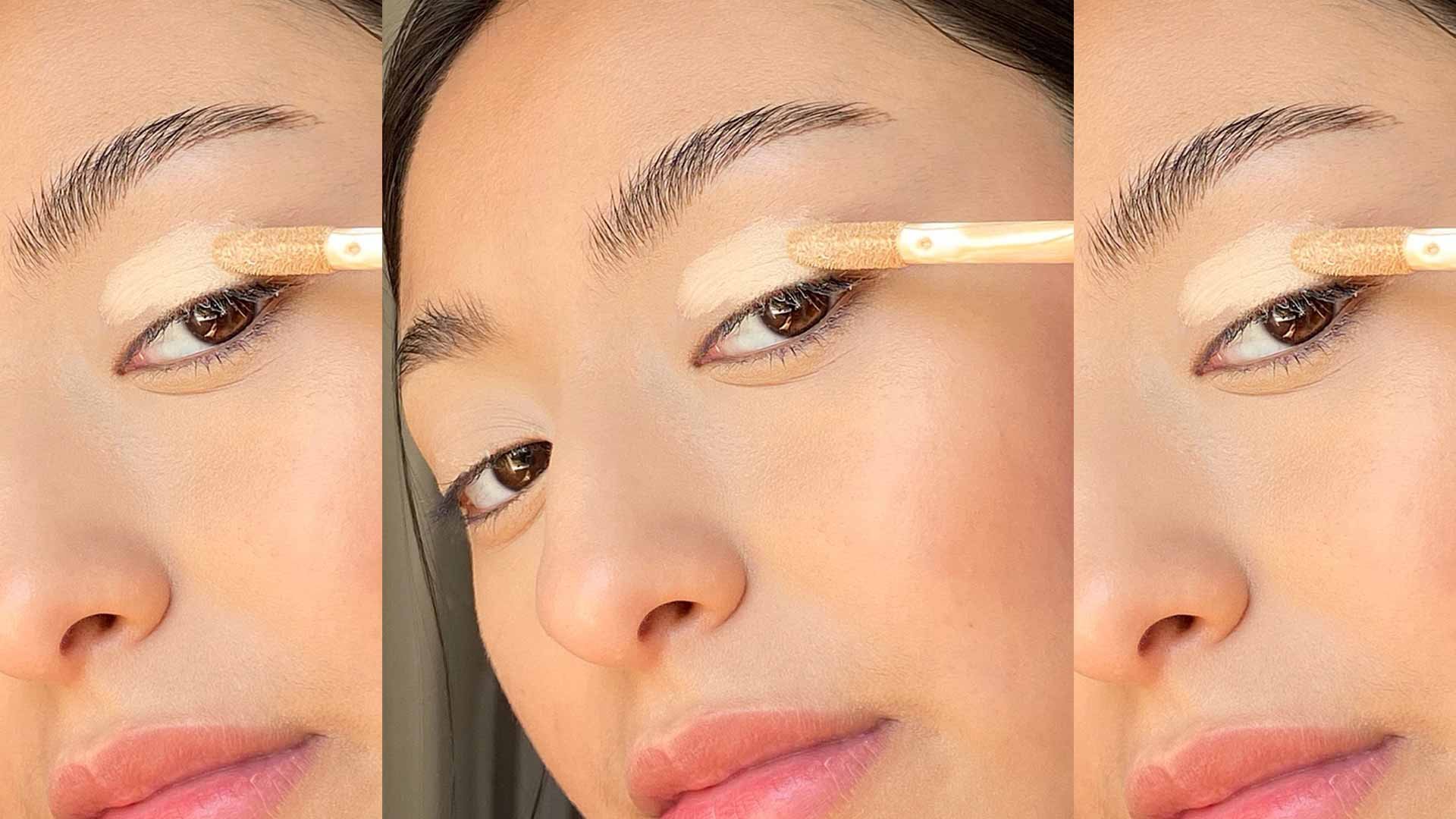 eye makeup
How To Use Concealer As Eyeshadow Primer
We love watching eye makeup tutorials because they give us a chance to learn new tips and tricks from beauty pros and influencers who know all about the latest makeup hacks. One of the eye makeup hacks frequenting our feeds includes an eyeshadow look with concealer as the base in lieu of an eyeshadow primer. The look turns out gorgeous at the end, making us want to try it for ourselves. Whether you've run out of eye primer and need a quick substitute or you just prefer the consistency of your favorite concealer, you can try it too. Ahead, we're sharing how to use concealer as an eyeshadow primer, and product picks you can use to create flawless eye makeup looks just like the pros.
Why You Need To Prime Your Eyelids
Before we deep dive into how to hack your concealer as an eyeshadow primer, it's important to note that there are some people who use neither. And that should end today! When using eyeshadow, it's important to prep your lids with a base product like an eye primer or concealer. These makeup essentials will prevent your shadow from creasing or fading, and they help the hues stay vibrant throughout the day. A concealer will also help cover up any discoloration or veins, which will create a smooth, even canvas for you to work on. Since eyeshadow primer is specifically formulated to act as a grip for eyeshadow and offers the best pigment payoff, we recommend opting for it first. But if you're in need of a quick alternative, a concealer can also get the job done.
How To Use Concealer As An Eyeshadow Primer
When substituting an eye primer for a concealer, the process is pretty straightforward. And just like an eye primer, all you need is a thin layer of concealer to prep your lids. Below, our step-by-step tutorial for creating the perfect concealer base for your lids.
Step #1: Prep Your Skin
Remove any makeup or product build-up around the eye area using the L'Oréal Paris Micellar Cleansing Water Complete Cleanser Waterproof - All Skin Types. Saturate a cotton pad with the cleanser and wipe across your entire face, including your eyelids, to get a clean slate. Then follow up with a moisturizer.
Editor's Tip: Don't apply any moisturizer to your eye area. This can cause your eyeshadow to crease, so it's best to keep that area as dry as possible.
Step #2: Apply Your Concealer
Now, it's time to add concealer into the mix. Using your ring finger, dab the L'Oréal Paris True Match Eye Cream in a Concealer, 0.5% Hyaluronic Acid, onto your eyelids. Pat the concealer across the entire eye area until it is blended out smoothly. This hybrid concealer provides instant dark circle coverage with the care of eye cream and a dose of hyaluronic acid to give your eyes all-day hydration.
Step #3: Set The Concealer With A Powder
Once your concealer has dried down, make sure to set it with a translucent powder like the L'Oréal Paris Infallible Pro-Sweep & Lock Loose Setting Face Powder. This will help prevent your eyeshadow from looking patchy and make the colors super easy to blend out. Grab a small eyeshadow brush and dip it into a generous amount of powder, then press the product gently into your eyelids until you have covered the entire area. After that, you're all set to start applying eyeshadow—the start to a beautiful makeup look.
Photo Credit: @glamxbrit
{ "@context": "https://schema.org/", "@type": "WebPage", "speakable": { "@type": "SpeakableSpecification", "cssSelector": ["speakable-content"] }, "url": "https://www.lorealparisusa.com/beauty-magazine/makeup/eye-makeup/how-to-use-concealer-as-eye-primer" }
Discover more tips & tricks
Keep your skin happy
See all articles
Shop Featured products
Discover More
{ "@context": "http://schema.org", "@type": "BreadcrumbList", "itemListElement": [ { "@type":"ListItem", "position": 1, "item": { "@id": "/", "name": "Home" } } , { "@type":"ListItem", "position": 2, "item": { "@id": "https://www.lorealparisusa.com/beauty-magazine", "name": "Beauty Magazine" } } , { "@type":"ListItem", "position": 3, "item": { "@id": "https://www.lorealparisusa.com/beauty-magazine/makeup", "name": "Makeup Tips For Every Look" } } , { "@type":"ListItem", "position": 4, "item": { "@id": "https://www.lorealparisusa.com/beauty-magazine/makeup/eye-makeup", "name": "Eye Makeup" } } , { "@type":"ListItem", "position": 5, "item": { "@id": "https://www.lorealparisusa.com/beauty-magazine/makeup/eye-makeup/how-to-use-concealer-as-eye-primer", "name": "how-to-use-concealer-as-eye-primer" } } ] }