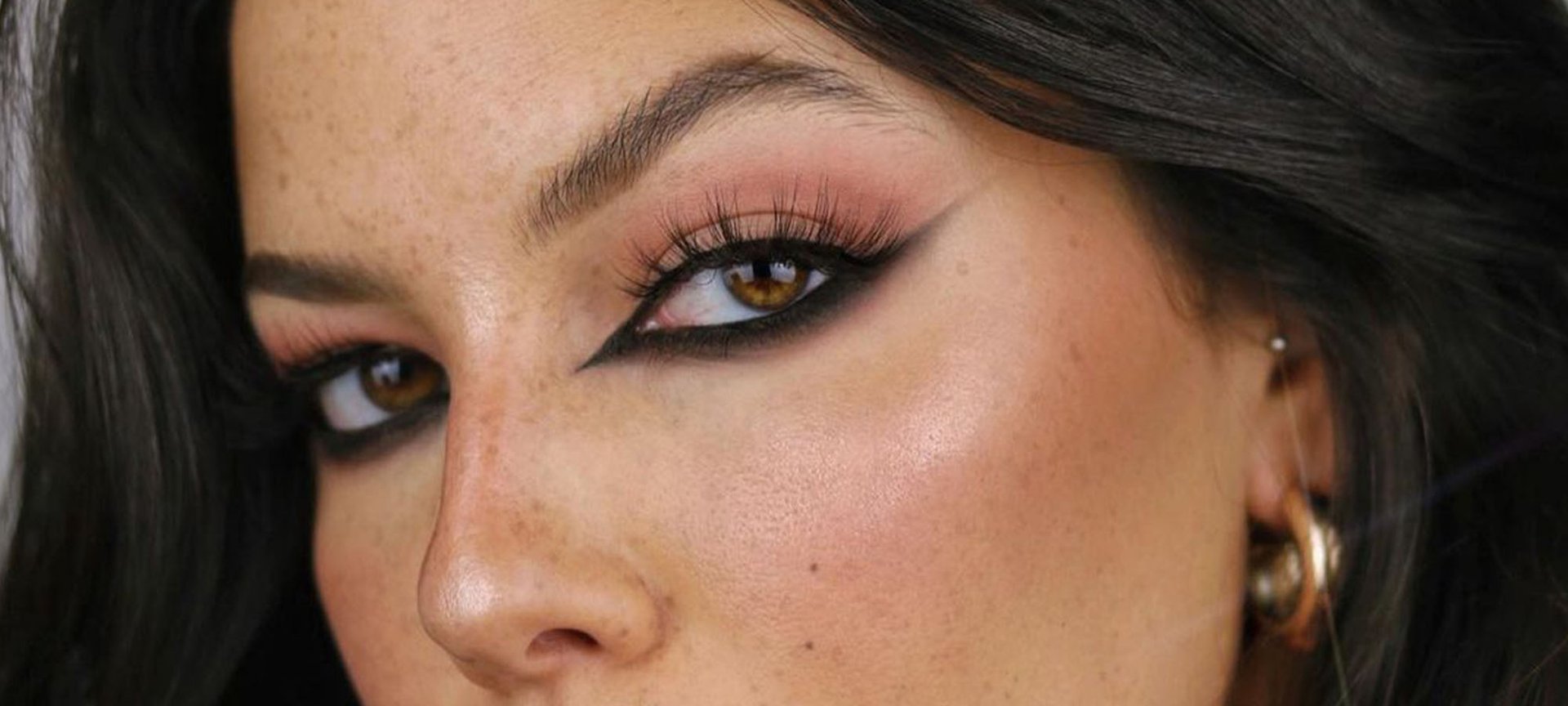 eye makeup
How To Create A Reverse Cat Eye
The look that's taking over your social feeds.

If you keep up with beauty trends on social media, then you're no stranger to the reverse cat eye look that has taken over our TikTok and Instagram feeds recently. With the focus of the eyeliner on the bottom lash line as opposed to on the top lash line like with traditional winged eyeliner, it creates a deeper, more smoldering look. Here, we're helping you get in on the trend by sharing how to create a reverse cat eye in just six simple steps.

Step 1. Prime Your Eyes
In order to ensure that your eyeshadow and eyeliner are pigmented and long-lasting, start with a primer. Blend a bit of eyeshadow primer or concealer on your upper eyelids as well as onto the lower lids to act as a base. While you might not typically think to prime under your eyes, the focus of this look is on the lower lash line, so priming that area is essential.

Step 2. Define Your Crease
In order for the top eyelid to look defined and not overpowered by the lower lash line, apply a transition shade in the crease of your upper eyelid with a fluffy eyeshadow brush. A transition shade is a color that's two to three shades deeper than your skin tone.

Step 3. Apply A Mid-Toned Eyeshadow To The Lower Lash Line
To begin the focal point of the look, start by applying a mid-tone eyeshadow shade to the lower lash line with a pencil brush. If you're going for a classic black look, opt for a medium brown like the L'Oréal Paris Colour Riche Monos Eyeshadow in Acro-Matte or a gray like the L'Oréal Paris Colour Riche Monos Eyeshadow in Meet Me in Paris. Applying a mid-tone shade underneath the deeper shade will create gradient and ultimately a softer, more blended look.
To give the eyeshadow a winged appearance, drag the brush upwards like you would with a traditional winged eyeliner. You can also apply tape to the outer corner of your eyes to act as a guide for the eyeshadow and to create a sharp line.

Step 4. Apply The Deepest Eyeshadow Shade To The Lower Lash Line
To deepen the look and add even more definition, apply a black eyeshadow like the L'Oréal Paris Colour Riche Monos Eyeshadow in Noir Cest Noir as close to your bottom eyelashes as possible with a pencil brush or winged eyeliner brush. Follow the shape of the medium shadow you applied first. If you want to make the cat shape extra dramatic, drag the shadow into your inner corners and create a sharp point.
You can leave the upper lash line bare to really emphasize the lower lash line, or you give it a bit of definition by applying a small amount of this shadow right above your lashes. Be sure to blend it out until it's subtle and diffused.

Step 5. Line Your Lower Waterline
A major key to a smoldering look is lining the lower waterline with a black eyeliner pencil like the L'Oréal Paris Infallible Pro-Last Waterproof, Up to 24HR Pencil Eyeliner in Black. It's richly pigmented and long-lasting.
Step 6. Finish Off With Volumizing Mascara
The last step in any dramatic eye makeup look is topping it off with volumizing mascara. The L'Oréal Paris Air Volume Mega Mascara, Lightweight Mega Volume Washable is great because it provides intense volume without flaking or weighing down the lashes.
Next: How To Layer Mascara For Long and Voluminous Lashes
Written by: Alyssa Kaplan, Photo Credit: Ginebra Cañas Toimil Makeup, IG/@ginebracanas
Discover more tips & tricks
Keep your skin happy
See all articles
Improve your routine
Show your new look more love:
makeup