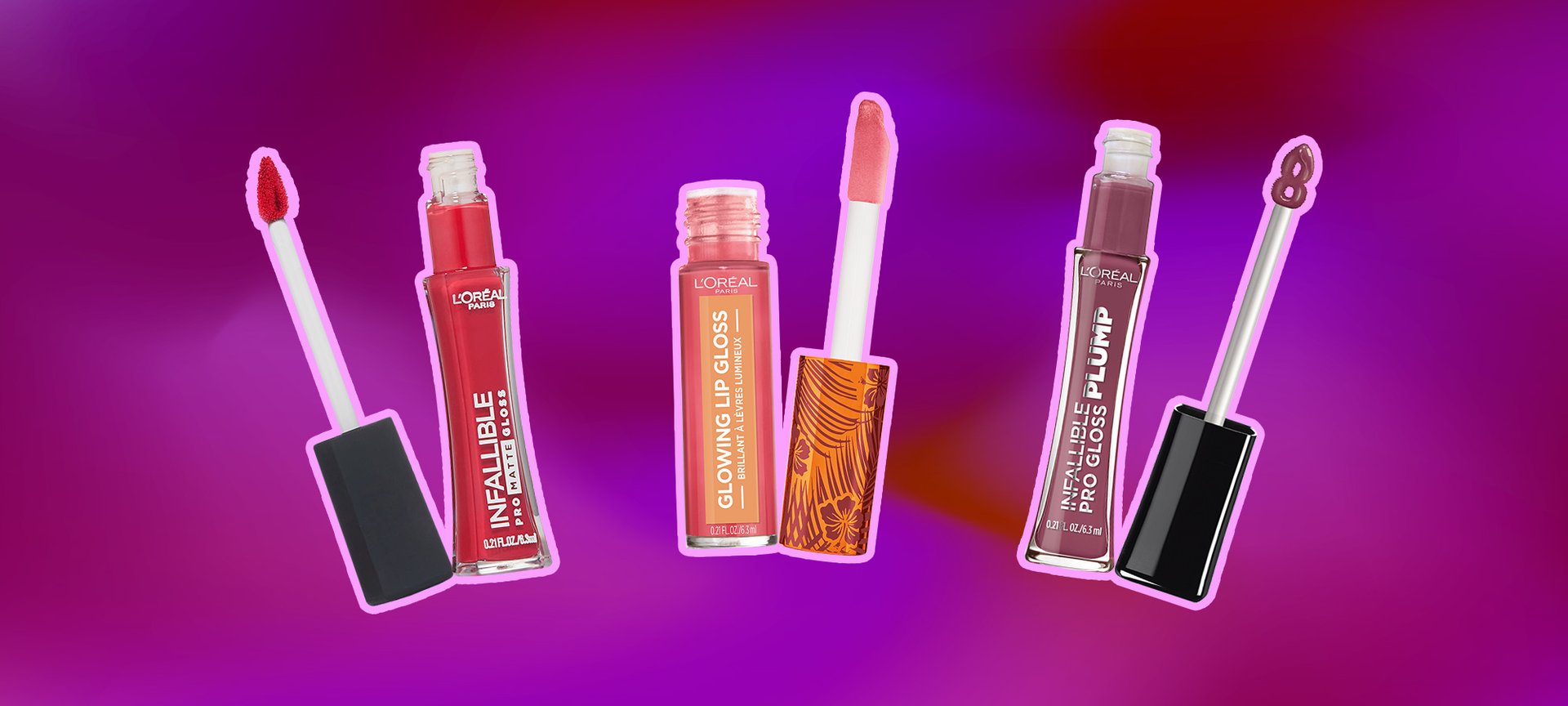 lip makeup
The Best Lip Gloss Shades Based On Your Skin Tone
Enhance your natural lip color in a swipe.
Besides their high-shine finish, lip glosses come in a variety of consistencies and shades. From sheer icy pinks to matte mauves and sunkissed golds the options are seemingly limitless. Lip gloss allows you to add a personalized, finishing touch to any makeup routine whether you're new to lip gloss or are getting reacquainted with the product. It can also help enhance your natural lip color if you choose the right tint. Ahead, we've rounded up the best L'Oréal Paris lip gloss options based on your skin tone to get your own, customized lip gloss routine started.

Deep and Dark Skin Tones
Golden-hued and glittery glosses reflect beautifully off of deep and dark skin tones, which is why these picks are must-trys.
L'Oréal Paris Summer Belle Glowing Lip Gloss in Sun-Day Funday
This golden-undertoned gloss adds the perfect amount of sparkle to any makeup routine. Wear this shimmery nude shade every day on its own or layered over your favorite lipstick for a light-catching, natural finish.
L'Oréal Paris Infallible 8 Hour Pro Lip Gloss Hydrating Finish in Fiery
If you love bold color and have a cool undertone, Fiery is a must try. This hot chili red is ultra pigmented and leaves behind a shiny color that won't skip, smudge or budge. It'll give you a gorgeous wet-lip look that will last for hours.

Medium and Tan Skin Tones
A lip gloss that enhances your natural lip tone, like a brown-nude or berry, looks best on medium to tan skin tones.
L'Oréal Paris Infallible Pro-Matte Gloss in Statement Nude
This pro-matte gloss is a must-have if you have a medium, olive or tan skin tone. It's a high-pigmented brown-pink that keeps your lips feeling comfortable all day. We also love the precision tip applicator that allows you to pack on the color evenly.
L'Oréal Paris Infallible Pro Gloss Plump in True Berry
Ultra glassy and plumping, this purple-red shade is a crowd favorite for medium skin tones. It has warm undertones that will nicely balance out the cooler or yellow undertones in your skin. This option also has a non-sticky finish and will have your lips looking and feeling plumped almost immediately upon application.

Fair Skin Tones
Bright reds and pinks contrast fair skin tones for an eye-catching look.
L'Oréal Paris Summer Belle Makeup Glowing Lip Gloss in Tropic Like It's Hot
Looking for a fun, pink gloss to contrast your fair skin tone? Opt for this orange-tone pink that will instantly glam up any makeup look. It also has a slight sparkle that will perfectly illuminate your lips.
L'Oréal Paris Infallible 8 Hour Pro Lip Gloss Hydrating Finish in Red Fatale
A red lip gloss with cool undertones is another option for people with fair skin, and Red Fatale will get the job done. It's a red with blue tones that will last for up to eight hours and will keep your lips feeling soft and moisturized.

All Skin Tones
No one can go wrong simply adding a glassy topcoat over their natural lips.
L'Oréal Infallible Pro Gloss Plump in Mirror
There's nothing better than enhancing your natural lip color with a gloss. This ultra-clear shade adds a shiny glaze to your lips without taking away from their original color. We also love that this option will give your lips a little boost thanks to its plumping, hyaluronic acid formula.
Next: Our Best Lip Glosses of 2021
Design: Sarah Duvivier
Discover more tips & tricks
Keep your skin happy
See all articles
Improve your routine
Show your new look more love:
makeup