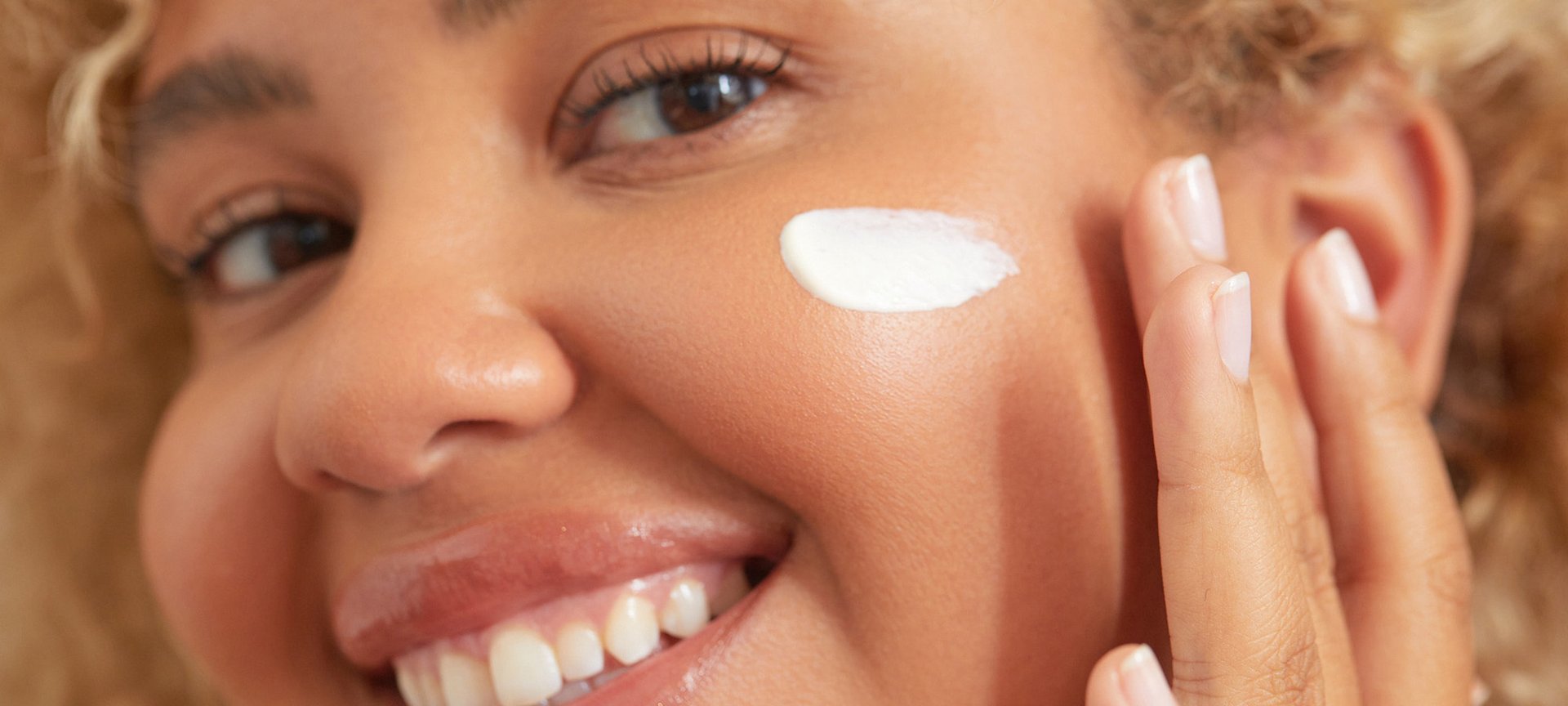 skin care essentials
My Makeup Has SPF, Do I Still Need Sunscreen?
The answer might surprise you.
We constantly stress the importance of protecting your skin from UV damage by applying SPF daily. We also suggest using moisturizer with sunscreen for built-in protection while you hydrate your skin. But you might be wondering: If I wear foundation with SPF in the formula, do I still need to wear sunscreen? We consulted with Michelle Henry, MD, FAAD, board-certified dermatologist in New York City to find out the truth about the protection you get from makeup with SPF, as well as how to best protect your skin from the sun.

Is The SPF In Makeup Enough To Protect Your Skin?
If you wear foundation or other makeup products with SPF, you might think it's okay to skip applying sunscreen. But according to Dr. Michelle Henry, you should think again.
"When we apply makeup, we don't apply it as evenly as we apply sunscreen," she says. "When sunscreen is tested for its protection, it's applied in a much thicker layer than makeup is." She explains that you're simply not applying enough of the makeup on your skin to garner the full SPF benefits.
According to the Skin Cancer Foundation, in order to adequately protect your skin, you need to apply two tablespoons full of SPF to your body, and at least one nickel size amount of SPF to your face. Chances are, the average person isn't applying that much foundation over their complexion — especially if it's full coverage.

How To Layer Sunscreen And Makeup With SPF
Now that you know that makeup with SPF is not enough to protect your skin from sun damage on its own, you may be wondering how you should layer makeup and sunscreen.
"I recommend applying SPF first and then applying your makeup on top of it. It's a better way to be certain that you're getting the proper SPF protection," says Henry.
If you're looking to cut down on steps in your skin care routine, you can also opt for a moisturizer with SPF in it rather than a separate moisturizer and sunscreen. "We tend to apply moisturizers similarly to how we apply sunscreen 一 with a thicker layer," Henry explains. "I would suggest applying a moisturizer with SPF in a thick layer if you're using it as SPF."
We love the L'Oréal Paris Revitalift Triple Power Day Lotion SPF 30 because it's hydrating, works to address fine lines and wrinkles, and provides necessary SPF protection.

Our Best Foundations With SPF
While applying makeup with SPF alone will not provide the proper sun protection your skin needs, there's no harm in layering sunscreen and makeup with SPF. Who doesn't want as much sun protection as possible? Check out some of our favorite foundations with SPF below.
This longwearing, medium-to-full coverage foundation beautifully blurs imperfections while providing SPF 25 protection for the skin. It's breathable, non-comedogenic and suitable for all skin types.
Formulated with SPF 50, this lightweight, hydrating serum foundation evens out the skin tone and provides a gorgeous radiant finish while also protecting the skin from the sun. It's a great option if you have mature skin because it won't settle into fine lines and wrinkles.
Formulated with SPF 19, this tinted moisturizer provides light coverage with a natural, glowing finish that blends seamlessly into the skin. It's formulated with 70 percent water, aloe and witch hazel to help hydrate the skin.
Next: Why Some Sunscreens Cause Breakouts
Written By: Alyssa Kaplan, Photography: Chaunte Vaughn, Senior Art Direction: Melissa San Vicente-Landestoy, Senior Visual Designer: Hannah Packer, Associate Creative Producer: Becca Solovay, Makeup Artist: Jonet Williamson, Hair Stylist: Akihisa Yamaguchi, Wardrobe Assistant: Victoria Ochoa, Digital Tech: Kyle Thompson, Model: AnnChristine Velazquez
Discover more tips & tricks
Keep your skin happy
See all articles
Improve your routine
Show your new look more love:
makeup