face makeup
What Does Setting Spray Really Do?
It's a must-have whether you love minimal makeup or full glam.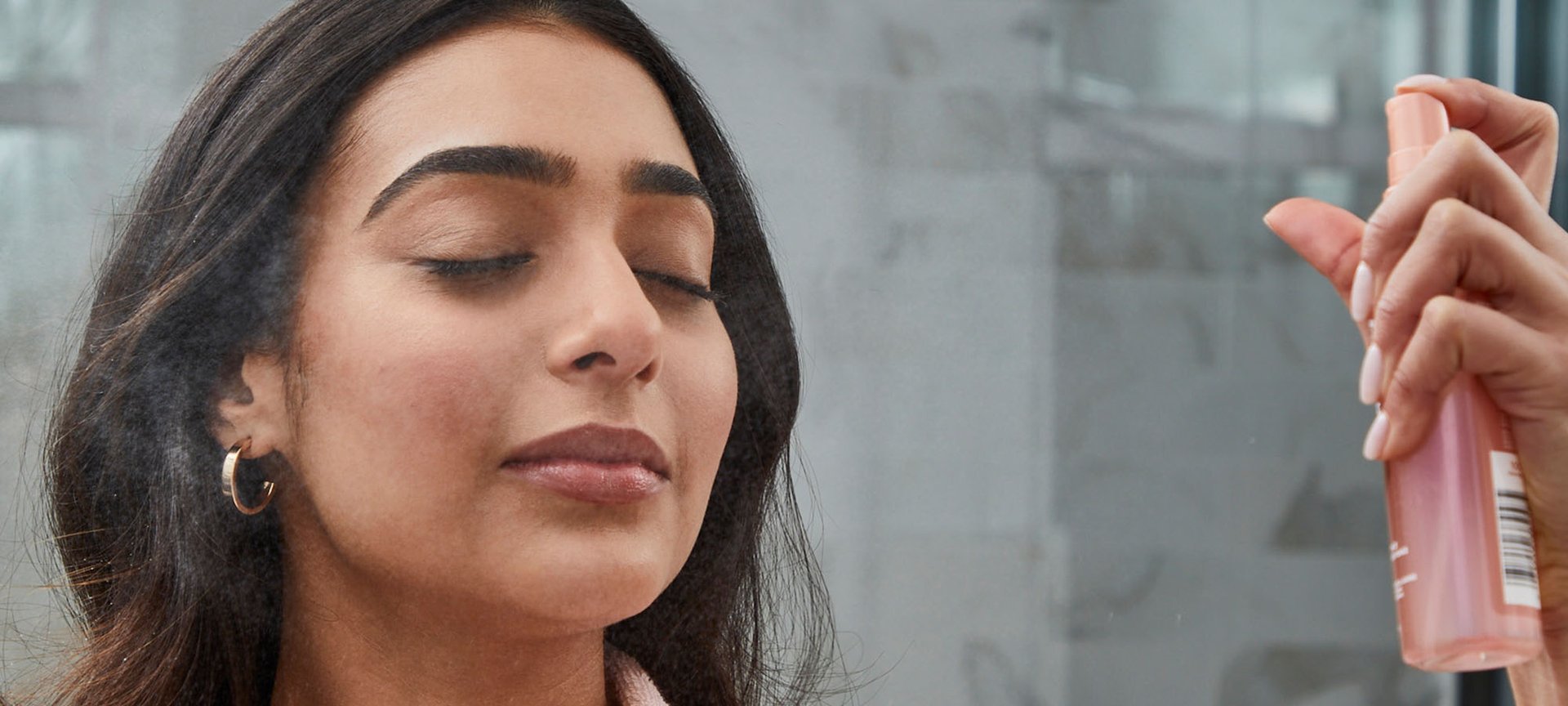 There are two types of people probably reading this right now — those who don't know or use setting spray and those who know what it is but haven't quite figured out how to make it work for them. Touted as the holy grail for making makeup stay in place all day, setting spray could be the difference between having a face full of glam stay intact through a celebration or having a face full of glam sliding down your collar before the cocktails are served. This simple makeup product can help your foundation, concealer, eyeshadow, and whatever else you have on stay put. All. Day. Long. So whether you're new to the world of makeup spray, or still trying to find one that's effective, take notes because we're about to teach you all about your new beauty essential. Here, learn everything you need to know, including the scoop on our best makeup setting sprays.
What Is Setting Spray?
Real talk: It's so disheartening to see all of your hard work — and applying a full face of makeup can definitely be hard work — fade away well before lunchtime. That's where makeup setting spray comes in to save the day. Think of it as a top coat for your makeup. You spritz it onto your face, over your makeup, as the last step of your routine.
You're probably asking yourself, "Does setting spray really make a difference?" The answer is a resounding yes! Just like you use hairspray to enhance your hairstyle, a makeup spray does the same for your makeup. We know it's never easy to keep your makeup looking fresh through the end of the day, but makeup setting sprays can help keep the need for midday touch-ups to a minimum. The whole purpose of using a makeup finishing spray is to help prevent your makeup from sliding, smudging, creasing, or fading quickly.
Editor's Tip: Some pro makeup artists will even use setting spray during the application process to set each layer of face products (meaning, they spritz after foundation, then after concealer, then after blush — you get the idea). But this is a complex technique that takes skill to prevent the final look from appearing cakey or stiff. If you plan to do this, practice first — don't experiment on a special occasion!
The Difference Between Setting Spray And Makeup Primer
Many people believe that setting spray and makeup primer are pretty much the same thing because they can both contribute to a long-lasting makeup look, but they aren't the same.
Makeup finishing spray is similar to makeup primer, except you use it as the final step in your makeup application. Makeup primer is a product used pre-makeup application to give your skin an even base for your products to lay seamlessly and stay put. Primers are typically formulated as creams, gels, and sprays.
On the flip side, makeup setting spray is used to lock in your look; it's a finishing touch. With that said, there are makeup setting sprays that double as primer sprays and can be used to start and end your makeup looks. Just pay attention to the labels on your products to know if you're working with a double-duty spray.
Is Setting Spray Bad For Your Skin?
It's common to hear that specific makeup products are bad for skin, including makeup setting sprays. But that's not always true. Not paying attention to the ingredients in your setting spray can cause your skin to freak out. Let's say you have sensitive skin. It would be best to find a makeup spray that's fragrance-free and formulated with ingredients you know your skin won't react to, like hyaluronic acid, green tea, or aloe water, to keep your skin in healthy shape. When you find a formula that complements your skin type, you should be good to go. And as with any face product, if you don't follow the directions for proper usage, you may not see the results you're looking for.
Setting Spray Vs. Setting Powder
Since you're now well-versed on the purpose of setting spray, you may be wondering if setting powder is a better option. After all, both products are similar in the way they can help to extend the life of your makeup look. However, makeup finishing sprays and finishing powders have a few differences that you should note. For some, a powder may be a better pick. This is likely the case if you have oily skin or prefer after a matte finish. If you have dry skin and want a dewy glow, a spray could be more suitable. Of course, there are mattifying sprays and glow-boosting powders, so it may take some trial and error to find what works for you.
Our Favorite L'Oréal Paris Makeup Setting Sprays
Ready to find the best setting spray for you? Consider giving one of our two face sprays a try.
This long-lasting makeup setting spray has a micro-fine texture to help set your look after you've finished putting on your makeup for a "just applied" look all day and night. Perfect for those with oily or combination skin, this oil-free offering is lightweight and non-comedogenic to give your makeup a refreshed and balanced feel.
After you've finished applying your makeup, shake the bottle, hold it eight to ten inches from your face, and spray it in an "X" and "T" motion. Just make sure to avoid spraying it in your eyes.
Formulated with quenching coconut water and brightening vitamin C, this face mist works wonders for all skin types. The formula provides a boost of healthy hydration while setting your makeup and gives your complexion an instant dewy glow. Bonus: The formula can also be used as a makeup primer spray to prep your skin before makeup application. Now that's what we call a win-win!
Next: The Best Drugstore Foundations To Replace Your Luxury Go-Tos
Edited by: Shalwah Evans, Photography: Matthew Kelly, Art Director: Hannah Packer, Creative Producer: Becca Solovay
Discover more tips & tricks
Keep your skin happy
See all articles
Shop Featured Makeup products
Discover More