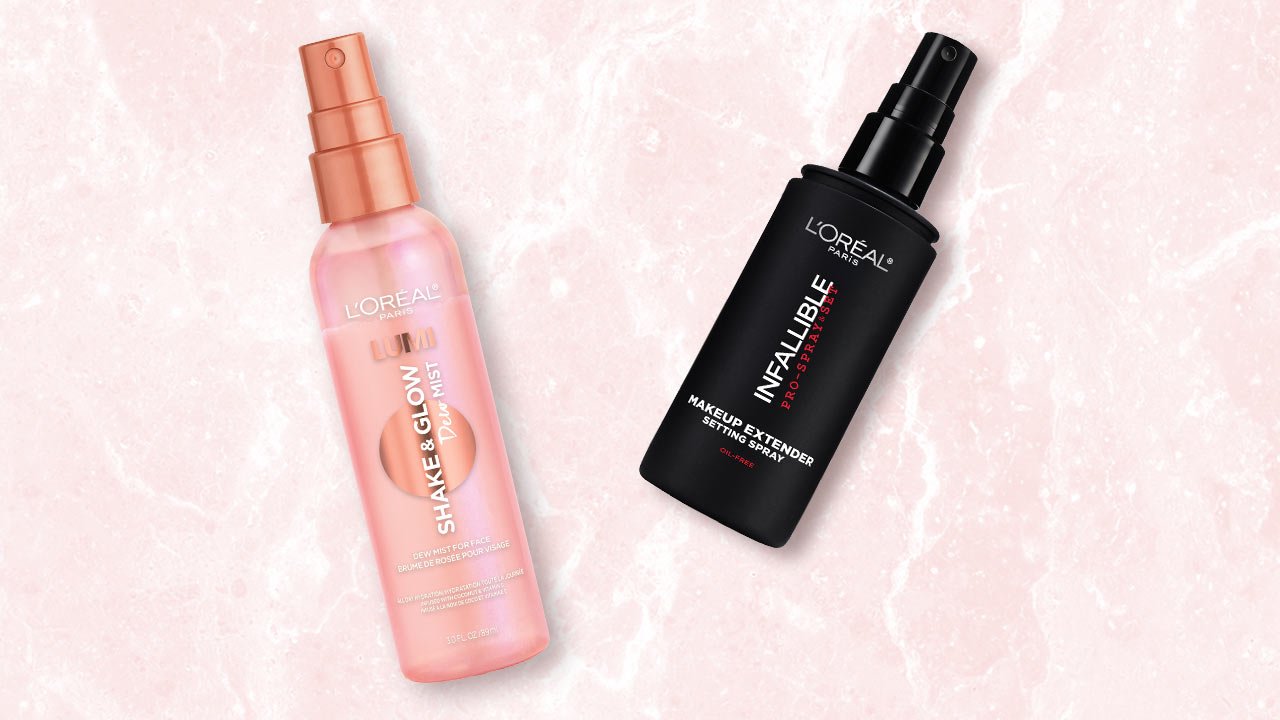 face makeup
What Does Setting Spray Do?
If you've ever wondered what the secret to making your makeup stay in place is, we know the answer. Okay, okay, we won't keep you out of the loop—it's makeup setting spray. What does setting spray do? This simple makeup product can help your foundation, concealer, eye shadow, and whatever else you have on stay put. All. Day. Long. Makeup finishing spray is similar to makeup primer, except you use it as the final step in your makeup application. If you're new to the world of makeup spray, we're about to teach you all about your new beauty essential. Here, learn everything you need to know, including the scoop on our best makeup setting sprays.
WHAT IS SETTING SPRAY?
Real talk: It's always so disheartening to see all of your hard work—and applying a full face of makeup can definitely be hard work—fade away well before lunchtime. Hence, you might want to consider adding a makeup setting spray into your beauty routine. What is setting spray? If you've never heard of makeup sprays before this article, think of them as a top coat for your makeup. They spritz onto your face, over your makeup, as the last step of your routine.
You're probably asking yourself, "Does setting spray really make a difference?" Yes! Just like you use hairspray to enhance your hairstyle, a makeup spray does the same for your makeup. We know it's never easy to keep your makeup looking fresh through the end of the day, but makeup setting sprays can help keep the need for midday touch-ups to a minimum. The whole purpose of using a makeup finishing spray is to help prevent your makeup from smudging, creasing, or fading quickly.
THE DIFFERENCE BETWEEN SETTING SPRAY AND MAKEUP PRIMER
Many people believe that setting spray and makeup primer are pretty much the same thing because they can both contribute to a long-lasting makeup look, but they aren't the same.
Makeup primer is a product used pre-makeup application to give your skin an even base for your products to lay seamlessly and stay put all day long. Primers are typically formulated as creams, gels, and sprays.
On the flip side, makeup setting spray is used as your final step to set or lock in your look. Think of setting spray as a finishing touch. With that said, there are makeup setting sprays that double as primer sprays and can be used to start and end your makeup looks. Just pay attention to the labels on your products to know if you're working with a double-duty spray!
ARE MAKEUP SETTING SPRAYS BAD FOR YOUR SKIN?
It's common to hear that specific makeup products are bad for skin, including makeup setting sprays. So, if you have some reservations about this makeup essential, it's time to pay attention. As with any face product, if you don't follow the directions for proper usage, you may not see the results you're looking for.
Further, not paying attention to the ingredients in your setting spray can cause your skin to freak out. Let's say you have sensitive skin. It would be best to find a makeup spray that's fragrance-free and formulated with ingredients you know your skin won't react to, like hyaluronic acid, green tea, or aloe water, to keep your skin in tip-top shape. When you find a formula that complements your skin type, you should be good to go.
CAN YOU USE FINISHING POWDER INSTEAD OF SETTING SPRAY?
Since you're now well-versed on the purpose of setting spray, you may be wondering if finishing powder is a better option. After all, both products are similar in the way they can help to extend the life of your makeup look. However, makeup finishing sprays and finishing powders have a few differences that you should consider. For some, a powder may be a better pick. This is likely the case if you have a complexion with excess oil or are after a matte finish. If you have dry skin and want a glow, a spray could be more suitable. Of course, there are mattifying sprays and glow-boosting powders, so it may take some trial and error to find what works for you.
OUR BEST MAKEUP SETTING SPRAYS
Ready to find the best setting spray for you? Consider giving one of our two face sprays a try.
L'Oréal Paris Infallible Pro-Spray and Set Make-up Oil-Free Setting Spray: This long-lasting makeup setting spray has a micro-fine texture to help set your look after you've finished putting on your makeup for a "just applied" look all day and night. Perfect for those with oily or combination skin, this oil-free offering is lightweight and non-comedogenic to give your makeup a refreshed and balanced feel.
L'Oréal Paris True Match Lumi Shake & Glow Dew Mist: Formulated with quenching coconut water and brightening vitamin C, this face mist works wonders for all skin types. The formula provides a boost of healthy hydration while setting your makeup and gives your complexion an instant dewy glow. Bonus: The formula can also be used as a makeup primer spray to prep your skin before makeup application. Now that's what we call a win-win!
HOW TO USE MAKEUP SETTING SPRAY
Makeup setting spray should act as the finishing touch to your beauty routine each morning (or anytime you're applying makeup). After you've finished applying your foundation, mascara, and lipstick, shake the bottle, hold it eight to ten inches from your face, and spray it on in an "X" and "T" motion. Just make sure to avoid spraying it in your eyes!
HOW TO COMPLETE YOUR LOOK WITH MAKEUP SETTING SPRAY
Now that you know just about all there is to know about makeup setting spray, it's time to incorporate it into your beauty routine. Follow this natural-looking makeup tutorial to take your look to new heights.
STEP 1: WASH YOUR FACE
Before applying makeup (and sealing it all in with a setting spray), you should focus on your skin care routine. Begin by getting a clean slate. Start by using a facial cleanser, like the L'Oréal Paris Pure-Clay Detox & Brighten Cleanser, or L'Oréal Paris Pure-Clay Exfoliate & Refine Cleanser to get rid of impurities on the surface of your skin. Squeeze a small amount of facial cleanser into your hands and add water to transform it from clay to mousse. Then gently massage the facial cleanser onto your face and rinse thoroughly.
STEP 2: APPLY MOISTURIZER
After washing your face, apply a moisturizer, like the L'Oréal Paris Hydra Genius Daily Liquid Care - Normal/Oily Skin, L'Oréal Paris Hydra Genius Daily Liquid Care - Normal/Dry Skin, or L'Oréal Paris Hydra Genius Daily Liquid Care - Extra Dry Skin, to damp skin. All three moisturizers are formulated with hyaluronic acid and aloe vera for long-lasting hydration, so pick the one that suits your skin care concerns best. Moisturizing is important to help keep your skin smooth and glowing. It sets the base for any makeup look, so don't skip out on this step!
STEP 3: START WITH PRIMER
Makeup primer can help create an even canvas for the rest of your makeup application. Try the L'Oréal Paris Infallible Pro Glow Lock Makeup Primer or the L'Oréal Paris Pro Matte Lock Makeup Primer, depending on your desired finish—glowing or matte—and your skin type. A glowing primer is best for dry skin, while a matte primer is best for oily skin. Primer can help your makeup wear more evenly throughout the day. You can also reach for a makeup primer spray, as we mentioned earlier.
STEP 4: COLOR CORRECT
You know those pastel-colored concealers you've been seeing everywhere? It's all part of the color-correcting trend! Use them to disguise discolorations—we promise you won't end up with a rainbow on your face. Depending on your complexion concerns, you can have your pick from the five available shades of the L'Oréal Paris True Match™ Color Correcting Crayon. Green neutralizes the appearance of redness, yellow hides blue or purple areas, and peach, bisque, and orange disguise dark circles on fair to light, light to medium, and medium to deep skin tones, respectively. When you've chosen your color, dot the crayon where you need correcting and blend out with your fingers or a makeup blender.
STEP 5: APPLY FOUNDATION
If you've ever wondered whether you use setting spray before or after foundation, this is your answer: Foundation should be your next step after primer and color corrector, and setting spray should be the very last step in your routine. (The only time you'll use setting spray before foundation is if you have a makeup priming spray!)
Choose a foundation based on your skin type or skin care concerns. If you have dry skin, try the L'Oréal Infallible Pro-Glow Foundation. If you have oily skin, try the L'Oréal Infallible Pro-Matte Foundation. Have acne scars you'd like to hide? Then reach for a full-coverage foundation, like the L'Oréal Paris Infallible Total Cover Foundation. Regardless of which foundation you choose, apply it with the L'Oréal Paris Infallible Blend Artist Foundation Blender, using dabbing and rolling motions to blend it onto your skin.
STEP 6: SWIPE ON MASCARA
Get ready to bat those lashes! For optimal lash drama, start with a coat of lash primer, like the L'Oréal Paris Voluminous Lash Paradise Mascara Primer/Base. This pink-tinted mascara primer helps condition lashes for enhanced mascara wear. Then, reach for the L'Oréal Paris Voluminous Lash Paradise Washable Mascara and apply a few coats from root to tip. Looking for more drama without having to resort to applying fake lashes? Try the L'Oréal Paris Voluminous X Fiber Mascara, which is dual-ended, with a black primer on one end and a fiber-filled mascara on the other. To use, start by applying the primer, making sure to coat every lash. Then, before the primer dries, brush the mascara onto your lashes.
STEP 7: ADD A SUBTLE KISS OF COLOR TO YOUR LIPS
Want a pretty-looking pout? Keep things subtle with a shiny lipstick. Use the L'Oréal Paris Colour Riche Shine Lipstick in Dazzling Doe or Glossy Fawn for a hint of color. To get smoother lips, use a lip scrub first to gently buff dead skin cells away from the surface of your lips before applying your lip color. Here's How to Use a Lip Scrub to Exfoliate Your Pout. You can also line your lips with clear lip liner to help keep your lipstick in place.
STEP 8: SPRITZ ON MAKEUP SETTING SPRAY
This is it—the final step in your makeup routine! It's time to use makeup setting spray to help set your look. Just spray it onto your face and you're good to go. Now, you won't have to worry about your makeup fading by midday anymore.
It's safe to say that you can consider yourself a makeup spray expert at this point, but why stop here? Ready to expand on your beauty education? Learn all about a different kind of spray in our article, How to Use a Temporary Hair Color Spray.
Discover more tips & tricks
Keep your skin happy
See all articles
Shop Featured Makeup products
Discover More