face makeup
Your Makeup Base Is Important: Here's How To Apply It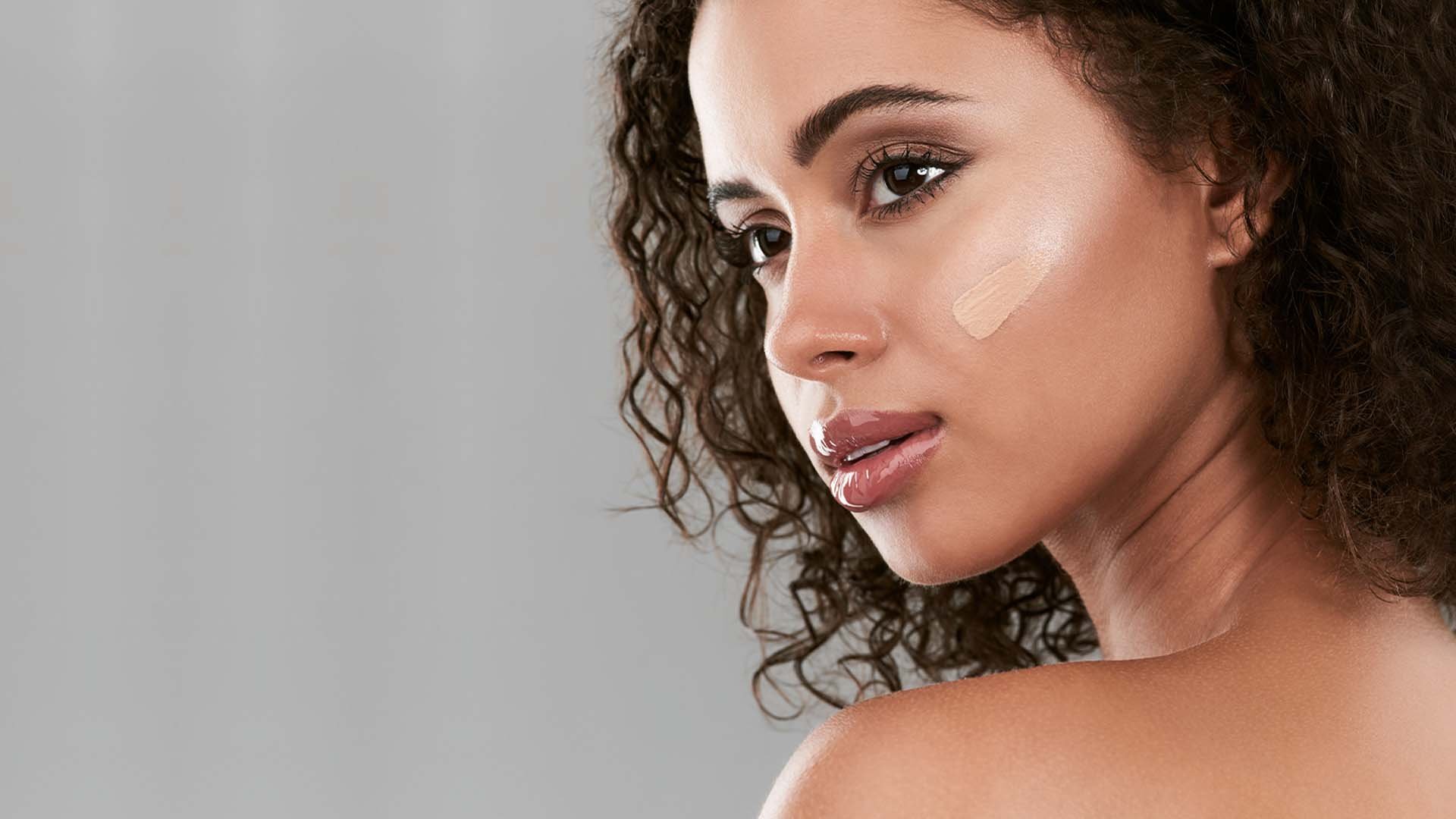 You know how the saying goes: a house is only as strong as its foundation. While we may not be architecture experts, this is one lesson in building that translates to a plethora of aspects in your life—from relationships to your makeup look. Speaking of the latter, a proper makeup base is the key to having a flawless makeup look, every time. And no, we're not just talking about foundation alone. Ahead, we'll dive into what, exactly, a makeup base is and a step-by-step routine on how to apply one.
What Is a Makeup Base?
First and foremost, there are actually two things that can be considered your makeup base in the world of beauty: primer and the actual base of your look—meaning primer, foundation, concealer, and face powder. Primer is typically applied as the first step in your makeup regimen and works to blur imperfections and help prevent your makeup from fading and smudging throughout the day. As the first step in your makeup routine, it's truly essential, and is the base for everything that follows—hence the name.
Face makeup, in general, is also referred to as base makeup because it's the canvas for the products you decide to top it with, from highlighter to eyeshadow.
How To Apply Your Makeup Base
If you're prepared to give your makeup look a base that goes a step further than smoothing on a makeup primer, consider this your guide. Follow the steps below to apply flawless base makeup every time.
Step #1. Smooth On a Primer
As we said, a primer is sometimes referred to as a makeup base, which should make it clear that it's key for this routine. Start by applying a primer that suits your needs. If you love a radiant finish, consider the L'Oréal Paris Infallible Pro-Glow Lock Makeup Primer. If you're a fan of matte finishes, turn to the L'Oréal Paris Infallible Pro-Matte Lock Makeup Primer. Both primers will help blur imperfections and prep your skin for the rest of your makeup base.
Step #2. Color-Correct Where Needed
This step could be considered optional, but if you want to go all-in with your makeup base, color-correcting is key. What we mean is, use a color-correcting concealer on areas of discoloration. Think redness on your cheeks and dark circles under your eyes. Use the L'Oréal Paris True Match Color-Correcting Crayon Concealer in whichever shade will neutralize your concerns (green for redness, yellow for blue and purple areas, or peach for dark circles), applying it to targeted areas.
Step #3. Buff On Foundation
It's now time to move on to foundation. The type of foundation you use is up to you, depending on the amount of coverage you'd like and your preferred finish. That said, we always recommend looking for a formula that has buildable coverage, like the L'Oréal Paris Infallible 24 Hour Fresh Wear Foundation, Lightweight. This way, you can build the product to higher coverage in areas where you'd like a little extra camouflage while keeping things light in other spots.
Step #4. Dab On Concealer
Sure, full-coverage foundation may have worked its magic to cover up blemishes, but a bit of concealer can help disguise any remaining imperfections you'd like to keep undercover. You can also apply a concealer in a color that's one to two shades lighter than your skin tone in upside-down triangles under your eyes to brighten the area and create the illusion of a more awake visage. Turn to a full-coverage, waterproof offering for all of your concealer needs, like our L'Oréal Paris Infallible Full Wear Concealer Waterproof, Full Coverage.
Step #5. Set With Powder
Your makeup base routine calls for one final step: face powder. This will set the rest of the base you've just applied, ensuring it stays flawless throughout the day and night. It'll also help prevent oil and shine from making an appearance. For just a touch of extra coverage, opt for a tinted option. Try the L'Oréal Paris Infallible Tinted Loose Setting Powder. You can dust the powder all over your face for a soft-focus matte finish.
Next up: While we're on the topic of setting powder, you should know: This handy product can be used for more than you might assume. Learn just what it's capable of in our article, What Is Baking Makeup and How To Do It Like The Pros.
Discover more tips & tricks
Keep your skin happy
See all articles
Shop Featured Makeup products
Discover More