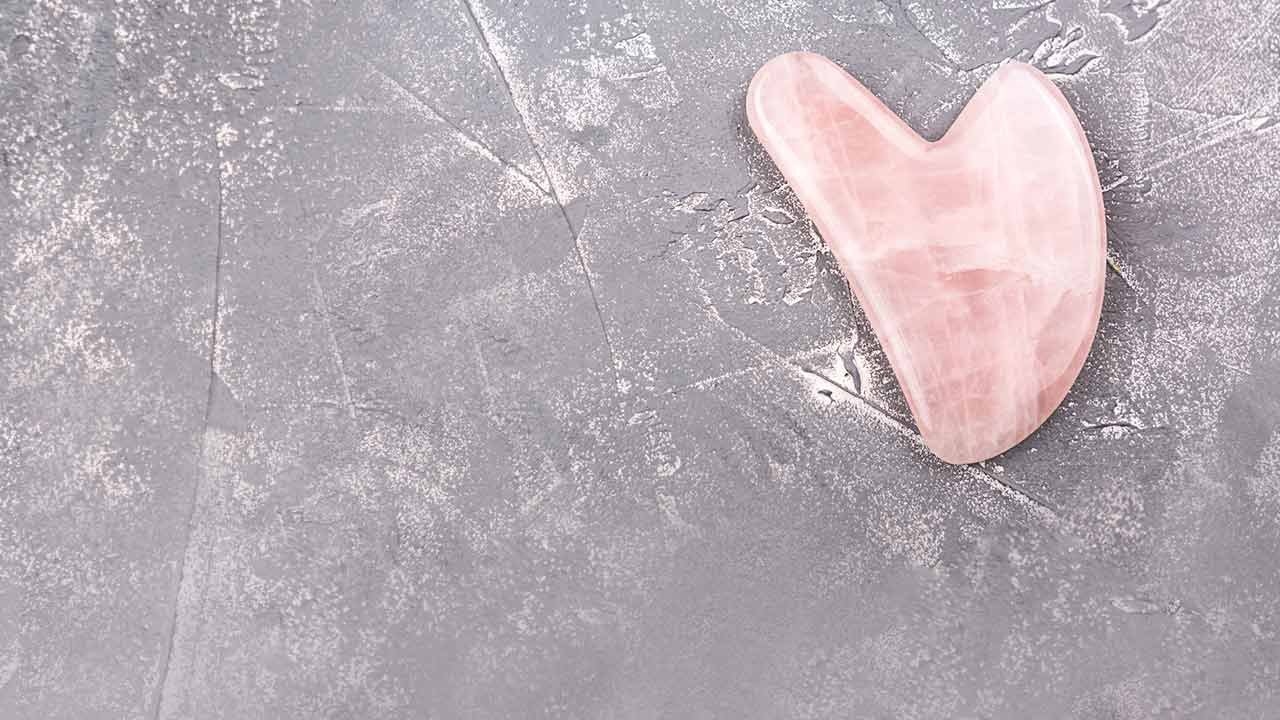 We all have different ways to manage our stress, whether that's indulging in a face mask, practicing yoga, or treating yourself to a much-needed massage. If you prefer the latter, you may have heard of the gua sha massage. Or, maybe you've seen those pretty pink crystal massage tools all over your Instagram feed and are curious about what they are and how to use them. This East Asian massage is much more than just a crystal facial tool, although that is part of this skin care trend. It's popular for a variety of reasons and can be done in the form of a body massage or as a gua sha facial. Want to learn more about the gua sha massage? Keep reading for everything you need to know about gua sha.
WHAT IS GUA SHA MASSAGE?
As we mentioned, gua sha is a massage technique that originated in East Asia. The gua sha massage uses a pressing technique on the skin. According to a study from the National Center for Biotechnology Information (NCBI), "gua" references the stretching of the skin while "sha" refers to the texture or marks that appear afterward. When it comes to gua sha facial tools and massage tools, a blunt, spoon-like object is often used to repeatedly scrape the skin on a particular area of the body. Per the Journal of Traditional Chinese Medicine, this technique results in therapeutic petechiae—small purple or red spots caused by broken capillaries. These marks usually go away within two to five days, according to an NCBI study.
WHAT IS A GUA SHA FACIAL?
You may be wondering, "Is the gua sha massage technique the same technique used for a gua sha facial?" The answer is yes—and no. The gua sha facial is inspired by the traditional gua sha massage, though done with less force. You've probably seen the gua sha facial tool circulating your social media platforms—a jade or quartz scraper that's definitely Instagram-worthy. In a similar fashion to traditional gua sha, the jade scraper is pressed in short and long strokes along your face and neck as needed. This can be done by a professional or by yourself at home. Why might you want to give it a try? Well, facial massages may be one strategy to help reduce the appearance of sagging and wrinkles. Simply put: gua sha facial tools are used to massage your face, similarly to a jade roller.
WHAT ARE THE BENEFITS OF GUA SHA MASSAGE?
So, what are the benefits of this scraping massage? Below, we're sharing three reported benefits worth mentioning. Just know, if you're interested in gua sha, these benefits aren't guaranteed!
GUA SHA MASSAGE BENEFIT #1: MUSCLE PAIN REDUCTION
The most sought-after benefit of the gua sha massage is muscle pain reduction. Studies have found that the gua sha massage has resulted in reduced chronic neck pain, per the Journal of Traditional Chinese Medicine, as well as diminished chronic low back pain, according to an NCBI study.
GUA SHA MASSAGE BENEFIT #2: MICROCIRCULATION
Gua sha can also result in microcirculation. And what's that, you ask? Microcirculation is the circulation of blood in the smallest vessels, which helps to maximize the distribution of nutrients and oxygen by touching nearly every living cell, according to an NBCI study.
GUA SHA MASSAGE BENEFIT #3: SKIN IMMUNITY
Lastly, a gua sha massage is also thought to be helpful with increasing skin immunity. The previously cited NCBI study found increased ratios of immune active cells in the skin tissue that received treatment, indicating that the gua sha massage can help boost your immune system. Still, more research is needed to fully understand this gua sha massage benefit (and the others noted above).
{ "@context": "https://schema.org/", "@type": "WebPage", "speakable": { "@type": "SpeakableSpecification", "cssSelector": ["speakable-content"] }, "url": "https://www.lorealparisusa.com/beauty-magazine/skin-care/skin-care-concerns/gua-sha-tools-for-massage" }
Discover more tips & tricks
Keep your skin happy
See all articles
Improve your routine
Show your new look more love:
makeup
{ "@context": "http://schema.org", "@type": "BreadcrumbList", "itemListElement": [ { "@type":"ListItem", "position": 1, "item": { "@id": "/", "name": "Home" } } , { "@type":"ListItem", "position": 2, "item": { "@id": "https://www.lorealparisusa.com/beauty-magazine", "name": "Beauty Magazine" } } , { "@type":"ListItem", "position": 3, "item": { "@id": "https://www.lorealparisusa.com/beauty-magazine/skin-care", "name": "Skin Care For Every Age" } } , { "@type":"ListItem", "position": 4, "item": { "@id": "https://www.lorealparisusa.com/beauty-magazine/skin-care/skin-care-concerns", "name": "Skin Care Concerns" } } , { "@type":"ListItem", "position": 5, "item": { "@id": "https://www.lorealparisusa.com/beauty-magazine/skin-care/skin-care-concerns/gua-sha-tools-for-massage", "name": "gua-sha-tools-for-massage" } } ] }