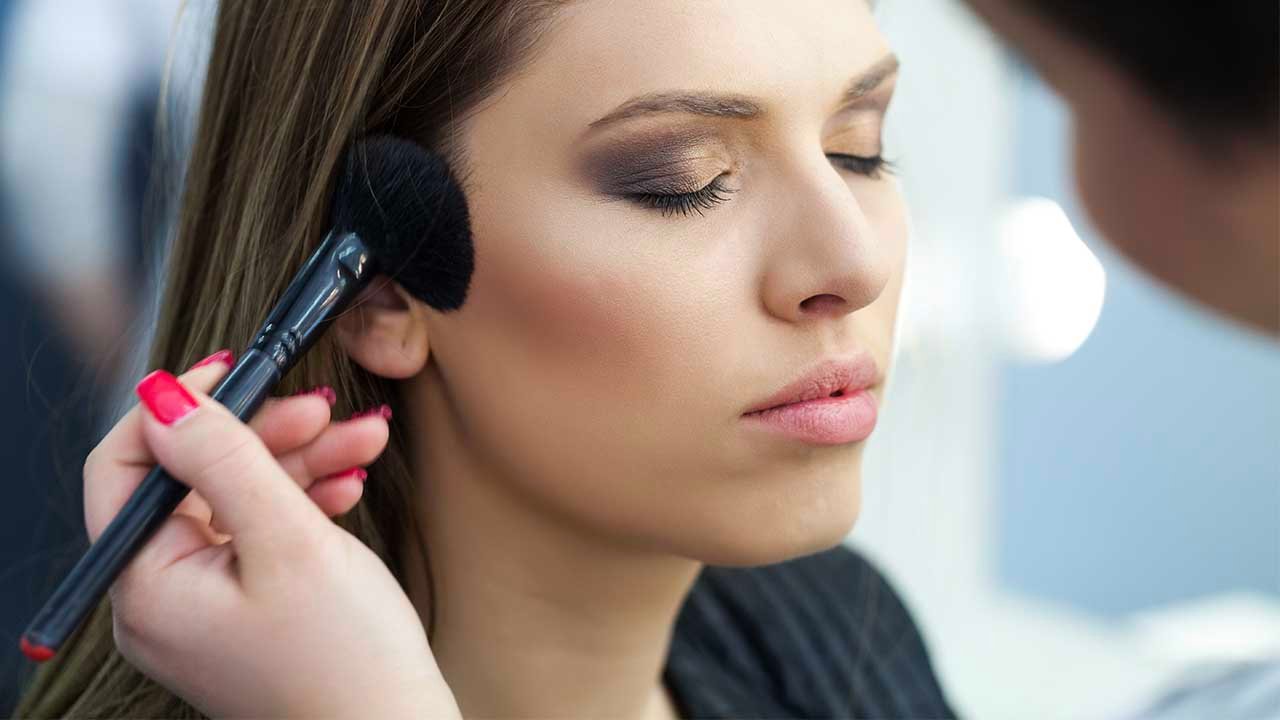 face makeup
Bronzer vs. Contour: What's the Difference?
Be honest for a minute: Do you know the difference between bronzer and contour? Don't be ashamed if you can't say yes—many people don't realize that how to apply bronzer and how to contour aren't the same. In fact, it's extremely common for the two to be lumped together and thought of as interchangeable. That's why you may find that many people use bronzing products to contour and contour products to bronze. However, the two makeup techniques aren't nearly the same.
Despite powders and creams being used to practice both techniques, they're different—and as such, different products are necessary. That's right—if you've been attempting to turn your bronzer or contour products into multi-taskers, you need to rethink your face makeup application habits. To understand exactly why you should resist the temptation to chisel your cheekbones with bronzer or give yourself sun-kissed skin with a contour powder, you'll need to learn exactly what bronzer is vs. what contouring is. Read on for the answers to all your bronzer and contour questions, including how to use bronzer and how to contour the right way.
BRONZER VS. CONTOUR: WHAT'S THE DIFFERENCE?
It isn't totally ridiculous to assume that bronzing and contouring are the same, seeing as they both can be used to add depth to a makeup look. In that sense, it turns out that they can have a similar effect. The main point of difference is the purpose of each technique. When one contours correctly, the goal is to make shadows on the face. These shadows are practically magic, as they can be used to give the appearance of a slimmer face, more prominent cheekbones, a stronger jawline, a smaller nose, fuller lips, and more. All of that, with only makeup!
What is bronzer for, and what does it do, on the other hand? The technique is meant to create natural-looking warmth—not shadows. By knowing where and how to use bronzer, you can make your skin look as if you've been vacationing on a tropical island, soaking up the sun—even if you're really a total homebody or in the midst of a harsh winter.
Now that you know the two techniques are meant to achieve different results—shadows vs. warmth—it should make sense that they require different products. Just think about it: Contouring creates shadows, which typically have a greyish and cool-toned hue. Bronzer, on the other hand, has a warm tone. That's why if you've ever contoured with bronzer you may have noticed your skin looked orange rather than defined. On the other hand, attempting to bronze with a contour product is likely to leave you looking grey and ghostly, with a complexion that's far from warm. Don't worry about it though; we'll cover the right product picks for each technique before this article's end. Moving right along...
HOW TO APPLY BRONZER
In addition to needing different products, contouring and bronzing call for different steps to apply the aforementioned products. And even if bronzer is a staple in your makeup routine, there's a solid chance you don't have your technique down pat. If your bronzer tends to end up looking muddy or orange, it's time for a refresher course on how to apply bronzer. Here's how to use bronzer in three simple steps.
STEP 1: APPLY BRONZER IN "3" SHAPES
If you've heard that bronzer is a solid replacement for self-tanner and should be swept over your entire face, we have something to tell you: Bronzer isn't meant to go everywhere. If that were the case, you would just apply foundation that's too dark. So, where should you apply bronzer? Bronzing products should be focused on your forehead, cheekbones, and jawline—the spots the sun would naturally hit. The best way to do this is to use the "3" method, which involves creating "3" shapes on either side of your face. Dip a fluffy brush into a powder bronzer, then apply it in the shape of a "3" (or an "E") along the side of your face, hitting your temples, cheekbones, and jawline.
STEP 2: DON'T FORGET YOUR NECK
Don't commit an amateur makeup mistake—your neck needs to match your face. That means not don't skip applying bronzer on your neck. Before you put away your bronzer and brush, apply it to the sides of your neck, too.
STEP 3: ADD BLUSH
The best way to complete a bronzed makeup look is with blush. Adding a (subtle) pop of color to your cheeks helps complete the natural, flushed effect you're striving for. Sweep a shade of the L'Oréal Paris True Match Blush onto the apples of your cheeks—and you're done.
OUR BEST BRONZERS
Worried you'll end up with a bronzer that's terribly orange? We have product recommendations to help with that:
L'Oréal Paris True Match™ Lumi Bronze It Bronzer: Achieve a healthy golden glow with this face and body bronzer.
L'Oréal Paris Summer Belle Makeup Bronze Please!: Prefer a matte bronzer? Apply this all-over bronzer where the sun naturally hits for sun-lit color.
HOW TO CONTOUR
Contouring may seem intimidating, but just like bronzing, we're breaking it down into three simple steps. Here's how to use a contour product:
STEP 1: CONTOUR KEY SPOTS
A key difference between contouring and bronzing is that where you apply contour products on your face needs to be more specific than where you use bronzer. Sweeping a contour powder over your face won't make you look slimmer all over, it'll just look unnatural. You'll want to keep the product to certain spots where a shadow would happen naturally. Using a makeup blender, apply a contour powder or cream on your temples, down either side of your nose, below your cheekbones, along your jawline, and in the dip beneath your bottom lip.
STEP 2: BLEND, BLEND, BLEND
One of the fastest ways to mess up contouring is to skip this step. Blending only takes a minute, but it makes all the difference in whether you simply have patches of dark makeup on your face or you actually look sculpted. Work your makeup brush or makeup blender over any harsh edges until they look soft and natural.
STEP 3: FOLLOW WITH HIGHLIGHTER
Think of pairings that you know and love: Peanut butter and jelly, cats and dogs, salt and pepper…contour and highlight. Yep, contouring and highlighting really go together like PB&J! Highlighting the highpoints of your face is the perfect complement to contouring. Apply an illuminating powder, like the L'Oréal Paris True Match™ Lumi Shimmerista Highlighting Powder, down the bridge of your nose, above your cheekbones, around the inner corners of your eyes, and on your cupid's bow. And don't forget to blend!
OUR BEST CONTOUR PRODUCTS
Not sure what to use to sculpt your face? We have you covered—have your pick from our best contour products.
L'Oréal Paris Infallible Longwear Shaping Foundation Makeup Sticks: Easily define your face with these long-lasting, buildable shaping sticks, which are available in 12 shades.
L'Oréal Paris Infallible Blend Artist Foundation Blender: Banish harsh lines by using this makeup blender to blend your contour products.
Editor's tip: Don't limit yourself to the above products—you can also use concealer to contour! For proof, Try this Easy Contour Tutorial with Concealer.
Now that you know how to apply bronzer and how to contour, as well as the difference between the two techniques, perhaps you're ready to find out the answers to more of your most pressing beauty questions. We have you covered: If you're interested in expanding your face makeup knowledge, read What's the Difference Between BB and CC Cream?
Discover more tips & tricks
Keep your skin happy
See all articles
Shop Featured Makeup products
Discover More