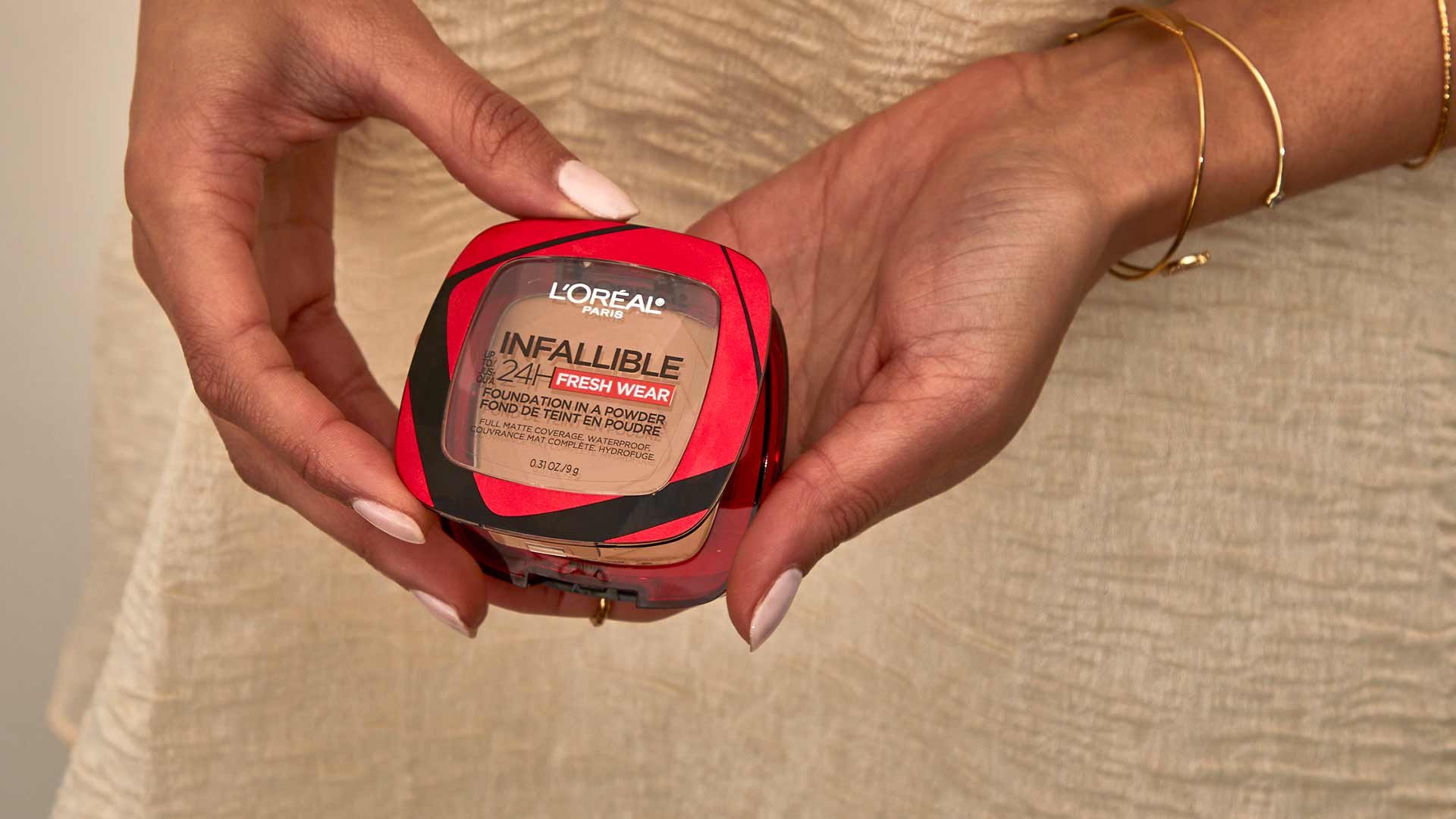 face makeup
The Best Multitasking Powder Foundation For Every Skin Type
As the weather heats up in the coming months, switching to powder foundation can be a great way to adapt your makeup routine to the changing seasons. Powder foundations are optimal for warm days because they tend to feel lighter on the skin (than their liquid and cream counterparts) and won't melt away throughout the day. But it can be hard to weed through the countless options available to find one that suits your skin type and concerns. It can also get costly to play the game of trial and error. So to save you time and money, we're sharing our favorite multitasking powder foundation formulated for every skin type. The bonus: you can snag it right at your local Target.
Our Best Multitasking Powder Foundation
The L'Oréal Paris Infallible Up to 24H Fresh Wear Foundation in a Powder has influencers raving about it and for good reason. It's long-wearing, ultra-lightweight and leaves a gorgeous, smooth, matte finish on the skin. It's also waterproof, sweatproof, and heatproof, making it an easy spring and summer go-to when those temperatures soar. Arguably the best part? It's great for all skin types.
IF YOU HAVE OILY SKIN...
Figuring out how to apply makeup to oily skin can be challenging. If you have oily skin, you know how frustrating it is to look in the mirror midday and see a complexion that looks slick and greasy—despite how well you set your face, oil seems to always seep through. But if you opt for makeup that's too matte, your skin can end up looking cakey. This Fresh Wear in a Powder Foundation covers like a liquid and offers up to 24-hour matte finish without the caked-on look of other powders. It also has a breathable feel and is non-comedogenic, so you can feel confident that your foundation isn't smothering your pores.
Editor's Tip: Another great option if you want extra coverage and a super-matte finish is the L'Oréal Paris Infallible Pro-Matte Foundation. It's great for oily skin because it's not only matte, but it's also oil free and resistant to humidity and sweat too.
IF YOU HAVE DRY SKIN...
People with dry skin know all too well the discomfort that comes with dry patches and the reality of trying to apply makeup on top of them—cakey, uneven foundation. Powder foundations tend to magnify those pesky problems instead of camouflage them. Not this powder foundation! The velvety smooth formula glides over dry skin and blurs imperfections. When paired with a hydrating primer it's the ultimate base product for achieving even texture and even skin tone. If you swear by your L'Oréal Paris Infallible Pro-Glow Foundation, swap it out for this must-have this spring and enjoy how it doesn't transfer to your protective face mask on hot days.
IF YOU HAVE SENSITIVE SKIN...
If you have sensitive skin, this powder foundation is just right for you. Not only is it dermatologist tested, but it's also non-comedogenic (meaning it won't clog your pores) which makes it great for acne-prone skin too. The formula is incredibly breathable and lightweight, so it feels comfortable on the skin throughout the day. And because it has gorgeous full coverage, it's great for covering blemishes and evening out redness that can come along with sensitive skin.
IF YOU HAVE COMBINATION SKIN...
If you have combination skin, you likely deal with multiple skin concerns at the same time. Because of this, you need a versatile foundation like this one. It controls shine where you get oily, while covering up dry areas without looking cakey. If you just want to use it on your oily T-zone, pair it with its liquid sister, the L'Oréal Paris Infallible 24HR Fresh Wear Foundation, Lightweight, on dry areas, and your skin will look even, set and ready for a warm day.
IF YOU HAVE MATURE SKIN…
If you have mature skin and are wondering if you can also enjoy the benefits of this top-rated powder in a foundation, the answer is a resounding yes! It has excellent buildable coverage and the finish looks like your skin but youthful and radiant. It provides a seamless blurring effect and feels weightless on the skin which makes it comfortable to wear all day.
Photography: Matthew Zach, Senior Art Director: Melissa San Vicente-Landestoy, Associate Creative Producer: Becca Solovay
Next: The Best Powder Foundations That Won't Rub Off On Your Face Mask
Discover more tips & tricks
Keep your skin happy
See all articles
Shop Featured products
Discover More