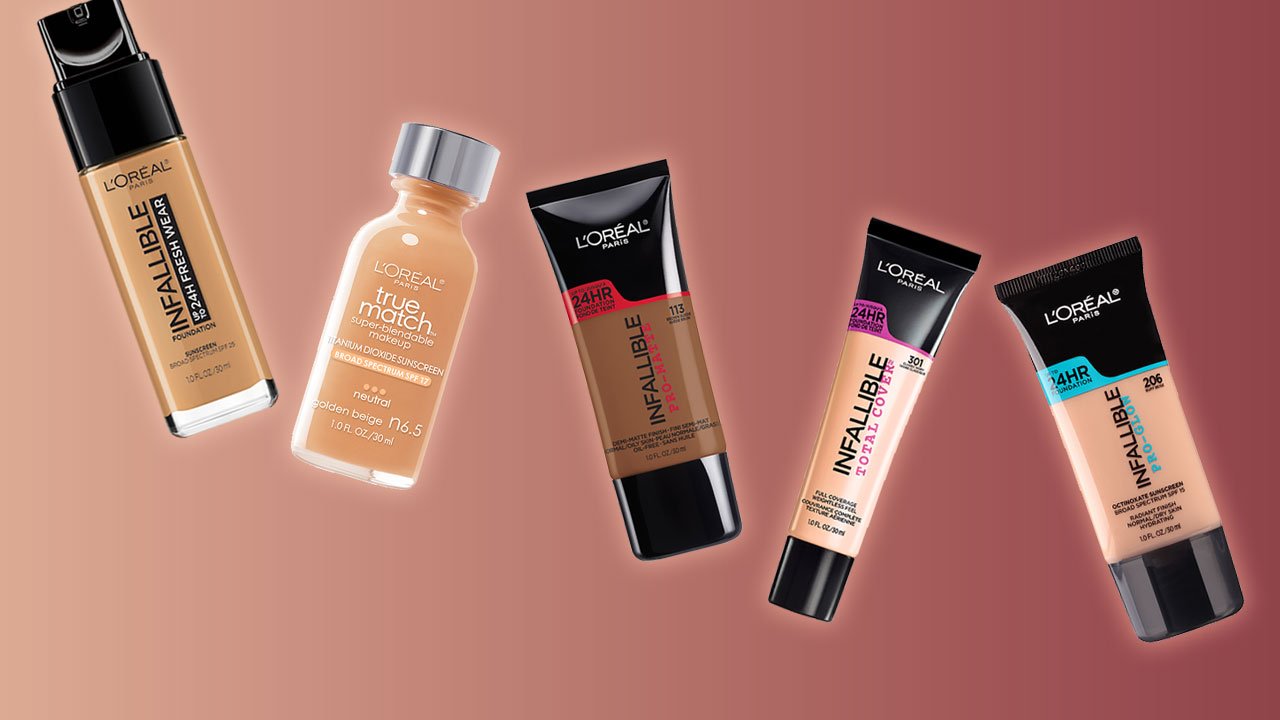 face makeup
Our Best Drugstore Foundations
The drugstore is clearly the most convenient place to pick up a new bottle of foundation—there's one on every corner and you probably need to make a stop there anyway, whether it's to pick up a bottle of shampoo or stock up on some snacks. Of course, convenience isn't all that matters. You're concerned with the quality of your makeup, too! Thankfully, drugstores are always stepping up their game and nowadays, you can find a variety of foundations that rival those with hefty price tags. Need to restock your makeup bag? Below, find five of our best drugstore foundations.
Drugstore Foundation #1: L'Oréal Paris Infallible Up to 24HR Fresh Wear Foundation, Lightweight
Traditionally not a fan of foundation? Don't rule it out just yet! You may simply be in need of a foundation that's better suited to your needs. If foundation always feels way too heavy on your face, you may be surprised by how much you'd actually love a more lightweight option. While BB cream and tinted moisturizer can also be solid alternatives to heavy-duty foundation, there may be days where you still want the level of coverage that foundation promises. On those occasions, reach for the L'Oréal Paris Infallible Up to 24HR Fresh Wear Foundation, Lightweight. This breathable foundation has an air-light texture and a long-lasting, natural finish, in addition to offering broad-spectrum SPF 25 and buildable coverage.
Drugstore Foundation #2: L'Oréal Paris Infallible Total Cover Foundation
We feel you, sometimes you don't want a single imperfection to show. Maybe you're having a bad skin day or you simply have a hot date you want to look especially flawless for, either way, a full coverage foundation is in order—and yes, you can get one at the drugstore! In fact, the L'Oréal Paris Infallible Total Cover Foundation is so full coverage that it can even be used to cover tattoos. Pretty impressive, right?
Drugstore Foundation #3: L'Oréal Paris Infallible Pro-Glow Foundation
If you love highlighters, shimmer-packed blushes, and radiant bronzers, we have a feeling you'll be a fan of this foundation, too. Instead of relying solely on your cheek products to give your skin a glisten, opt for a foundation with a glow-y finish. The L'Oréal Paris Infallible Pro-Glow Foundation is a perfect pick, especially for those with dry skin. Not only does this foundation give skin a gorgeous, radiant finish but it also has a hydrating formula. And no need to worry, your skin won't look greasy!
Drugstore Foundation #4: L'Oréal Paris Infallible Pro-Matte Foundation
Prefer matte foundation? Whether you want to go matte all over or simply like to start with a matte base, the L'Oréal Paris Infallible Pro-Matte Foundation is an excellent option. This demi-matte (aka matte but not too matte) foundation has an oil-free formula, long-lasting, medium coverage, and a light texture. Even if you aren't obsessed with the matte makeup trend, give it a try if you have oily skin as it can help control oiliness!
Drugstore Foundation #5: L'Oréal Paris True Match Super Blendable Makeup
There's no denying it, finding foundation in your perfect shade can be a challenge. Much to our satisfaction, however, things are moving in the right direction, with makeup brands releasing foundations with increasingly large shade ranges. You might think finding a foundation with dozens of available hues would require a trip somewhere other than the drugstore, but think again. The L'Oréal Paris True Match™ Super Blendable Makeup comes in more than 40 shades, which are conveniently broken down by which undertones they suit. Basically, this foundation makes finding your match oh-so-easy!
Editor's note: Do you often find yourself wearing foundation that doesn't match your neck or looks slightly off against your skin tone? We can help! Here's How to Find Your True Match™ Foundation Shade.
Our Best Drugstore Makeup Sponge
Drugstores are also the perfect place to pick up something to apply your foundation with. Instead of smoothing on foundation with your fingers, why not try a different approach and reach for a makeup blender? Your foundation will go on seamlessly and it's a bit more hygienic than using your hands. As for which makeup sponge to stock up on during your next drugstore run, we're all about the L'Oréal Paris Infallible Blend Artist Foundation Blender. Made with a plush material and featuring an easy-to-grip shape and rounded edges, this makeup blender helps make face makeup application effortless.
Ready for more drugstore recs? Next, check out Our Best Drugstore Mascaras.
Discover more tips & tricks
Keep your skin happy
See all articles
Shop Featured Makeup products
Discover More