eye makeup
8 White Eyeliner Hacks to Try ASAP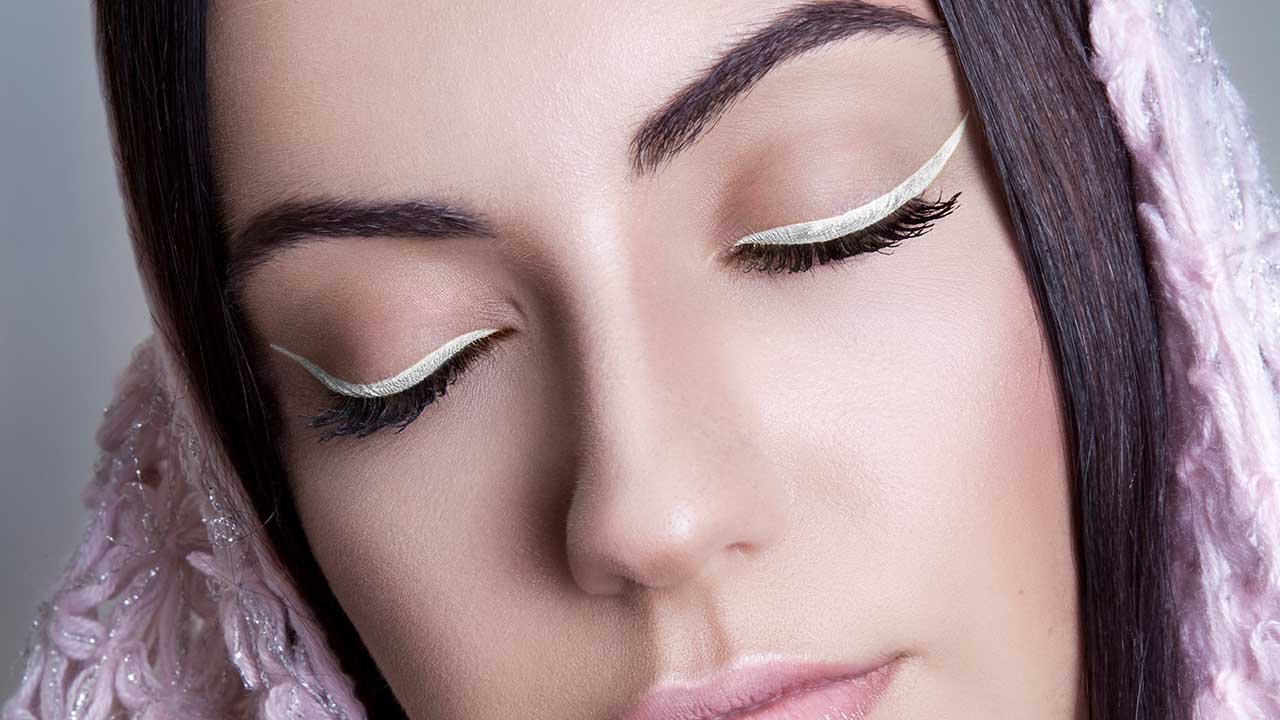 If white eyeliner isn't already a key player in your makeup stash, you're missing out. Why, you ask? Well, besides being a useful product for the obvious (creating strong white lines), there are quite a few little white eyeliner tips and tricks that can serve your beauty look well. Keep reading for our eight favorite hacks for using a white eyeliner pencil to achieve your ultimate makeup look. Then, pick up the L'Oréal Paris Infallible Never Fail Eyeliner in White to try them yourself!
WHITE EYELINER HACK #1: MINIMIZE THE LOOK OF REDNESS
Whether your eyes look red from allergies, lack of sleep, or a good cry sesh, this hack could be useful for you. Line your eyes in white to help hide the unwelcome hue, as the stark shade can help brighten and neutralize the look of redness.
WHITE EYELINER HACK #2: AMP UP EYE SHADOW PIGMENT
If you have eye shadows that could use a boost in their pigment, try layering white eyeliner underneath. This can help conceal the natural color of your lids and act as a neutral, blank base for eye shadows. To help bring the look of vibrancy to even your dullest eye shadow shades, color your lids completely in white before placing shadow on top.
WHITE EYELINER HACK #3: HIGHLIGHT YOUR EYEBROWS
Give your eyebrows some lift using white eyeliner. Taking your white eyeliner, draw just under and above your eyebrows. Blend out using your finger or a small brush to create a subtle, natural-looking highlight that can help give the look of totally sculpted eyebrows—even if you haven't had a wax in a while.
WHITE EYELINER HACK #4: CREATE AN OMBRÉ EFFECT
Ombré eyeliner may sound intimidating but with the help of white eyeliner it's surprisingly simple. If you have white eyeliner and a single other shade (like the L'Oréal Paris Infallible Pro-Last Waterproof Pencil Eyeliner in Purple or Cobalt Blue), creating a fabulous-looking fade is easy. Start by lining your upper lash line in white, from the inner corner to the center. Then, with your colored eyeliner, line the outer third of your lash line. Finally, with a thin eyeliner brush, blend. Use the brush to pull the second color into the middle of your lash line, mixing with the white beneath it. And that's it—you've officially ombré'd!
WHITE EYELINER HACK #5: MAKE YOUR EYES LOOK BIGGER
While you're pretty much stuck with the eye shape and size you were born with, makeup can temporarily change almost anything—and eyes are no exception. If you're looking to achieve the appearance of super-big eyes, white eyeliner is about to become your new best friend. Seriously, start braiding friendship bracelets. Using your white liner, line your lower waterline, just above your lashes. The color will blend with the whites of your eyeballs and give you the illusion of having bigger eyes.
WHITE EYELINER HACK #6: BRIGHTEN YOUR INNER CORNERS
In addition to using concealer to cover up dark circles, white eyeliner can come in handy, too. Add white in the inner corners of your eyes, around your tear ducts. This can help instantly brighten the look of your peepers. Talk about a quick fix!
WHITE EYELINER HACK #7: WING IT OUT
You're probably used to wearing black liner day in and day out, but it might not even occur to you to try the same styles in white. Give yourself a break from black by recreating a classic wing in white. The combination of the standard shape and surprising color is just right for a makeup look that pops.
WHITE EYELINER HACK #8: ADD AN ACCENT
Once you've gotten bored of your favorite eyeliner looks, spice them up with a touch of white. You don't have to give up your everyday styles—just add white to any look to help put a fresh spin on it. Try outlining the tip of your wing in white or sandwiching a line of white between other colors.
Once you perfect your white eyeliner makeup look, simply top your lashes off with a coat of the L'Oréal Paris Voluminous Lash Paradise Mascara Primer/Base, followed by a coat of the L'Oréal Paris Voluminous Lash Paradise Mascara in Mystic Black, and you're ready to go.
Love white but want to rock some color too? Check out our article, How to Do Color-Blocked Eyeliner.
Discover more tips & tricks
Keep your skin happy
See all articles
Shop Featured Makeup products
Discover More