eye makeup
5 Eyebrow Grooming Mistakes You Can Fix With Makeup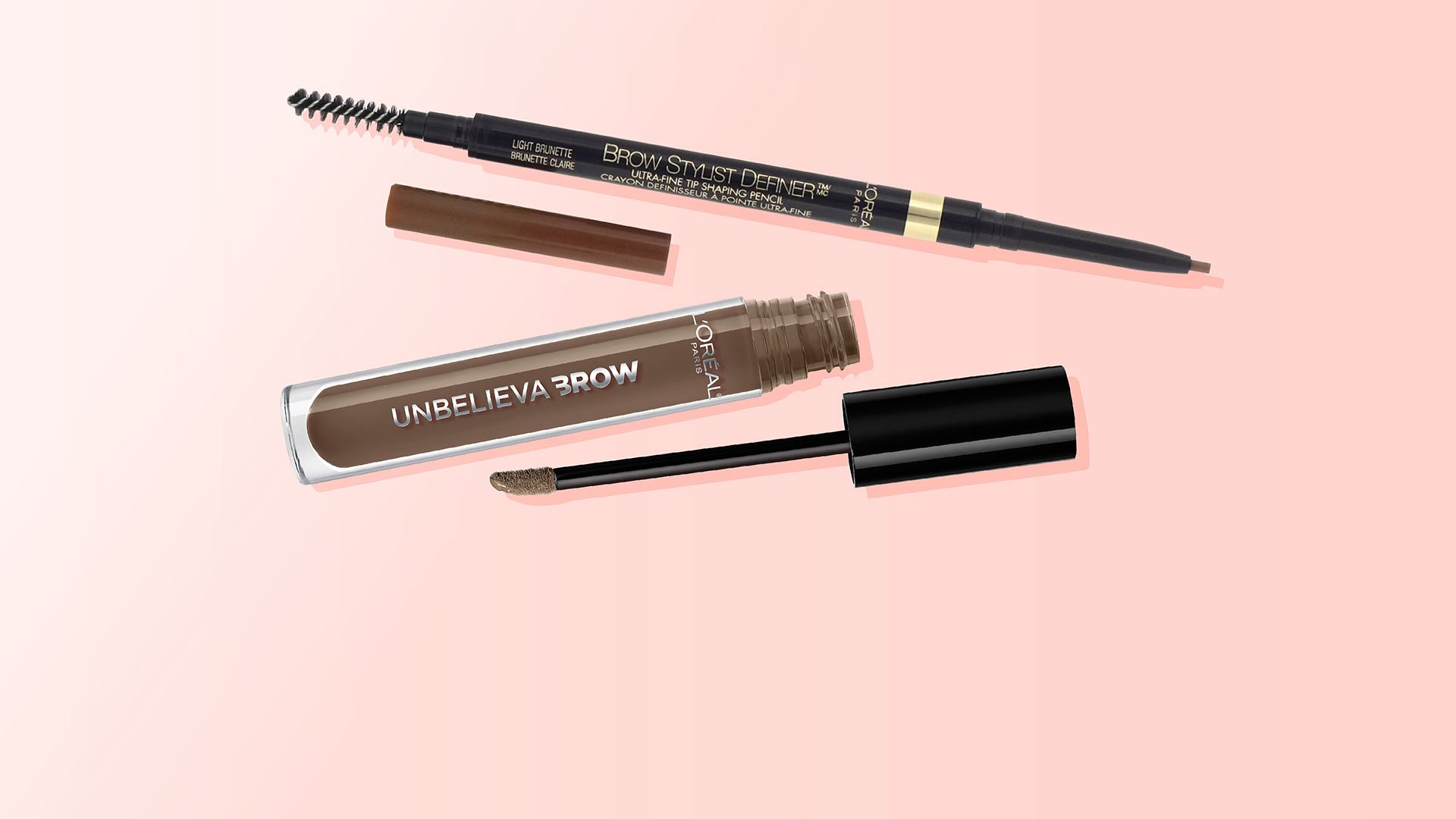 Eyebrows have the power to define your face and highlight your eyes depending on how you groom and style them. And in the quest to create the best brows, you might come across a bump in the road and create a hairy situation—literally. Whether you've ended up with a color that's too dark or you've gone overboard with the tweezers, eyebrow grooming mistakes aren't permanent. And thanks to the variety of eyebrow makeup products available, you can quickly camouflage or fix your mishaps. So keep reading to check out some common hair-raising eyebrow grooming mistakes and the easy ways (and best eyebrow products you can use) to fix them.
Mistake #1: You Over-plucked Your Brows
Most of us have committed this eyebrow sin at one point and went too far with waxing, threading, and tweezing, leaving us with sparse and over-plucked brows. The good news is that you can recreate bold brows using the L'Oréal Paris Brow Stylist Frame and Set. We recommend using pomades for sparse eyebrows because you don't have to rely on using your existing eyebrow hairs to create a fuller and defined look. Make sure to use the fine tip angled brush included to help create small hair-like strokes that will mimic the look of real eyebrow hairs.
Mistake #2: You Over Trimmed Your Eyebrows
Long brow hairs can throw your entire eyebrow shape out of whack, so it's definitely a must to trim them once in a while. However, if you've over trimmed them by accident and need a solution to hold you over until they grow back, reach for the L'Oréal Paris Brow Stylist Shape & Fill Mechanical Pencil. For the best results, select a color that's lighter than your hair. The lighter hue will be ideal for filling in any gaps without looking unnatural. Use the triangular tip side to outline and evenly shade in your brows. The tip will help you create short hair-like strokes to create the appearance of fullness. Then flip the brush and use the spoolie to comb through the hairs while blending out the product for a seamless finish.
Mistake #3: Your Eyebrow Hairs Are Unruly
Even after all the work you've put into styling your brows, there can always seem to be rogue hairs making the overall look seem incomplete. Try using an eyebrow gel like the L'Oréal Paris Unbelievabrow Longwear Waterproof Brow Gel to fix unruly brows. It has a long wear formula that lasts for up to 48 hours, and it can be used to fill in and thicken your brows. Most importantly this brow product will set your brow hairs into place and keep them from budging throughout the day. Lightly apply the product using the doe-foot applicator to fill in sparse areas. Then, use the double-sided angled brush it comes with to outline and define the shape of your brow. Finish up by combing through your brows and blending the product in with the spoolie, letting the waterproof film seal those wild hairs down.
Mistake #4: Your Eyebrows Look Uneven
Like our eyes, all eyebrows are unique, and some can be naturally uneven. But let's face it, some are uneven due to overplucking. To create the appearance of more even brows, start by outlining your eyebrows using the L'Oréal Paris Brow Stylist Frame and Set, and try to mask any unevenness by filling in sparse areas around the arch or tail of the brow. Remember, your brows don't need to be identical—they should like sisters but not twins! After filling in your brows, use a concealer like the L'Oréal Paris Infallible Full Wear Concealer Waterproof, Full Coverage to clean up and contour your brows for an even and defined shape.
Mistake #5: You Used Too Much Product
Filling in your brows with too much product will leave you with unnatural brows that can look overly dramatic. So always start by using minimal product and then build up to your desired liking. If you've noticed that your brows are looking super bold after filling them in, use a spoolie brush to gently comb through your brows and lightly blend the product out. Still too dark? Take a cotton swab dipped in makeup remover like the L'Oréal Paris Micellar Cleansing Water Complete Cleanser Waterproof – All Skin Types and trace around the outline of your brows. You can also lightly tap the swab onto your brows to lighten up excess product. If you tend to be heavy-handed when applying makeup, we recommend using an eyebrow pencil, which will go on lighter than a pomade. Try the L'Oréal Paris Brow Stylist Definer Waterproof Eyebrow Mechanical Pencil to create your ideal brow.
Discover more tips & tricks
Keep your skin happy
See all articles
Shop Featured products
Discover More