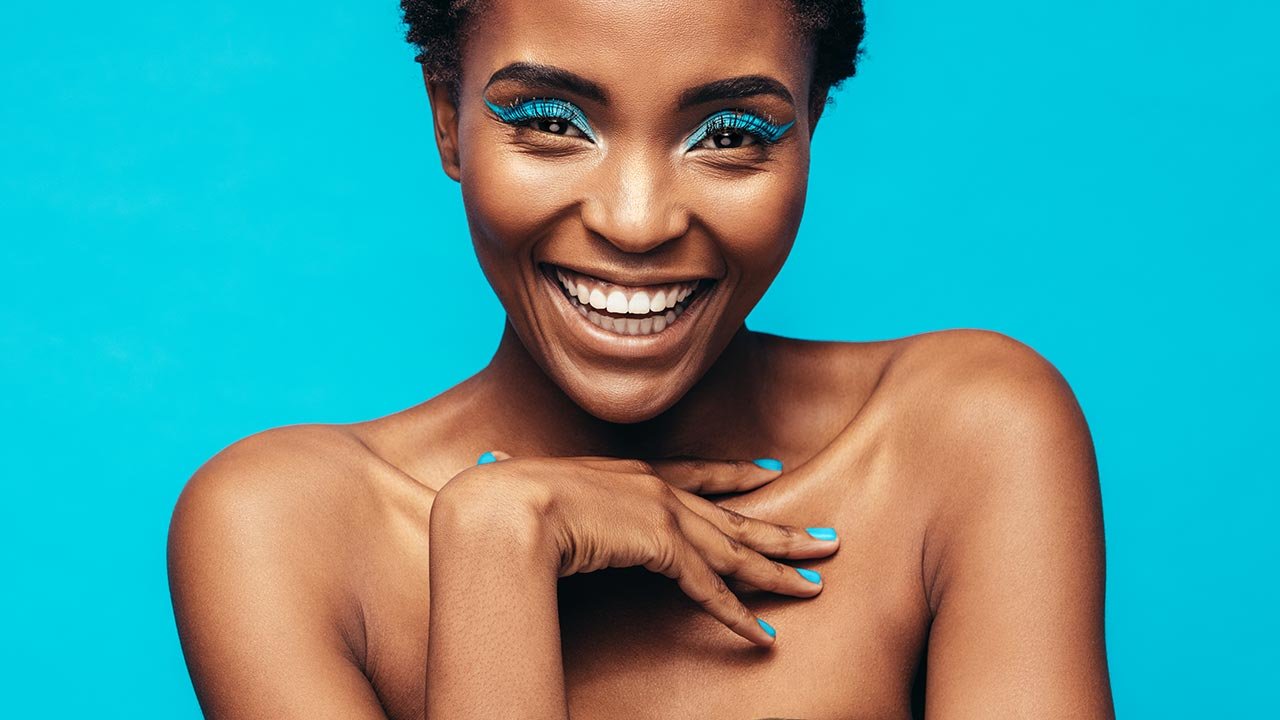 eye makeup
6 Eye Shadow Tips for Dark Skin Tones
Ready to rock some seriously pigmented makeup shades? Beautiful bold eye shadow, lipstick, and blush shades look absolutely stunning on dark skin tones. We're talking about rich jewel tones like purple and emerald green. So pretty! Today, we're here to share advice on wearing eye shadow on dark skin specifically. Keep reading for our best eye shadow tips for dark skin tones below.
1. Take Your Undertones into Consideration Before Applying Eye Shadow
Before applying any eye shadow, think about what colors will complement your face best. To determine that, it's all about your undertones. You're either cool, warm, or neutral. If you're not sure what undertones you have, flip your wrists. If your veins appear blue, you're cool; if your veins appear green, you're warm. Somewhere in between? Then you likely have neutral undertones. Another quick way to figure out what undertones you have is to think about what type of jewelry looks best on you. Silver jewelry flatters cool undertones more, whereas gold jewelry flatters warm undertones more. Cool shades have pink, red, or blue undertones, while warm shades have golden or yellow undertones. Neutral shades are somewhere in the middle. Cool shades will complement cool undertones best, while warm shades will complement warm undertones best.
2. Don't Be Afraid of Bold Eye Shadow Colors
Deep rich eye shadow shades pair beautifully with dark skin tones, so feel free to go bright and bold! Get your glitz and glam on with the L'Oréal Paris Infallible Paints Metallics Eye Shadow in Violet Luster, L'Oréal Paris Infallible 24 HR Eye Shadow in Golden Emerald, and L'Oréal Paris Colour Riche Monos Eyeshadow in Grand Bleu.
3. Use Eye Makeup Primer First
Once you've settled on what eye shadow shades you're going to use, don't apply them straight to your lids. Instead, apply a little bit of eye shadow primer first to help create a smooth base, then dust your eye shadow color of choice across your lid for a major pop. If you don't have any eye makeup on hand, you can use a dab of foundation or concealer in a pinch. (Here's The Ultimate Guide to Using Makeup Primer.)
4. Create Different Makeup Looks with an Eye Shadow Palette
To really draw attention to your eyes, consider stocking your makeup bag with an eye shadow palette. Eye shadow palettes offer a variety of shades so you can create different makeup looks for different occasions. Some of our fave options for dark skin tones? The L'Oréal Paris Colour Riche Pocket Palette Eye Shadow in Avant Garde Azure and L'Oréal Paris Colour Riche Quads in Hollywood Icon. You can't go wrong with a smoky eye—it's a classic makeup look, after all! Because smoky eyes require the use of multiple shades, using an eye shadow palette to paint your lids is a smart choice. Because jewel tones look so amazing against your dark skin tone, you can try this technique out with rich blues and purples.
5. Finish with Mascara
Mascara, of course, is a must. What eye makeup look would truly be complete without it? Try the L'Oréal Paris Voluminous X Fiber Mascara or L'Oréal Paris Voluminous Lash Paradise Mascara.
6. Keep the Rest of Your Makeup Simple
If you've decided to rock vibrant eye shadow shades on your lids, pair your eye makeup with a minimal face. Use a makeup primer, like the L'Oréal Paris Infallible Pro Matte Lock Makeup Primer or L'Oréal Paris Infallible Pro Glow Lock Makeup Primer, all over your face to create an even canvas. Then, apply foundation, like the L'Oréal Paris True Match™ Super Blendable Makeup (which is available in 33 shades in cool, warm, and neutral undertones), with a makeup blender, like the L'Oréal Paris Infallible Blend Artist Foundation Blender, for a seamless finish. Finally, apply a glossy nude lipstick, like the L'Oréal Paris Colour Riche Shine Lipstick in Glossy Fawn.
For more advice on picking out makeup shades that flatter your dark skin, head on over to The Best Makeup Colors for Every Skin Tone next.
Discover more tips & tricks
Keep your skin happy
See all articles