eye makeup
7 Eyeshadow Tips For Dark Skin Tones
Take your lids to the next level.
January 09, 2018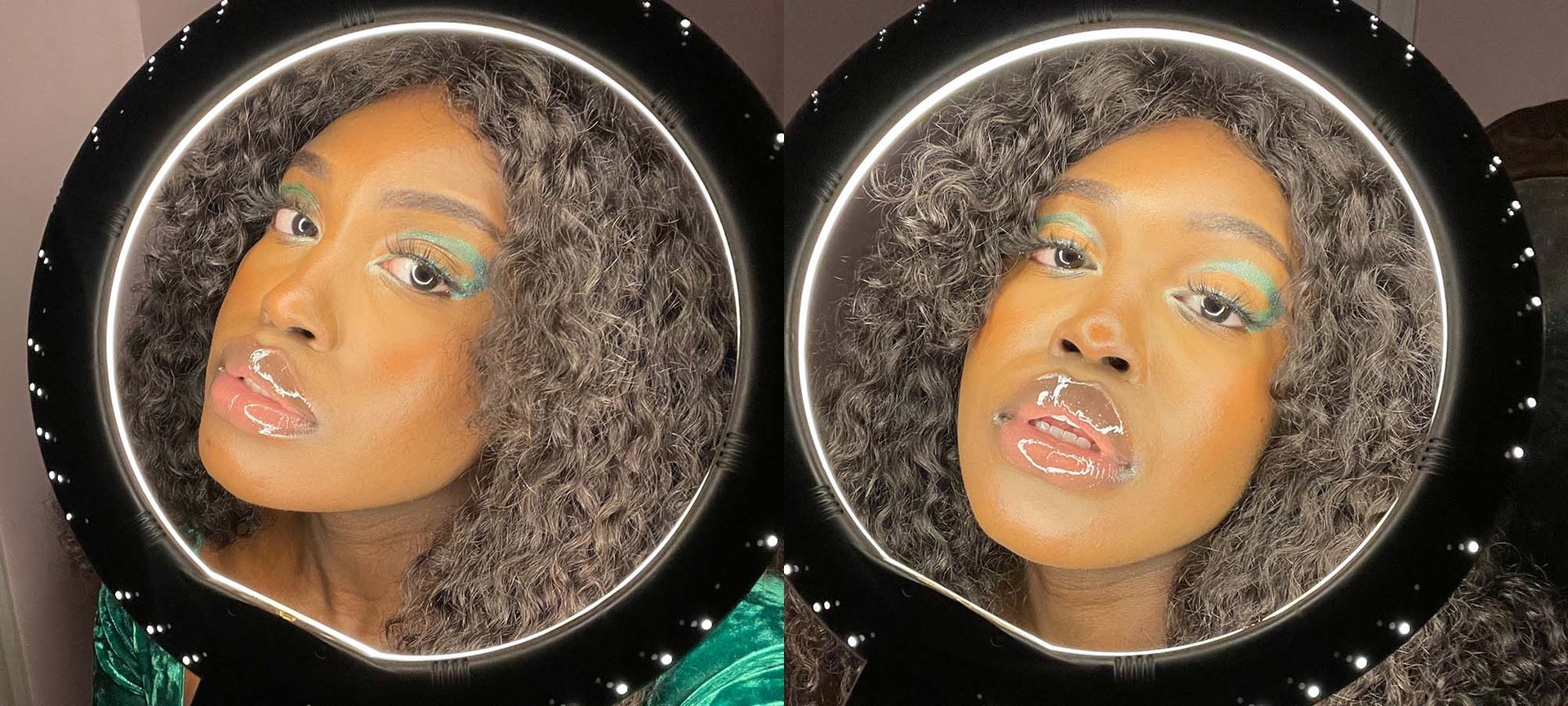 With the evolution of makeup today, finding the perfect pigmented hue that's just right for you has never been easier. While the everyday color choices for blush and lipstick may be tame, eyeshadow palettes allow you to play with such a wide range of shades. For those with dark skin tones, there are so many options to choose from that always look stunning on you, including rich jewel tones like purple, emerald green. Once you've found your most flattering hues, mastering your eyeshadow makeup application will help you enhance your gorgeous features and skin tone. Keep reading as we share seven eye shadow tips for dark skin tones below.

1. Consider Your Undertones
Knowing your skin's undertones — either cool, warm, or neutral— is key in determining which eyeshadow colors will complement your face best. For cool tones, look for shades that have pink, red, or blue undertones. For warm shades, reach for hues with golden or yellow undertones. If you're not sure what undertones you have, flip your wrists. If your veins appear blue, you're cool, if your veins appear green, you're warm. Neutral shades are somewhere in the middle.

2. Choose Vibrant Eyeshadow Colors
Deep rich eyeshadow shades pair beautifully with dark skin tones, so feel free to go bright and bold. Create a standout look with a single shade or embrace them all with a rainbow eyeshadow look. Try a vibrant palette like the L'Oréal Paris Colour Riche Pocket Palette Eye Shadow in Avant Garde Azure or the L'Oréal Paris Colour Riche Pocket Palette Eye Shadow in Violet Amour.

Editor's Tip: These suggestions are just starters. Open your palette and play with all the shades, no matter your skin tone.
3. Always Use A Primer
To help ensure a flawless eye makeup look, always start with an eyeshadow primer. This will help create a smooth base to apply your eyeshadow and hold the pigment in place. If you don't have any makeup primer on hand, you can use a dab of foundation or concealer in a pinch. Aside from primer, using a white or tan eyeshadow as a base will help your main eyeshadow color appear more vibrant and saturated.



4. Add Color To Classic Eye Makeup Looks
To really draw attention to your beautiful skin tone, consider a colorful take on a classic makeup look like the smokey eye. Since this eye makeup requires the use of multiple shades, skip the black and gray. Instead, mix and match with richer tones like L'Oréal Paris Colour Riche Monos Eyeshadow in Green Promenade and L'Oréal Paris Colour Riche Monos Eyeshadow in Teal Couture.


5. Define Your Eyes With Eyeliner
After you've finished your eyeshadow, you'll want to add some definition. Lining the upper lid will make eyes appear larger and the lash line thicker. Use liquid eyeliner to create a sultry shape to create the perfect cat eye. For an invisible eyeliner effect, use a smooth-gliding formula, like the L'Oréal Paris Infallible Pro-Last Waterproof, Up to 24HR Pencil Eyeliner in Black to tightline your upper lash line.
6. Try A Liquid, Cream, or Loose Eyeshadow
While powder eyeshadows are the most common, there's more than one type of eyeshadow to choose from. Liquid eyeshadows, like L'Oréal Paris Brilliant Eyes Shimmer Liquid Eye Shadow Makeup, are high-impact colors that stand out against darker skin tones and can be used to create a more dramatic, glittery eye makeup look. Cream eyeshadows blend easily onto eyelids and can be worn alone or layered under a powder for extra oomph. While they can be messy, loose pigment eyeshadows can pack a lot of punch. For even more vibrancy, try wetting the pigment by applying it with a damp brush.


7. Do More With Mascara
No eye makeup look would truly be complete without mascara. Now you can find a mascara that adds pop to lashes beyond the classic black and brown mascara shades. Opting for a colorful mascara works to boost your lashes while offering a pop of color to enhance your eyeshadow. Try the L'Oréal Paris Voluminous Original Washable Bold Eye Mascara in Cobalt Blue which looks royal on darker skin tones.
Next: How To Get A Fall Inspired Rainbow Eye Makeup Look


Written by: Lauren Paige Richeson, Photo Credit: Sarah Duvivier
{ "@context": "https://schema.org/", "@type": "WebPage", "speakable": { "@type": "SpeakableSpecification", "cssSelector": ["speakable-content"] }, "url": "https://www.lorealparisusa.com/beauty-magazine/makeup/eye-makeup/eye-shadow-tips-for-dark-skin-tones" }
Discover more tips & tricks
Keep your skin happy
See all articles
Shop Featured Makeup products
Discover More
{ "@context": "http://schema.org", "@type": "BreadcrumbList", "itemListElement": [ { "@type":"ListItem", "position": 1, "item": { "@id": "/", "name": "Home" } } , { "@type":"ListItem", "position": 2, "item": { "@id": "https://www.lorealparisusa.com/beauty-magazine", "name": "Beauty Magazine" } } , { "@type":"ListItem", "position": 3, "item": { "@id": "https://www.lorealparisusa.com/beauty-magazine/makeup", "name": "Makeup Tips For Every Look" } } , { "@type":"ListItem", "position": 4, "item": { "@id": "https://www.lorealparisusa.com/beauty-magazine/makeup/eye-makeup", "name": "Eye Makeup" } } , { "@type":"ListItem", "position": 5, "item": { "@id": "https://www.lorealparisusa.com/beauty-magazine/makeup/eye-makeup/eye-shadow-tips-for-dark-skin-tones", "name": "eye-shadow-tips-for-dark-skin-tones" } } ] }