eye makeup
How To Apply Different Shades Of Eyeshadow In One Look
Create a makeup masterpiece with the right technique.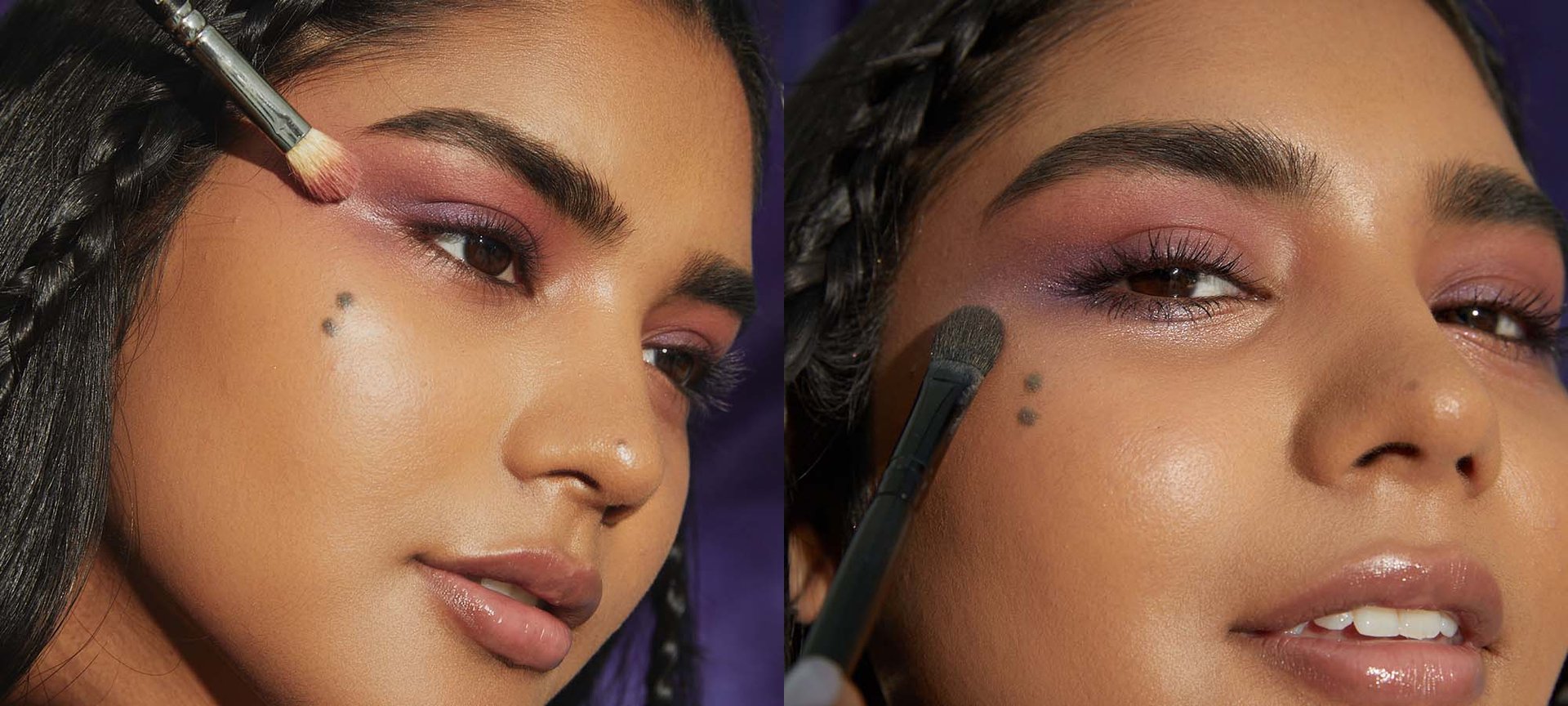 When it comes to how to put on eyeshadow, you don't have to apply just one shade to your lids. You don't even have to apply only two. Using three shades of eyeshadow is a great way to create a multidimensional eye makeup look. In fact, a beauty look featuring three shades of shadow as the star might be just what you're looking for to turn heads, whether it's for the holidays, to get creative in the new year, or to celebrate a special occasion. Below, we're sharing some eyeshadow shades to pair together, plus offering eyeshadow tips on how to apply eyeshadow when you're working with multiple shades. Get ready to level up your eye makeup game.
4 Layered Eyeshadow Looks To Try
So, you want to wear three eyeshadow colors together but you're not sure which shades to choose. Luckily, wearing makeup can be about creativity and expression, so as long as you're happy with the look there's really no wrong combo. But if you want some foolproof medleys, look for shades that are in the same color family like lavender, violet, and plum or beige, soft brown, and deep brown.
You also want to have a light, medium, and dark shade. These colors will complement each other while still offering enough variation for your eye makeup to really stand out. This isn't a hard and fast rule, though, meaning that you can also pick colors that aren't in the same family to create a bolder, brighter end result.
For a romantic eye makeup look, try a base shade that's rose-colored, then layer on a light dusting of bronze shadow and accent it with a bit of violet.
For a look that's truly a standout, try the gorgeous sunset eye, which involves layering shades of bright orange, yellow, and pink.
For a statement look that will sparkle even in a virtual fête, try pairing dark and light shades of blue eyeshadow with silver accents.
For a festive holiday look, try going all metallic and swipe a rose gold shadow onto half of your lid and a dark gold one on the other half, then top things off with a metallic champagne shade.
How To Apply Eyeshadow Using Three Shades
Ready to get to work with your three eyeshadow colors? Follow the steps below to put on multiple eyeshadow shades for a gorgeous look.
Step 1: Prime Your Lids
Before reaching for your eyeshadows, prep your lids for makeup application by dabbing an eyeshadow primer onto your lids. Eye primer will help ensure your eyeshadow goes on smoothly and wears evenly. If you don't have an eye primer on hand, use a bit of foundation or concealer instead.
Step 2: Pick Your Eyeshadow Palette
An easy (and affordable) way to find three eyeshadows that look flattering when worn together, especially if it's your first time rocking three shades together, is to grab an eyeshadow palette. Palettes offer you all the colors you need right in one product. Try one of the L'Oréal Paris Colour Riche Pocket Palette Eye Shadow, each of which comes with four hues (pick your favorite three) in a variety of colors.
Editor's Tip: If a palette feels limiting to you, you can also pick your shades from single eyeshadows, especially if you want to use colors that aren't in the same color family. Best of all, single shadows come in a wide variety of hues, pigment intensities, and finishes. The L'Oréal Paris Brilliant Eyes Shimmer Liquid Eye Shadow Makeup comes in 12 different hues, the L'Oréal Paris Infallible 24 HR Eye Shadow is available in 21 different colors, and the L'Oréal Paris Colour Riche Monos Eyeshadow comes in 20, so you have plenty of options!
Step 3: Add The Lightest Color To Your Entire Lid
Use the lightest shade in your palette or selection, and brush it on over your entire lid using a fluffy eyeshadow brush, all the way up to your brow bone.
Step 4: Apply The Medium-Colored Shade
Next, dip a brush into your medium shade and apply it over your lid. Build color until you achieve your desired intensity.
Step 5: Use The Darkest Shade In Your Crease
Finally, apply the darkest shadow in your palette into your crease.
Editor's tip: There are a few other ways you can apply multiple shades of eyeshadow — the most important part is to get creative and find what works for you. The colorblock eyeshadow trend involves applying three shadows vertically across your upper lid, like three different columns, for a super intense and colorful final look. You can wear your colors in whatever order you wish. Alternatively, you can also stack your shades horizontally, one on top of the next. Start with your darkest color as the base, applying it closest to your upper lash line. Then simply work your way upward until you hit your brow bone.
Step 6: Add Eyeliner
You could definitely stop at your shadows, but why not up the drama? Draw a thin line across your lids with the L'Oréal Paris Infallible Pro-Last Waterproof, Up to 24HR Pencil Eyeliner in Black, slightly flicking it out at the corners to create a slight cat eye.
Step 7: Give Your Lashes A Boost With Mascara
No eye makeup look would be complete without dressed up lashes. Use the L'Oréal Paris Voluminous Noir Balm Washable Mascara, which lengthens and boosts volume. Its vegan formula includes a conditioning balm that makes lashes look fuller and healthier while feeling softer.
Step 8: Finish Your Full Makeup Look
Since eye makeup should come first — so if you have any eye shadow fallout, you can clean it up without having to redo your entire face — you can move onto the rest of your makeup once you've applied mascara. Start with your base products, such as foundation and concealer, amp up your glow with highlighter and finish with the perfect lipstick. And no matter what, be sure to seal in your look with setting spray. We love the L'Oréal Paris Infallible Pro-Spray and Set Make-Up Oil-Free Setting Spray for its lightweight, non-greasy feel.
Next: Your Guide To Eyeshadow Brushes
Edited by: Shalwah Evans, Photo Credit: Chaunte Vaughn
Discover more tips & tricks
Keep your skin happy
See all articles
Shop Featured Makeup products
Discover More