eye makeup
Our Best Pigmented Eyeshadows For Vibrant Eye Looks
December 04, 2020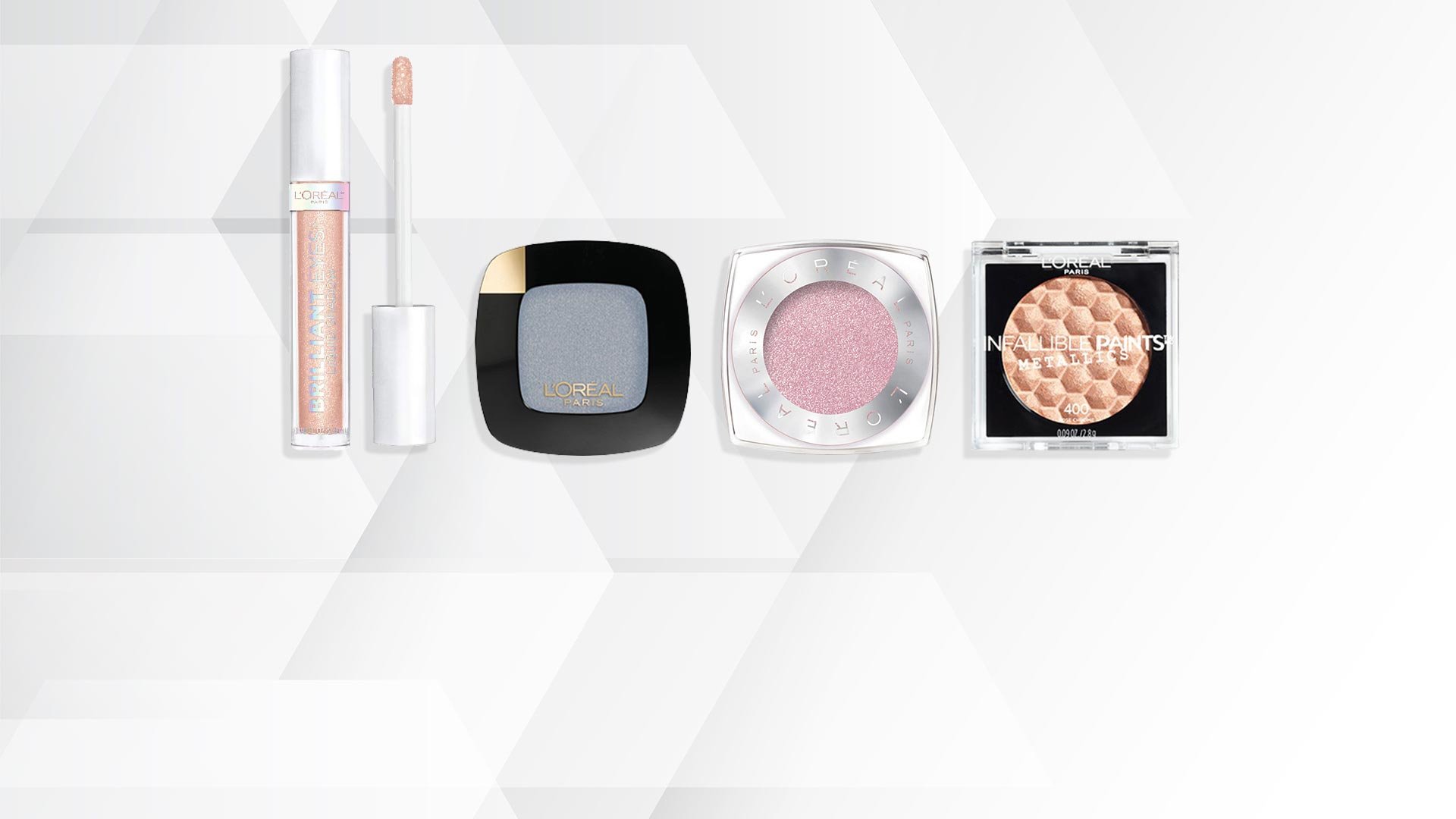 There's nothing worse than falling in love with a new eyeshadow shade only for it to show up sad and muted once swiped onto your lid. If you find yourself often falling victim to eyeshadows that look prettier in their containers than as part of your eye makeup look, you may want to start stocking up on more pigmented eyeshadow. Highly pigmented eyeshadow offers intense, vibrant color. No more being disappointed after you've swatched a new shade. If you're ready to add a few new pigmented eyeshadows to your makeup bag, read on to learn all about our best high pigment eyeshadows.
OUR BEST PIGMENTED EYESHADOWS
Bring on the color! Below, we're sharing four eyeshadows offering bold color payoff to add to your collection.
L'Oréal Paris Brilliant Eyes Shimmer Liquid Eye Shadow Makeup: This liquid eyeshadow comes in 12 dazzling shades ranging from ruby red to pure gold. The high-impact formula feels lightweight and is long-lasting. You won't have to worry about eyeshadow fallout thanks to its liquid formula. The wet-and-set application allows you to rock these high-shimmer shades on your lids and not your cheeks!
L'Oréal Paris Infallible 24 HR Eye Shadow: The velvety formula of this high pigment eyeshadow provides ultra-intense color with a stunning shimmer finish. The revolutionary formula combines the ease of a powder eyeshadow with the velvety texture of a cream to create a unique hybrid that glides on effortlessly. This innovative technology allows each shade to provide pure, magnified pigmentation. The eyeshadow also lasts from day until dawn thanks to its fade- and crease-resistant, waterproof formula. The line is available in 21 colors, ranging from ballerina pink to turquoise.
L'Oréal Paris Colour Riche Monos Eyeshadow: This highly pigmented eyeshadow has a soft, velvety texture that leaves your eyes with exquisite color richness. It comes in 20 shades, including everything from burgundy to emerald, and has a mix of matte and shimmery finishes. The line is inspired by makeup artists around the world.
L'Oréal Paris Infallible Metallics Eye Shadow: Bring on the metallic hues! This pigmented eyeshadow gives off high impact color while creating a foiled finish in just one stroke. The creamy pressed powder is easily blended, allowing you to achieve the metallic eyeshadow trend in no time at all. The metallic eyeshadow comes in five shades: Rose Chrome, Brass Knuckles, Caged, Violet Luster, and Aluminum Foil.
3 WAYS TO MAKE YOUR EYESHADOW MORE PIGMENTED
If you don't have time to pick up new shadows with more pigment, don't toss your current collection just yet. With a few tips and tricks, you can help the eyeshadow you have at home appear more pigmented.
TIP #1: USE AN EYESHADOW PRIMER
Applying an eye primer prior to eyeshadow can increase its lifespan. It can also help your eyeshadow colors appear more vibrant. Swipe one on as the first step in your makeup look. If you don't have a primer on-hand, a dab of concealer or foundation will do in a pinch.
TIP #2: LAYER ON A BASE
Aside from primer, there's one other product you should be layering on before you reach for your eyeshadow—more eyeshadow. Specifically, a white eyeshadow will help your main eyeshadow color appear more vibrant and saturated. By brushing on a white eyeshadow before applying the other shades you wish to use, the colors will appear brighter and more saturated. Be sure to coordinate your eyeshadow formulas.
TIP #3: WET YOUR BRUSH
Lastly, the way you apply your eyeshadow can influence how pigmented your shadow appears. Dampen your eyeshadow brush prior to dipping it into your shade of choice. The wet brush will be able to pick up more product and pack on the color for a bolder look. Watch how much more pigmented your eyeshadow swipes on.
Next up: If you want to brush up on your general eyeshadow knowledge, look no further than our articles, The Ultimate Guide To Eye Shadow and How To Build Your Eye Shadow Collection.
Discover more tips & tricks
Keep your skin happy
See all articles
Shop Featured Makeup products
Discover More