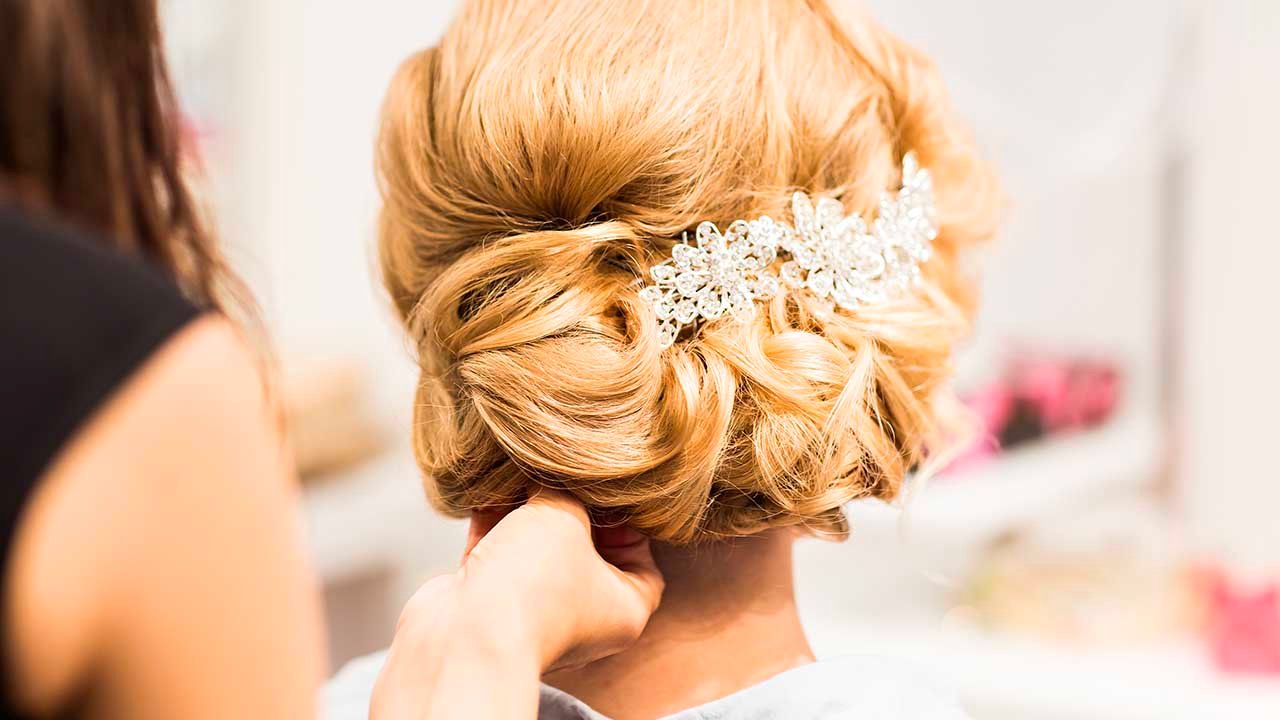 hairstyle trends
How to Pick the Perfect Prom Hair Accessory
Prom's right around the corner and on the big day, chances are you'll be running into every girl in your high school at the hair salon. Which means you'll be left to hope that your hair doesn't turn out looking just like everyone else's—not exactly what you want to worry about on prom night! Thankfully there's a solution. If you're not equipped to DIY a hairstyle that's totally different, there's another way to ensure your hair will stand out during prom pictures—and all night long. The key is to show your individual style with a hair accessory. Whether you're drawn to prom updos or classic curly hair, there's a hair accessory out there that's perfect for your look. To find the right hair accessory for topping off your dance 'do, read on. We're sharing how to pick the perfect hair accessory, from flower crownsto glitzed-up bobby pins, to go with your prom hair style.
The Best Prom Hair Accessory to Pair with Loose Waves
Prom hairstyles don't have to be overly complicated. If you want to forgo spending hours in a stylist's chair, you can opt for something simple—like loose waves—and dress it up with a hair accessory. You can even get the look on your own! Spritz with the a wave-enhancing hair spray, like the L'Oréal Paris Advanced Hairstyle AIR DRY IT Wave Swept Spray, then scrunch. Once your hair is suitably wavy, crown yourself—literally—with a flower crown.
The Best Prom Hair Accessory to Pair with an Extravagant Braid
Braids may be your go-to style for the gym, but they're also trending for more formal occasions. That's right, if you're going to prom in 2018, you're bound to see braids. And not just any braids, the more intricate the better. So, while you have a professional on hand to help with your hair, go ahead and ask for the accessorized braid of your dreams—whether that's a waterfall braid, a ladder braid, or an inverted fishtail braid. As for how to accessorize, the answer is braid rings. Place these tiny rings, in a metal that matches your dress, throughout your braided hair style to add an unexpected finishing touch.
The Best Prom Hair Accessory to Pair with a Dressed-Up Updo
There's a reason almost all your friends are choosing to sport their strands in fancy updos, they're a total prom classic! But if you find sticking to the status quo a little boring for your taste, you can easily upgrade an updo with a hair comb. And no, we aren't talking about the kind you use to get out tangles! Decorative hair combs, covered in jewels or pearls, can slip right into your updo, giving your look a whole new—super-glam—vibe.
The Best Prom Hair Accessory to Pair with a Basic Bun
Don't have the time—or money—to squeeze in a trip to the hair salon? Not a problem! Thankfully, you can dress up an easily DIYed hair style, even the most basic bun, with a pretty hair accessory. Pull your hair into a simple ballerina bun, being sure to spritz with a generous amount of the L'Oréal Paris Elnett Precious Oil Satin Hairspray. Then, complete the look with a bun cuff. It's up to you whether you pick one with shiny metallic finish or one that's covered in tassels—either way, you'll be sure to have the best bun at prom.
The Best Prom Hair Accessory to Pair with a Half-Up Style
This just in, half-up hairstyles are expected to be the hottest look at prom this year! If you want to participate in the trend, without blending in, you know what to do. Start by separating the top layer of your hair and decide what you'd like to do with it. Braids, twists, etc., the options are nearly endless. Once you have that part handled, strategically place a few bejeweled hair pins throughout the style. Easy, but effective!
The Best Prom Hair Accessory to Pair with Coiffed Curls
It's true, you can never go wrong with lots of voluminous curls. But that doesn't mean your hair style couldn't stand to be taken to the next level—and we know just the way to do it. Wear a headband! Don't reach for the regular old bands you use to keep your hair off your face, instead go for a headband that's covered in (fake) gemstones. That way, you don't even need to bother with jewelry.
Now that you've figured out the finishing touch for your hairstyle, you can focus on planning your prom makeup look. Here are 5 Gorgeous Prom Makeup Ideas for 2018.
Discover more tips & tricks
Keep your skin happy
See all articles
Shop Featured Hair Style products
Discover More