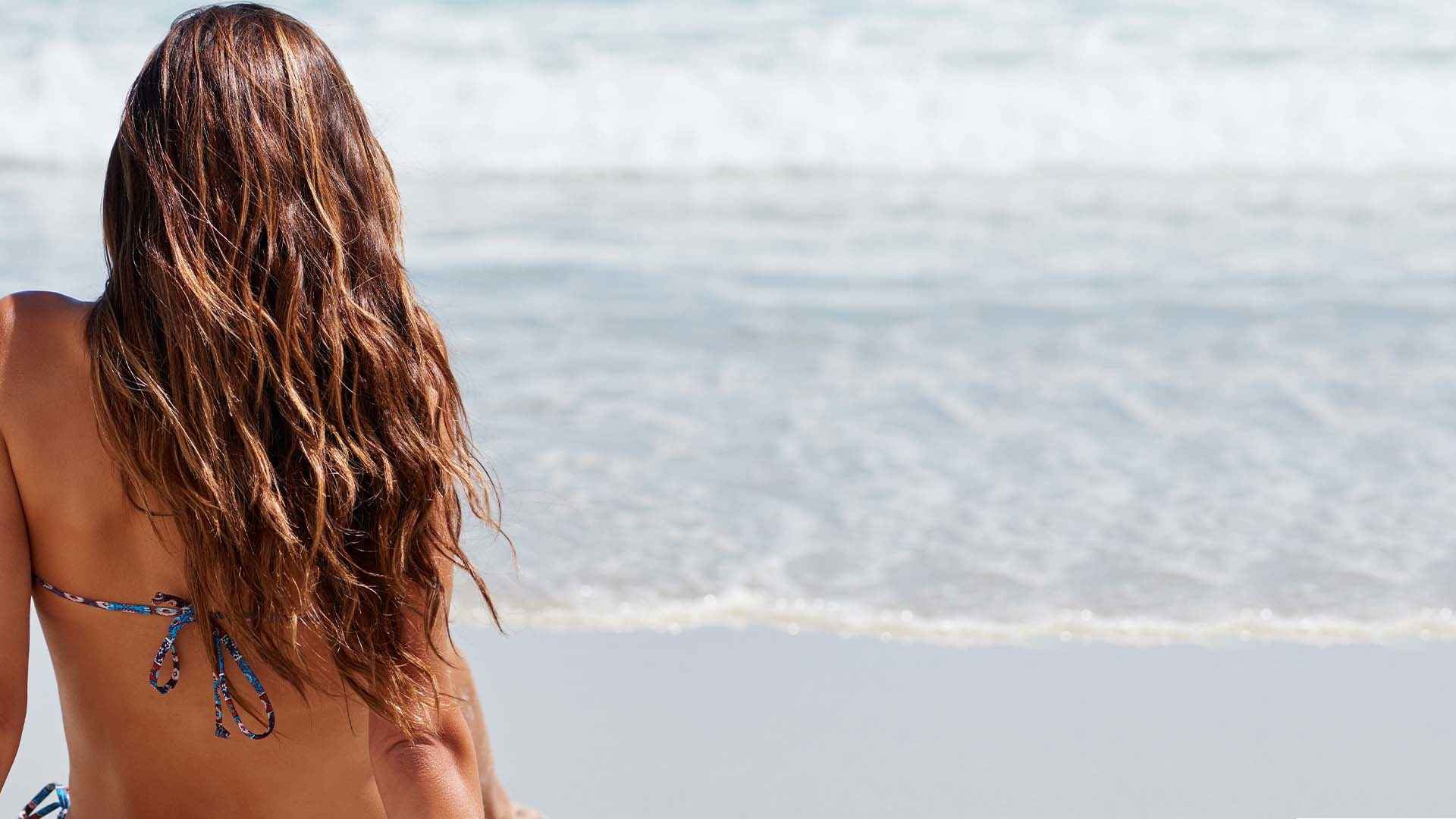 hairstyle trends
9 Ways to Get Perfect Beach Waves
Carefree, natural, and fun, beach waves are a hairstyle we love, whether or not we're headed to the beach! Not only is this classic hairstyle perfect for any location, but this low maintenance hairstyle also looks amazing, whether you have short hair or long hair. Basically, beach wave curls are the perfect hairstyle for anyone, anywhere—and there is a multitude of ways to get the look, in case you don't have time for a quick dip in the ocean. Ready to find out how to get beach waves hair in all the best ways? Here are nine different methods for getting beach waves hairstyles, from using beach waves spray to getting a beach wave perm, that will leave you with the ultimate summer beauty look.
1. HOW TO GET BEACH WAVES WITH A WAVE SPRAY
Want to create beach waves without the fuss? A beach waves spray is a great heat-free option for obtaining an effortless beach wave hairstyle.
STEP 1: DAMPEN YOUR HAIR
Start with towel-dried hair. Not due for a shower quite yet? Use wet fingers or a spray bottle to dampen your hair.
STEP 2: APPLY A WAVE SPRAY
Use a wave spray to enhance your hair's natural shape and texture. Scrunch your hair after applying and let it dry, and you'll be left with a beach waves hair style!
2. HOW TO GET BEACH WAVES WITH A CURLING IRON
Love to use heat styling tools? Thankfully, you can create stunning beach hair using your curling iron or wand.
STEP 1: APPLY A HEAT PROTECTANT
As your curling iron heats up, use that time to protect your strands from potential heat damage by applying a heat protectant. We love the L'Oréal Paris Advanced Hairstyle BOOST IT Volume Inject Mousse, which is a mousse and protectant in one, giving your hair long-lasting body and volume while prepping your hair to be curled.
STEP 2: CURL AWAY
To get this look, you want to use a large-barrel curling iron to curl larger sections of your hair. This will create large waves rather than tight curls—which aren't exactly beachy.
STEP 3: MESS IT UP
Use your hands to shake your hair and loosen up your curls for a messy, wavy look.
STEP 4: APPLY A HAIR SPRAY
Finish the look by applying your favorite hair spray to keep your beach waves hair lasting all day. The L'Oréal Paris Elnettt Satin Hairspray Strong Hold offers a clean, soft, shiny finish and a humidity-resistant formula that will keep your waves intact.
3. HOW TO GET BEACH WAVES WITH A FLAT IRON
Believe it or not, creating beach waves with a flat iron is 100 percent possible. Ideal for those who love the combination of beach waves and short hair, this technique will become your favorite in no time.
STEP 1: GRAB YOUR HEAT PROTECTANT
Remember what we said about using a heat protectant earlier? You should do the same thing when you're working with a hair straightener—or any heat tool for that matter.
STEP 2: CURL YOUR HAIR
Grab a section of hair and start with your straightener pointing towards the root of your hair. After clamping the straightener down, twist it so that it is at a vertical angle, and your hair is wrapped around it. Continue to twist the straightener as you move down the section of hair.
Editor's note: Need more detailed instructions? Here's How to Curl Your Hair with a Flat Iron.
STEP 3: FINISH WITH A HAIR SPRAY
Set your beach hair look by applying a hair spray. Voila!
4. HOW TO GET BEACH WAVES WITH OVERNIGHT BRAIDS
It's doesn't get much easier than overnight beach waves! Plait your hair before bed and, boom, you have a beach wave style by morning.
STEP 1: BRAID YOUR HAIR
Given the name of this style this step should be pretty obvious, but you'll need to braid your damp hair before hitting the hay. Put your hair into large braids so you'll wake up to loose waves.
If when learning how to get wavy hair, you find that your hair needs a little extra help to maintain texture, simply braid your hair in large sections and spritz the L'Oréal Paris Advanced Hairstyle BOOST IT High Lift Creation Spray all over your locks. Cover your hair with a silk scarf and leave your braids in place overnight. In the morning, undo each braid to reveal gorgeous beach wave curls.
STEP 2: GET SOME REST
This part's easy: Go to sleep so your hair can dry and form into waves overnight!
STEP 3: REVEAL YOUR WAVES
Take out your braids in the a.m., and you'll have beautiful, wavy hair. Use your fingers to loosen the waves and give you a messy, carefree beach wave hairstyle.
5. HOW TO GET BEACH WAVES WITH A TEXTURIZER
If you have naturally wavy hair, using a hair texturizing product is another quick and easy option that allows you to take advantage of your natural texture to create a no-heat beach waves hairstyle.
STEP 1: APPLY A TEXTURIZER
Work a texturizing pomade or paste, like the L'Oréal Paris Studio Line Overworked Hair Putty, through your hair to turn your natural waves into a messy, piece-y style that's straight from the beach—that's it!
6. HOW TO GET BEACH WAVES WITH OVERNIGHT BUNS
Overnight buns are another hairstyle you may have been sleeping on (though not in the way you should be) when it comes to getting wavy locks—especially beach waves on long hair.
STEP 1: CREATE YOUR BUNS
Depending on the thickness of your hair and how tight you want your beach waves to be, split your hair into two to four equally-sized sections. Twist each section, then wrap it into a bun. Secure with plenty of bobby pins to keep your buns in place throughout the night!
STEP 2: CATCH SOME Z'S
Get some shut-eye and allow your buns to dry and form waves overnight.
STEP 3: RELEASE YOUR BUNS
In the morning, take out your buns and comb through your hair with your fingers for effortless beachy waves!
7. HOW TO GET BEACH WAVES WITH A SEA SALT SPRAY
A sea salt spray is one of the most popular ways to get impromptu beach waves sans the beach, as it quite literally mimics what the salt water from the beach does to your hair. Sign us up!
STEP 1: GRAB YOUR SEA SALT SPRAY
Spritz your sea salt spray throughout your mane and scrunch to amp up the texture. That's it—say hello to gorgeous beach waves!
8. HOW TO GET BEACH WAVES WITH A TWIST OUT
Calling all natural hair gals! You can totally get in on the beach hair fun with a classic twist out. While most natural hair curl techniques leave you with tight and defined curls, this method is all about giving you stretched out waves. Best of all, this method works in your favor to achieve beach waves without any heat. So, if beach waves are your desired style and you have medium or long hair, a twist out will make it happen. Head on over to our article, How to Do a Twist Out on Natural Hair, to master the trend.
Editor's note: Keep in mind, this method will only work for individuals with loose curl patterns. If you have tight curls, you'll need to rely on another method to achieve a beach waves hairstyle.
9. HOW TO GET BEACH WAVES WITH A PERM
Wondering how to do beach waves that last? Instead of having to style your hair repeatedly, there's one option that's more long-lasting: a beach wave perm. Instead of tight curls, à la the traditional perm, this hair treatment leaves you with perfect beach wave curls. We won't get into a step-by-step breakdown of how to do a beach wave perm since it's something you'll want to visit a professional for, but know it's an option to consider, especially if beach waves for long hair is on your must-try list! For more information on perms in general, here's Everything You Need to Know About Hair Perming.
Sticking with the theme of beauty looks that appear to have been achieved at the beach, next, learn 10 Self-Tanner Hacks to Help You Get a Golden Glow.
Discover more tips & tricks
Keep your skin happy
See all articles
Shop Featured Hair Style products
Discover More