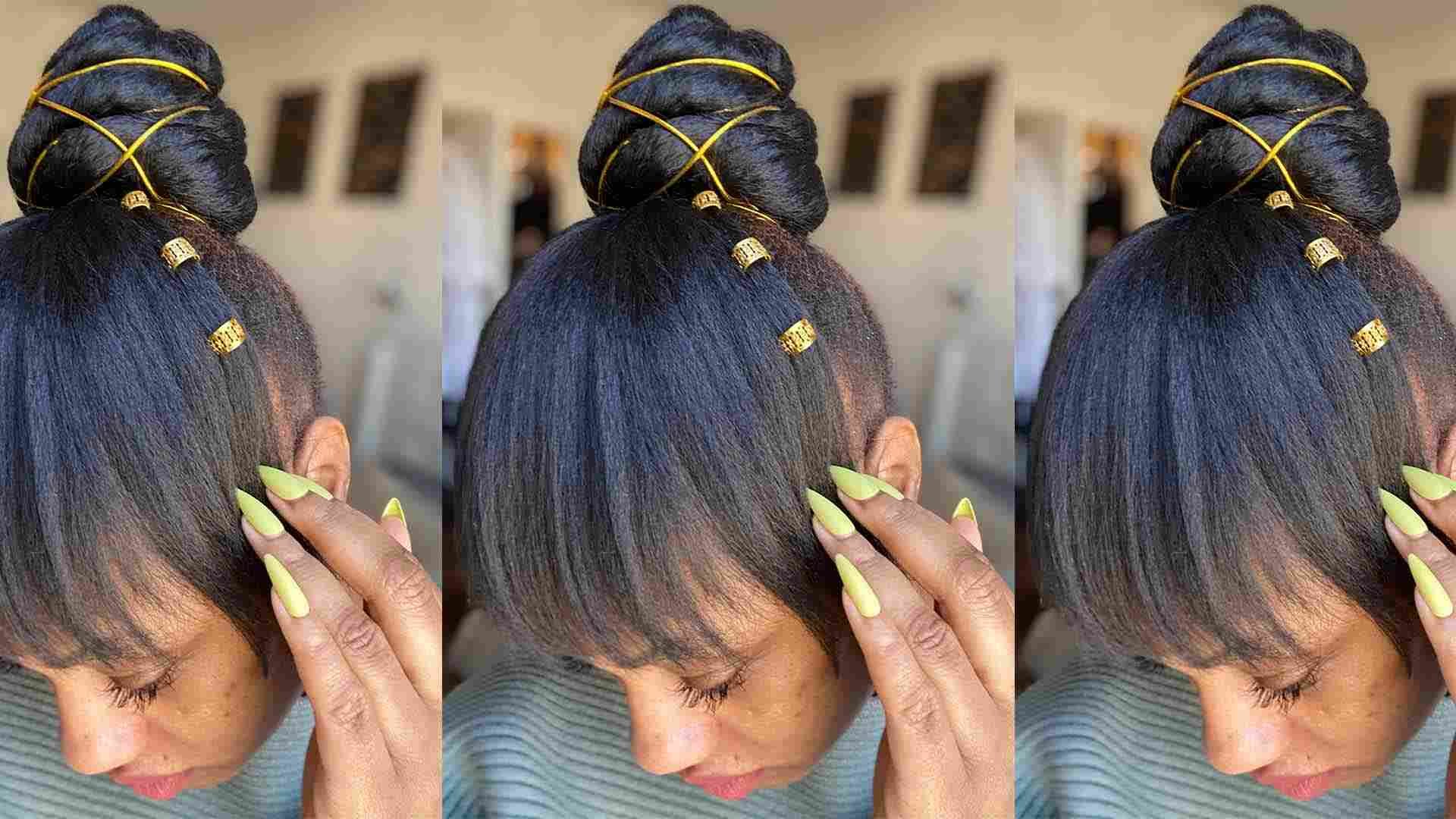 hairstyle trends
9 Gold Hair Accessories To Upgrade Your 'Do
Just like the right red lipstick has the power to elevate your makeup look with just a few swipes of it, the right hair accessories can instantly take your hairstyle up a notch. And while there are no shortage of stunning options to choose from, including pearl accents and jeweled clips, gold hair accessories have been claiming the spotlight as of late. If you're ready to upgrade your hair accessory arsenal to include this timeless favorite, we have just the inspiration you need. Ahead, find eight gold hair accessories that can be used to boost your 'do. The bonus: they're all super easy to use.
1. Gold Beads
Why we love them: Whether you wore them as a child or you're just getting into them as an adult, hair beads are downright fun. They make any style look regal within minutes. And you can use a lot or a little and still get a luxurious effect. Add them to the ends of your braids or open hollow beads where they split and wrap them around any pieces of your hair. Weave in some gold hair string for extra flair if you have braids, Bantu knots or ponytails.
2. Gold Hair Color Spray
Why we love it: You can play with color minus the commitment. This accessory option washes out in just one shampoo, making it the perfect pick for those who want to try a metallic hair hue for a day. You can do all-over color or rock a gold hair streak for a statement look. Hold the L'Oréal Paris Colorista Hair Makeup Temporary 1-Day Hair Color Spray in Gold four to six inches from your hair, shake well, then spray.
3. Gold Braided Headband
Why we love it: This accessory instantly adds a timeless and romantic touch to any hairstyle. It's great for a plethora of special occasions, including weddings, showers and even proms. Give yourself voluminous curls using heatless curling methods or your beloved curling iron. Place your gold braided headband on the crown of your head, leaving some face-framing strands loose at the front.
4. Gold Claw Clip
Why we love it: The claw clip isn't just for keeping your hair out of your face when you're washing it. In a gorgeous metallic like gold it can add some glamour to an otherwise simple look.
Gather your hair at the nape of your neck and twist it from roots to ends. Bring your length up and then down and secure with a gold claw clip.
5. Gold Barrettes
Why we love them: There are so many barrette options to fit every style. You can opt for something sleek and sophisticated like a solid gold barrette or try a fun and playful option like a word barrette to match your mood for the day. If you're truly bold, cover your entire mane in gold barrettes for an eye-catching style. Spritz the L'Oréal Paris Advanced Hairstyle SLEEK IT Iron Straight Heatspray throughout your mane before using a flat iron to give yourself sleek, straight strands. Pull your hair into a taut low ponytail and add your gold barrettes throughout.
6. Gold Bobby Pins
Why we love them: Bobby pins have also come a long way from just being a functional hair necessity to a stylish hair accessory. You can place them strategically to make beautiful gold shapes around your mane. You can also concentrate long gold bobby pins on one side to mimic a beautiful hair comb.
7. Gold Hair Comb
Why we love it: And speaking of a hair comb—you can grab a gold hair comb to upgrade a bun hairstyle or a half-up, half-down 'do, or even to give loose curls and edgy bend. Pull your hair into a sleek bun at the back of your head, securing with a hair elastic. Place your gold hair comb into the top of your bun for a beautiful accent that peeks up from the rear of your crown.
8. Gold Hair Cuffs
Why we love them: They're an easy way to disguise hair elastics for a chic, polished look. They also let you hold high ponytails in place easily and stylishly. Gather your hair into a ponytail at the top of your head. Give it a few pumps of the L'Oréal Paris Elvive Dream Lengths Frizz Killer Serum Leave-In to tame frizz and flyaways. Add a gold cuff to the base and let your length free fall around your shoulders.
9. Gold Butterfly Clips
Why we love them: We'll probably never get sick of '90s nostalgia and this hair accessory takes us right back to those days. Gold butterfly clips are a modern update to these beloved little hair ornaments. Use them in one-inch sections of hair to frame your face if you have large ones, or clip a handful of small gold butterfly clips down a section of hair for a statement making look.
Photo Credit: Shalwah Evans
Discover more tips & tricks
Keep your skin happy
See all articles
Shop Featured products
Discover More