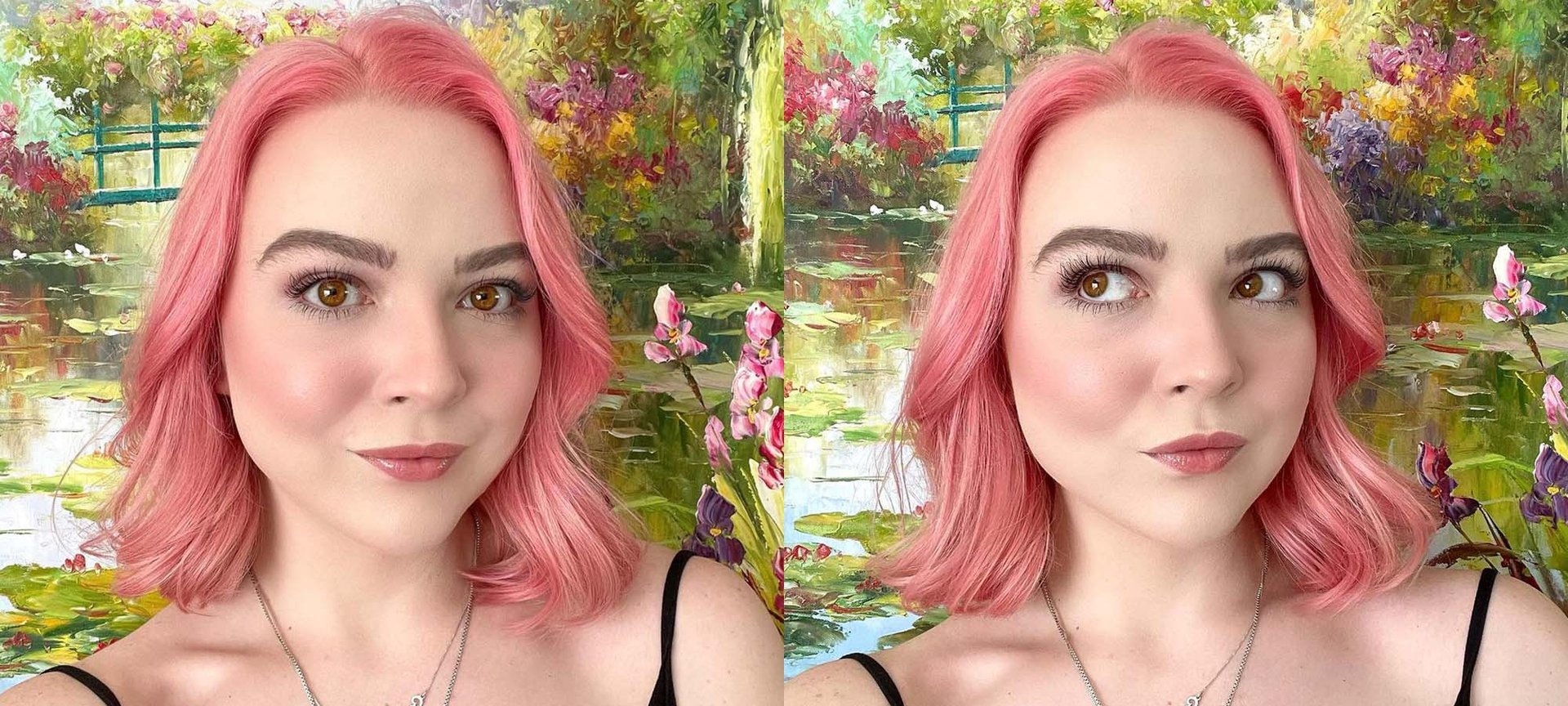 hair color tutorials
How To Get A Cherry Blossom Hair Color
A new hair color just bloomed.
Although sakura (the Japanese term for cherry blossom trees) season may be short, cherry blossom hair is in bloom all year round. This pretty petal-inspired hue is a softer take on the pink hair color trend that replicates the delicate, rosy tones of the trees that inspires its name. If you've been searching for an exciting but elegant change for your mane, then cherry blossom hair color is the perfect shade. Keep reading to learn how to get cherry blossom hair color at home and how to maintain it with a proper hair care routine.


What Is Cherry Blossom Hair?
Inspired by the Japanese sakura trees, cherry blossom hair color has a soft pink gradation that resembles cherry blossom petals. This powdery, pastel hue falls on the lighter end of the spectrum of pink shades and looks stunning on any skin tone.
How To Get Cherry Blossom Hair
Whether you're a hair color connoisseur or pretty green to trying new shades, there are a few things to consider before making a cherry blossom color change. Follow these three steps to get in on this hair color trend at home.

Step 1: Prepare Your Hair
To achieve this signature sakura shade it's essential, to begin with a light blonde base. If your starting strands are a darker hue, you'll need to break out the bleach and lift your color. To lighten your hair at home, brush up on how to bleach your hair at home and try the L'Oréal Paris Colorista Bleach, being sure to (carefully) follow the directions. Keep in mind that the darker your starting shade, the more sessions it may take to achieve your desired level of blonde hair before you can move on to cherry blossom dye.

Step 2: Decide On A Cherry Blossom Plan
Since this hair color change can be a bit dramatic (especially if you're starting with a darker shade) visiting a professional colorist may be best if you need guidance you through the process from start to finish.

While a professional can ensure you get the perfect shade of cherry blossom pink, it's also possible to color your hair at home. If you're ready to go full bloom from the comfort of your own kitchen, then choose the type of hair dye formula that best suits your rose gold goals and follow the directions included in your at-home hair color kit.


For some advice before you dive into the dye, consult with the L'Oréal Paris Hair Color Concierge to chat with hair pros who can provide hair color tips, direct you to video tutorials, and more.


Step 3: Choose Your Cherry Blossom Hair Dye
If you're confident in your coloring abilities then grab one of these at-home cherry blossom dye options and get started.

If you're ready to commit to a cherry blossom hair color then reach for the L'Oréal Paris Féria in Smokey Pink. This permanent hair color comes with a deep conditioning color gel, conditioning developer creme, aromatic shimmer hair serum, and power shimmer conditioner.

For a color option that lasts about as long as cherry blossom season, try the L'Oréal Paris Colorista Semi-Permanent Hair in Soft Pink or Pink. This semi-permanent hair color will gradually wash out over the course of 4-10 shampoo sessions.
If you want to give cherry blossom strands a test drive before you commit, a temporary hair color spray is your best option. Pick up the L'Oréal Paris Colorista Hair Makeup Temporary 1-Day Hair Color Spray in Rose Gold and give your hair a light dusting of color to see how you feel about this hue. This spray-on hair color will rinse out after just one shampoo.

How To Take Care Of Cherry Blossom Hair
Once you have a cherry blossom mane, keeping your hair vibrant and healthy is a must. To take the best care of your strands, switch to a hair care system that's safe for color-treated hair. Try the L'Oréal Paris EverPure Sulfate-Free Bond Strengthening Color Care Shampoo and L'Oréal Paris EverPure Sulfate-Free Bond Strengthening Conditioner. The line is formulated to deeply care for and condition hair while helping your hair color stay strong inside and out by reinforcing weak hair bonds.
When your cherry blossom colored hair needs a color boost, you can refresh it at home with a hair gloss. Grab the L'Oréal Paris Le Color Gloss One Step In-Shower Toning Gloss in Clear for an at-home treatment that will work to enhance your hair color and tone, while also deeply conditioning your strands.
Next: How To Go From Brown To Blonde Hair The Right Way
Written by: Lauren Paige Richeson, Photo Credit: Brianna Hay, IG/@brianna_hay
Discover more tips & tricks
Keep your skin happy
See all articles
Improve your routine
Show your new look more love:
makeup