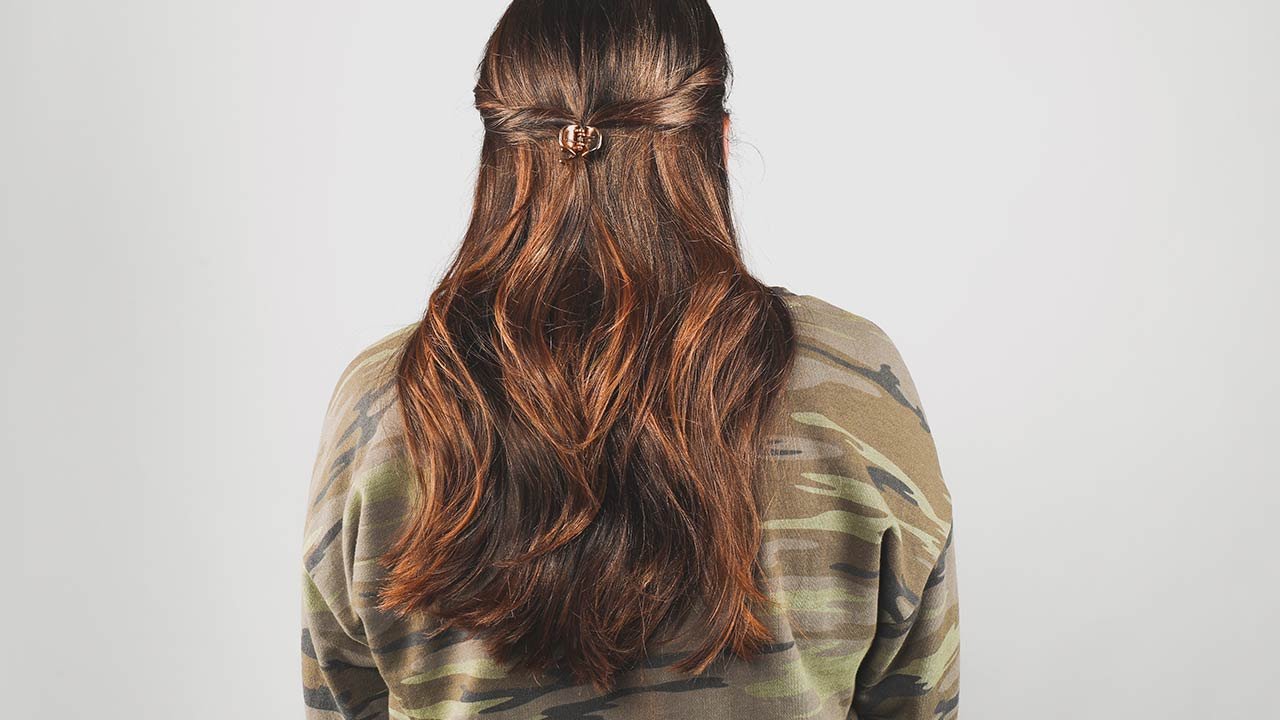 hair color tutorials
How to Get Easy Highlights At Home with a Hair Color Spray
Ever wanted highlights but wished you could test the waters before committing to lightening some of your mane? We feel you! Luckily, you don't have to reach for the bleach or spend hours at the salon to get highlights, especially if you aren't 100% sure it's the look for you. Rather, you can get instant, damage-free highlights in the comfort of your own home! Sound too good to be true? It's not! Below, we're sharing how to get easy highlights at home by using a hair color spray! Whether you want to take highlights for a test drive or simply need to spice up your strands for a day (temporary highlights are perfect for festival season!), you'll want to give our tutorial a try.
What you'll need:
L'Oréal Paris EverPure Repair & Defend Shampoo
L'Oréal Paris EverPure Repair and Defend Conditioner
L'Oréal Paris EverPure Repair Remedy Balm
L'Oréal Paris Advanced Hairstyle CURVE IT Elastic Curl Mousse
Hair elastic
L'Oréal Paris Colorista 1-Day Spray in Gold
Claw clip
L'Oréal Paris Advanced Hairstyle LOCK IT Fine Control Hairspray
Get the look by following these easy steps:
Ready to paint on your highlights? Follow our tutorial below.
STEP #1: PREP YOUR MANE
Before you get to painting on your highlights, you'll want to make sure you have a clean, styled mane to act as your base. Use a hair care system consisting of a coordinating shampoo, conditioner, and hair treatment to wash your strands.
STEP #2: CREATE YOUR STYLE
After you've washed your hair, you'll want to style it. For your at-home highlights, we recommend creating waves as they're the perfect way to showcase your dimensional hair color. Skip the curling iron and opt for a heat-free alternative. Apply an egg-sized amount of curl mousse to towel-dried hair, scrunch, then allow your hair to air dry. Once your mane is dry, you'll be left with soft and bouncy curls.
STEP #3: PAINT ON YOUR HIGHLIGHTS
It's time to create your highlights! Use a gold hair color spray to paint on highlights wherever you choose. The fun part about using a hair color spray is that it washes out in just one shampoo—meaning you can place your highlights one way one day, then place them in a totally different way the next! Get creative with your "highlighting" technique of choice. Need some inspo? Here's a breakdown of a few of our favorite hair highlighting options.
Hair highlight option #1: Money piece
A money piece is a face-framing pop of brightness created with a single highlight placed at the front of your mane. This is a great option for those who want their temporary highlights to be the star of their look. It's also an easy highlighting option to do on yourself because you don't need to be able to see the back of your head.
Hair highlight option #2: Balayage
Balayage involves natural-looking highlights placed throughout the hair to create a sun-kissed look. This highlighting technique is perfect for those who want something that looks more natural. And while balayage can be tricky to do with bleach and hair dye, it's super easy with a hair color spray! Still, it's a good idea to have a friend on hand so they can help you perfectly place your highlights.
Hair highlight option #3: Ombré
We can't forget about the ombré highlighting technique! This popular option creates a gradient effect on your mane. Think dark roots that gradually transition to a lighter, blonde hue. Get the look by starting with one coat of hair color spray about halfway down your mane, then build up the color as you near your ends.
Editor's note: We're recommending our gold hair color spray for all of the above highlighting techniques, but if you're feeling playful, you can always branch out and try a more colorful option—that's the beauty of wash out hair color!
STEP #4: GRAB YOUR CLAW CLIP
Once you spray on your highlights, create a section of hair from the top of one ear to the other. Clip this hair into place with a claw clip for a quick half-up hairstyle. This will really show off the dimension your highlights create!
STEP #5: Seal in your style
Now that your hair is washed, styled, and colored, you'll want to seal in your 'do with a hair spray. Spritz your mane, and you're ready to head out the door and show off your new temporary highlights!
Next, get even more highlight inspiration! Here are The Best Highlights and Lowlights for 2020.
Discover more tips & tricks
Keep your skin happy
See all articles
Shop Featured Hair Care products
Discover More