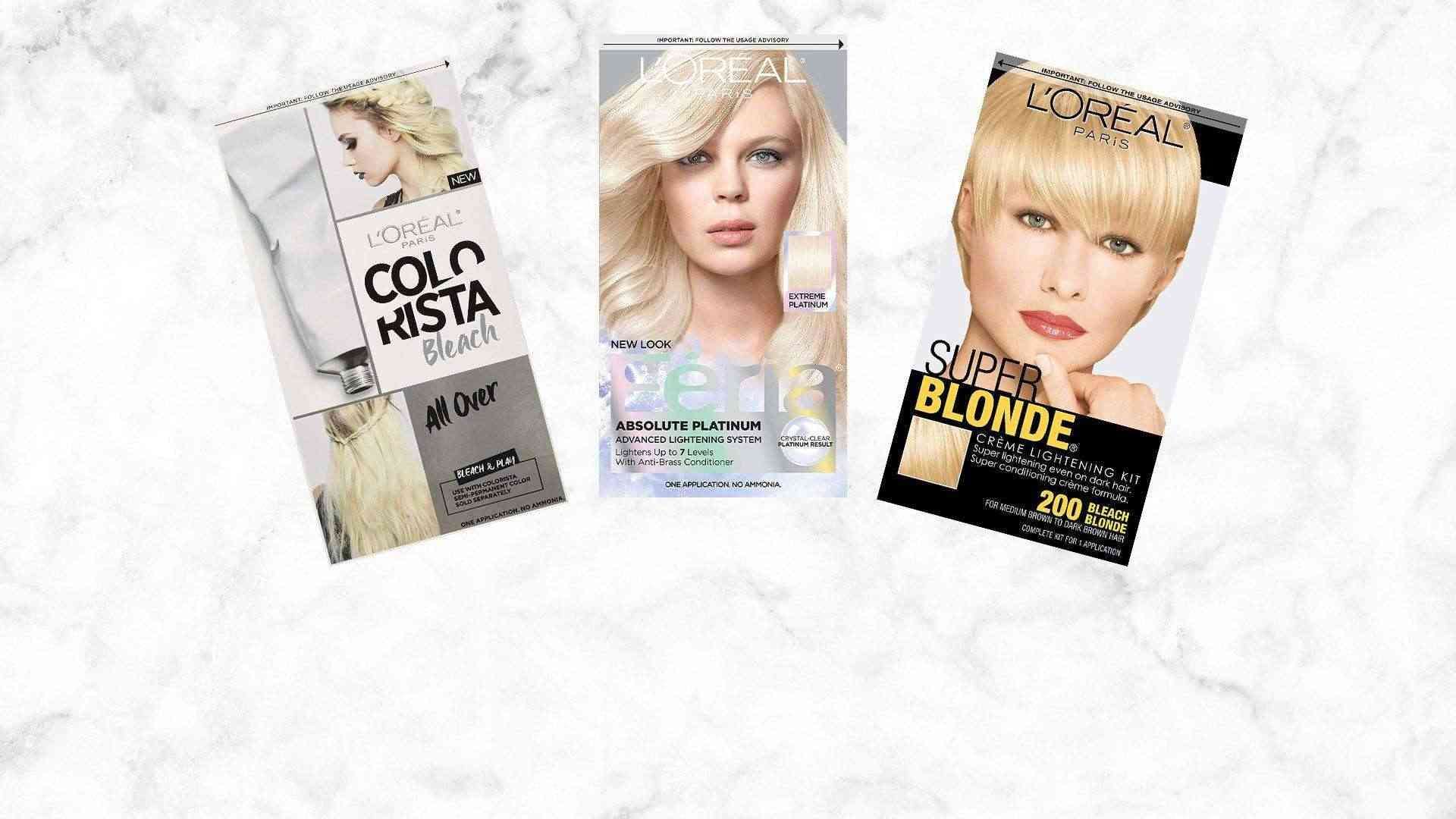 Whether you want to get blonde hair or you're ready to hop aboard the rainbow hair color trend, one thing's for certain: Getting a lighter hair color will require using hair bleach. If you prefer to color your hair at home as opposed to visiting the salon, it's essential to know how to bleach hair properly to achieve your desired results. Lucky for you, we've got you covered! Keep reading to learn the art of bleaching hair at home and how you can keep your color-treated strands looking their best for a gorgeous beauty look.
WHAT YOU NEED TO KNOW BEFORE USING HAIR BLEACH
If you're looking to take the plunge and go blonde or try a trendy shade like rose gold hair, know that you'll need to learn how to bleach your hair first. If you're starting with a dark brown base, it could take multiple sessions for you to achieve your desired color. And if you want to make a seriously drastic change—like going from dark brown hair to platinum blonde—it's always a good idea to visit a professional colorist, as this could take quite a bit of work and skill to achieve. That being said, you can learn how to bleach your hair at home with the right know-how. Keep reading to learn what to do.
HOW TO BLEACH HAIR AT HOME
Now that you're a bit more aware of what your hair transformation will require, it's time to dive into the actual process. What, exactly, do you need to bleach your hair at home? A hair bleach kit, of course. Sticking with a kit will make things simple, as it will include everything you need: bleach powder, developer, gloves, and instructions. Speaking of instructions, we can't tell you exactly how to bleach your hair, as that will differ a bit from product to product.
A general breakdown of how bleaching your hair works is as follows: First, you'll mix together bleach and developer, then you'll brush the mixture onto your hair, being careful not to get it on your skin or clothes. After applying, the bleach will be left on your hair for (typically) somewhere between 15 and 30 minutes. How long bleach is left on hair can vary depending on your starting color, the product you're using, the volume of your developer, and whether your strands have been bleached before.
Once the bleach is ready to be rinsed out, normally you'll shampoo and condition your mane. Most bleach kits come with an extra nourishing conditioner, so make sure to slather your strands with that! Rinse once more, then wait for your strands to dry to see your amazing results.
After your strands are bleached—if you want a hair color besides blonde—follow up with the L'Oréal Paris Colorista Semi-Permanent Color, which is available in a wide variety of shades for bleached hair, including pink, purple, and blue. Apply the color all over or just to your tips for a stylish ombré hair color. You can also play with color in different areas of your hair if you'd like to create a unicorn or mermaid hair color. It's up to you!
If you're leaving your hair blonde, you may want to tone your hair after bleaching. In that case, you can use an at-home hair toner or gloss to get rid of unwanted brassiness.
OUR BEST BLEACH FOR HAIR
Looking for the best bleach for hair? Try one of our three favorite hair bleach kits.
L'Oréal Paris Féria in Absolute Platinum Extreme Platinum: This intense, one-step lightening system can be used on light brown, medium blonde, and light blonde hair.
L'Oréal Paris Colorista Bleach All Over: This hair bleach is designed to work on dark blonde, light brown, and medium brown hair. The kit contains a developer crème, bleaching powder, lightening crème, anti-brass conditioner, gloves, and an instruction sheet.
L'Oréal Paris Super Blonde: This bleaching kit can lighten dark brown and medium brown hair. With its advanced super-lightening action, it delivers smooth, even blonding from root to tip and lightens natural or color-treated hair in one simple step.
HOW TO CARE FOR YOUR BLEACHED HAIR
Color-treated hair requires special care. Now that you know all about bleaching hair at home, it's time to switch up your hair care routine.
1. USE A NOURISHING COLOR-TREATED HAIR CARE SYSTEM
Try the L'Oréal Paris EverPure Repair & Defend Shampoo and L'Oréal Paris EverPure Repair and Defend Conditioner, which are formulated with goji and can help strengthen hair and protect against daily color aggressors such as UV rays, water, and heat-styling tools. Once or twice a week, swap out the conditioner for a hair mask like the L'Oréal Paris EverPure Repair Remedy Balm.
Editor's tip: While you're washing, use lukewarm water as super-hot H2O can strip your strands of essential oils, which can lead to hair feeling dry and looking dull.
2. KEEP A TONING SHAMPOO ON HAND
When you have bleached hair that isn't coated in another color—aka you've gone blonde—brassy hair is only a matter of time, meaning purple shampoo is a must. When you start to see unwanted orange or yellow tones in your hair, break out the L'Oréal Paris EverPure Brass Toning Purple Sulfate Free Shampoo and L'Oréal Paris EverPure Brass Toning Purple Sulfate Free Conditioner for some toning action.
3. MAKE TIME FOR TOUCH-UPS
If your starting color was brown or red, your roots are going to begin growing in sooner rather than later. So, keep your bathroom stocked with bleach so that you can touch up your color whenever needed. Of course, if you can't bleach your hair again straight away, you can also temporarily cover roots touch-up products. If you have noticeable gray roots, try the L'Oréal Paris Magic Root Cover Up. For scattered grays, use the L'Oréal Paris Magic Root Precision Pen, and for dark roots on blonde hair, pick up the L'Oréal Paris Magic Root Concealer Spray, Blondes with Dark Roots.
4. EMBRACE YOUR NATURAL TEXTURE
Remember, you don't have to heat style your hair to rock a gorgeous 'do. Try showing off your natural texture alongside your bleached hair! Add a dollop of the L'Oréal Paris Advanced Hairstyle CURVE IT Elastic Curl Mousse to your strands to create soft and bouncy curls that will go the distance.
5. USE A HEAT PROTECTANT BEFORE STYLING
Can't live without the occasional blowout? Just be sure to spritz on a heat protectant, like the L'Oréal Paris Advanced Hairstyle SLEEK IT Iron Straight Heatspray, before any heat styling.
Discover more tips & tricks
Keep your skin happy
See all articles
Shop Featured Hair Color products
Discover More