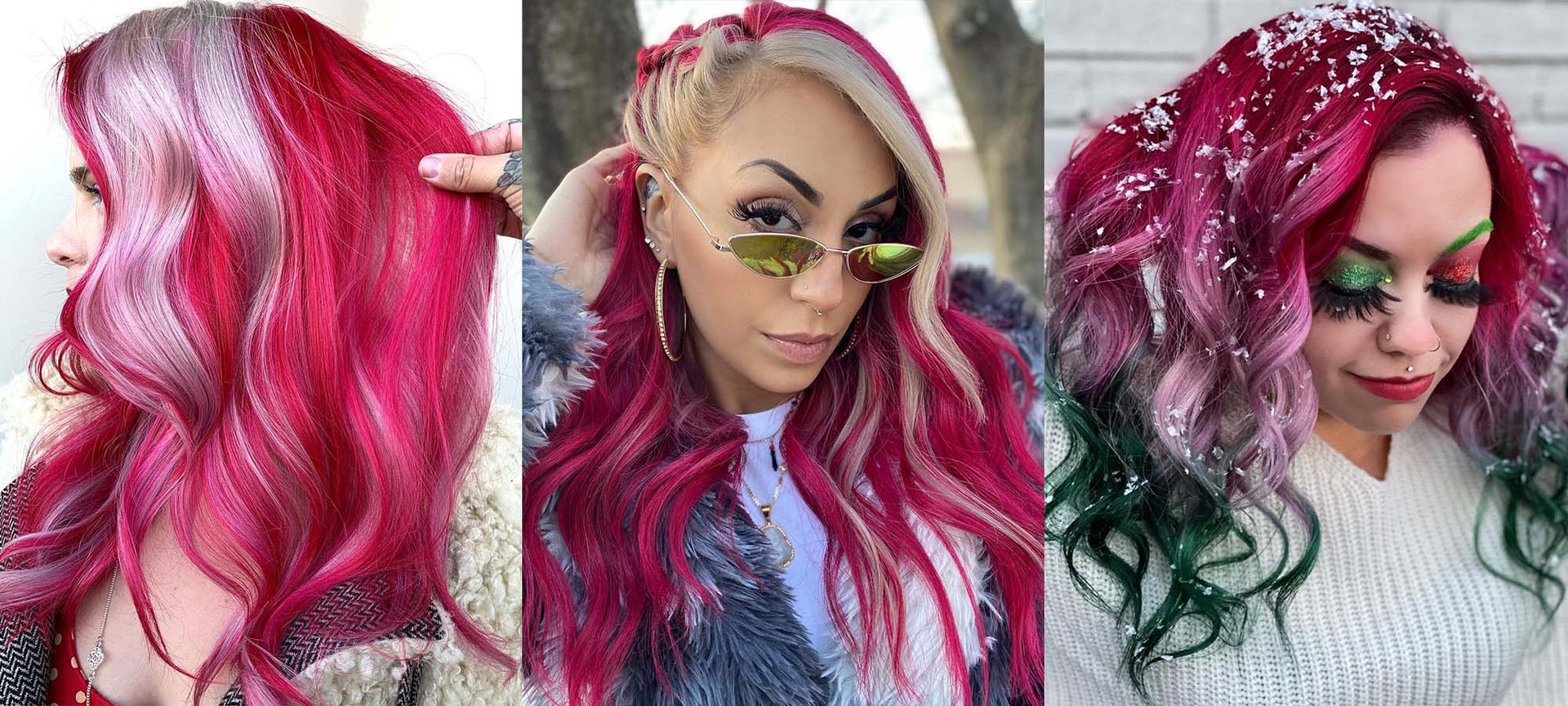 hair color ideas
Make Your Christmas Extra Sweet With Candy Cane Hair
The hottest hair color this side of the South Pole.
With all the colors and lights of the winter holidays, it's the most wonderful time of the year for a fun, festive hair color. What better way to show some seasonal spirit than with a candy cane hair color? Inspired by the Christmas treat, this confectionery hue is the perfect two-tone hair color twist for your tresses. If you're searching for a holiday look that's merry and bright, keep reading to learn how to bring candy cane hair color to life for the sweetest Christmas hair.
What Is Candy Cane Hair?
This holiday hair color trend weaves vibrant streaks of cherry-red, soft and bright pink, and shades of green together to resemble the striped sugary candy. The colors can be dispersed throughout your hair with your base shade still intact, dyed with an ombré effect or placed in chunky partial highlights to add dimension and depth. The best part is that candy cane hair is super customizable to fit your preferences, creativity, and sweet tooth.

What To Know Before Getting Candy Cane Hair
Before you can hitch your sleigh to any bold hair color trend like candy cane hair, there are a few important factors to keep in mind. For starters, in order for the colors to show up, you'll need to bleach your hair first if you're starting with a dark base. And the darker your starting color, the more work it'll take to reach your desired result. If you're a novice to at-home hair color, head to the salon where a professional colorist will be able to expertly weave the right holiday hues into your hair to make sure you get the tastiest-looking candy cane hair color.


How To Get Candy Cane Hair Color
If you've decided to head to the salon to slay your holiday hair, make sure to take with you some inspo pics — or better yet, actual candy canes — so that your stylist can try to get as close to your desired Christmas color as possible.

For those who just want a taste of candy cane highlights, wash out hair color is the perfect pick. The L'Oréal Paris Colorista Hair Makeup Temporary 1-Day Hair Color Spray comes in a variety of shades, including Red, Hot Pink, and Pastel Mint so you can create your own festive mane with just a few sprays. This temporary hair color washes out in just one shampoo, so you can spread some holiday cheer — and then get back to your everyday hair with no stress on your tresses.
If you're set on rocking this sugar-inspired style for a while, you can also DIY the look at home. Keep in mind that you'll need to bleach your hair first if you don't already have blonde, bleached, or highlighted hair. Then, grab a candy cane as your guide and apply some chunky highlights using shades like the L'Oréal Paris Féria Multi-Faceted Shimmering Permanent Hair Color in Fuschia, Smokey Pink, and Turquoise. This permanent hair color will leave you with a bold, shimmering hair color — just be sure to follow all the directions included with the at-home hair color kit.


Editor's Tip: Need some at-home hair color help? Consult with a hair color professional using the L'Oréal Paris Hair Color Concierge. You can chat with a live expert who can answer questions and give you personalized recommendations for the best hair colors for you.
How To Care For Your Candy Cane Hair
Now that you have your new holiday hue, make sure to switch up your hair care routine to give your candy color-treated hair the special care it deserves. Keep your hair looking and feeling its best with these three easy-to-follow tips.

1. Use Color-Safe Hair Care Products
To keep your color looking fresh, it's important to reach for color-safe shampoo and conditioner like the L'Oréal Paris EverPure Sulfate-Free Bond Strengthening Color Care Shampoo and L'Oréal Paris EverPure Sulfate-Free Bond Strengthening Color Care Conditioner. This duo is safe on color and helps to strengthen the hair by reinforcing weak hair bonds that can occur as a result of bleaching and heat damage. It also helps to protect hair from future damage so that you can color with confidence when you're ready to change your candy cane hair.

2. Limit Heat Styling
Hair that has been bleached can often end up with breakage and dryness. Add frequent heat styling on top of that and your strands are bound to suffer from damage. Give heatless hairstyles a go, and if you're going to break out the flatiron or blow dryer, be sure to apply a heat protectant beforehand, like the L'Oréal Paris Elvive Dream Lengths Heat Slayer Pre-Iron Spray Leave-In to protect your hair for up to 450 degrees of heat.

3. Refresh With Dry Shampoo
In between washes, refresh your candy cane strands with a few spritzes of the L'Oréal Paris Elvive Dream Lengths Air Volume Dry Shampoo, especially if you've gone the hair color spray route. Your color will continue to look vivid and shiny with a long-lasting clean feel and no white residue.
Next: 'Tis The Season For Christmas Tree Hair
Written by: Lauren Paige Richeson, Photo Credit: Savanna Ford, IG/@savvyheartshair, Diana Bell, IG/@dmahairsalon, Kelly, IG/@kellyawesomesauce
{ "@context": "https://schema.org/", "@type": "WebPage", "speakable": { "@type": "SpeakableSpecification", "cssSelector": ["speakable-content"] }, "url": "https://www.lorealparisusa.com/beauty-magazine/hair-color/hair-color-ideas/how-to-get-candy-cane-hair" }
Discover more tips & tricks
Keep your skin happy
See all articles
Improve your routine
Show your new look more love:
makeup
{ "@context": "http://schema.org", "@type": "BreadcrumbList", "itemListElement": [ { "@type":"ListItem", "position": 1, "item": { "@id": "/", "name": "Home" } } , { "@type":"ListItem", "position": 2, "item": { "@id": "https://www.lorealparisusa.com/beauty-magazine", "name": "Beauty Magazine" } } , { "@type":"ListItem", "position": 3, "item": { "@id": "https://www.lorealparisusa.com/beauty-magazine/hair-color", "name": "Bold Ideas From Hair Color Pros" } } , { "@type":"ListItem", "position": 4, "item": { "@id": "https://www.lorealparisusa.com/beauty-magazine/hair-color/hair-color-ideas", "name": "Hair Color Ideas" } } , { "@type":"ListItem", "position": 5, "item": { "@id": "https://www.lorealparisusa.com/beauty-magazine/hair-color/hair-color-ideas/how-to-get-candy-cane-hair", "name": "how-to-get-candy-cane-hair" } } ] }