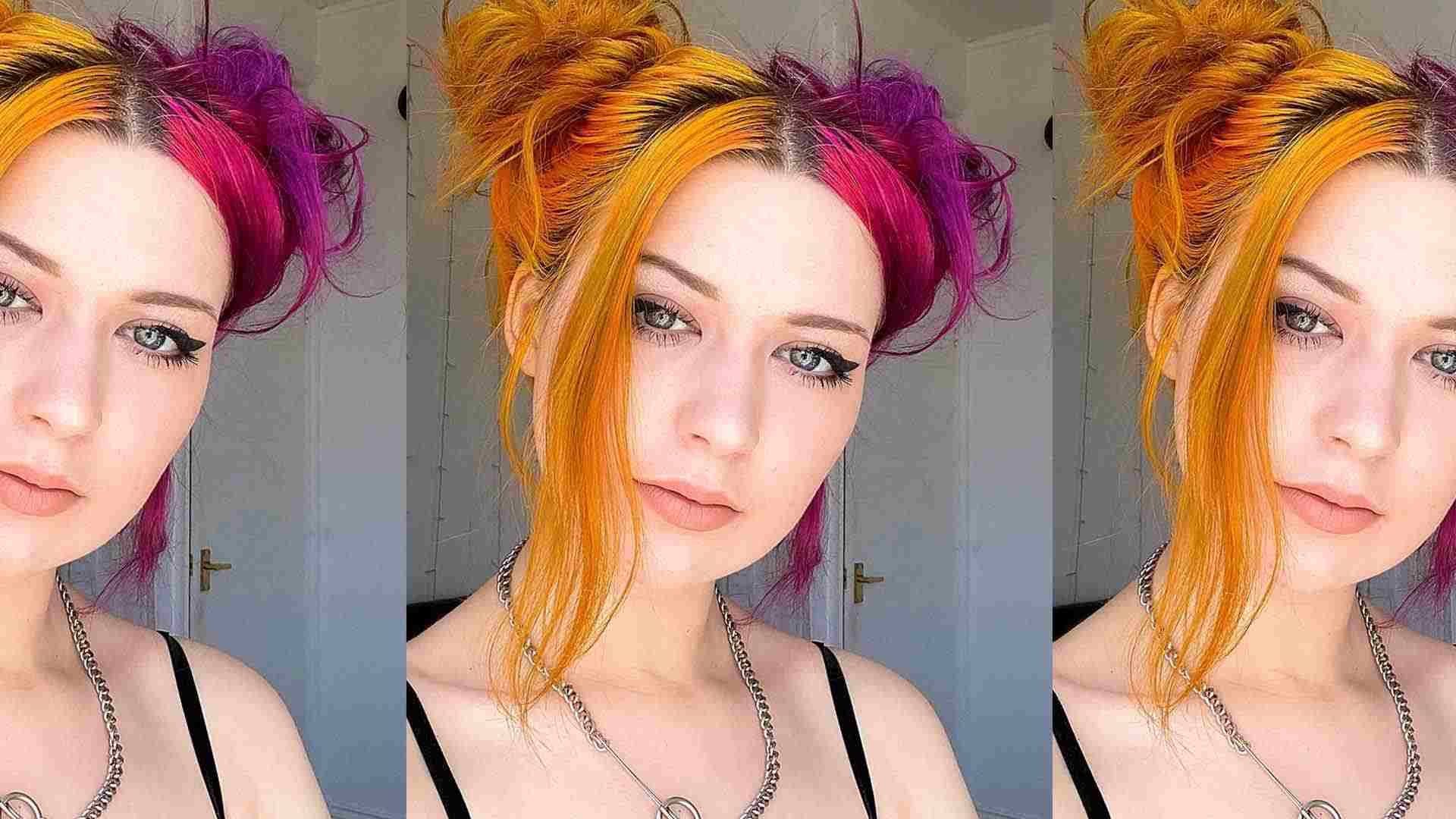 With spring in full bloom, you may be feeling the urge to try something new for the season— especially when it comes to your hair color. But with dozens of new hair color trends popping up every day, it can be tough to decide on what shade you should try. So, instead of settling for one hue, why not go for two? You can get the best of both worlds by experimenting with vibrant and pastel hair colors to get a creative and customized look. If you need help determining what you want your two-tone hair color to look like, read on to see seven ways you can approach the trend and product picks you can use to recreate the look on yourself.
7 Two Tone Hair Color Ideas
1. Partially Colored Bangs
Bangs by themselves can create a gorgeous frame for highlighting your best features—so you can imagine the allure you'll create by adding in a pop of color. Want to DIY? Try using the L'Oréal Paris Colorista Hair Makeup Temporary 1-Day Hair Color Spray in Pastel Mint or in Pastel Blue to experiment with the colors and placement on your stands.
2. Highlights
If a full layer of color isn't really your thing, that's totally understandable. Major hair alterations can be a tad intimidating. However, you can still try the two-tone hair color look in an understated way—just focus on coloring a few key stands throughout your entire head. And yes, you can DIY with the help of a hair color kit! Simply select a shade from the L'Oréal Paris Féria line to upgrade your strands.
3. Peek-A-Boo Hair
For those looking to sport a bright hue but still want to keep it low-key, go for a hidden layer of color. This peek-a-boo style will allow you to keep your natural color on top and let you rock a different hue on the bottom layer of your hair. The best part? When you wear your hair down, no one will know about your second tone. But when you wear it up, you can show off your pretty colorful hue.
4. Dip-Dyed Ends
Dyeing your ends is a great way to add dimension to your hairstyle, especially when using the dip dye technique. It involves coloring just the ends of the hair with your preferred color. Since it requires two colors and some technical skill to get the right tone throughout the tips, we recommend booking an appointment at your local hair salon.
5. Colored Roots
Long gone are the days of trying to cover up your outgrown roots with the same color. Instead, you can add a fun twist to your look by applying a brighter hue to your roots. Reach for the L'Oréal Paris Colorista Hair Makeup Temporary 1-Day Hair Color Spray and apply it to your roots, making sure the shades blend in well to avoid any stark, harsh lines.
6. Half And Half
Half and half hair is a thing, and we're totally here for it! To pull off this style, you'll need to create a crisp, clean line down the center of your head for a symmetrical look. Book an appointment with your colorist or DIY the look using two contrasting shades from the L'Oréal Paris Colorista Semi-Permanent Hair Color line.
7. Money Piece
Want your new brighter hue to be front and center? The money piece highlighting technique is a great way to make that happen! This placement involves hand-painting your face-framing strands in one hue while the rest of your hair remains another. Since this look focuses a lot on the front pieces of hair, you may want to book an appointment with your stylist to make sure you get the best results possible.
Photo Credit: Kayla Hadlington, @greebogirl
Next: A DIY Guide To Using Semi-Permanent Hair Color At-Home
{ "@context": "https://schema.org/", "@type": "WebPage", "speakable": { "@type": "SpeakableSpecification", "cssSelector": ["speakable-content"] }, "url": "https://www.lorealparisusa.com/beauty-magazine/hair-color/hair-color-ideas/how-to-get-two-toned-hair-color" }
Discover more tips & tricks
Keep your skin happy
See all articles
Shop Featured Hair Color products
Discover More
{ "@context": "http://schema.org", "@type": "BreadcrumbList", "itemListElement": [ { "@type":"ListItem", "position": 1, "item": { "@id": "/", "name": "Home" } } , { "@type":"ListItem", "position": 2, "item": { "@id": "https://www.lorealparisusa.com/beauty-magazine", "name": "Beauty Magazine" } } , { "@type":"ListItem", "position": 3, "item": { "@id": "https://www.lorealparisusa.com/beauty-magazine/hair-color", "name": "Bold Ideas From Hair Color Pros" } } , { "@type":"ListItem", "position": 4, "item": { "@id": "https://www.lorealparisusa.com/beauty-magazine/hair-color/hair-color-ideas", "name": "Hair Color Ideas" } } , { "@type":"ListItem", "position": 5, "item": { "@id": "https://www.lorealparisusa.com/beauty-magazine/hair-color/hair-color-ideas/how-to-get-two-toned-hair-color", "name": "how-to-get-two-toned-hair-color" } } ] }