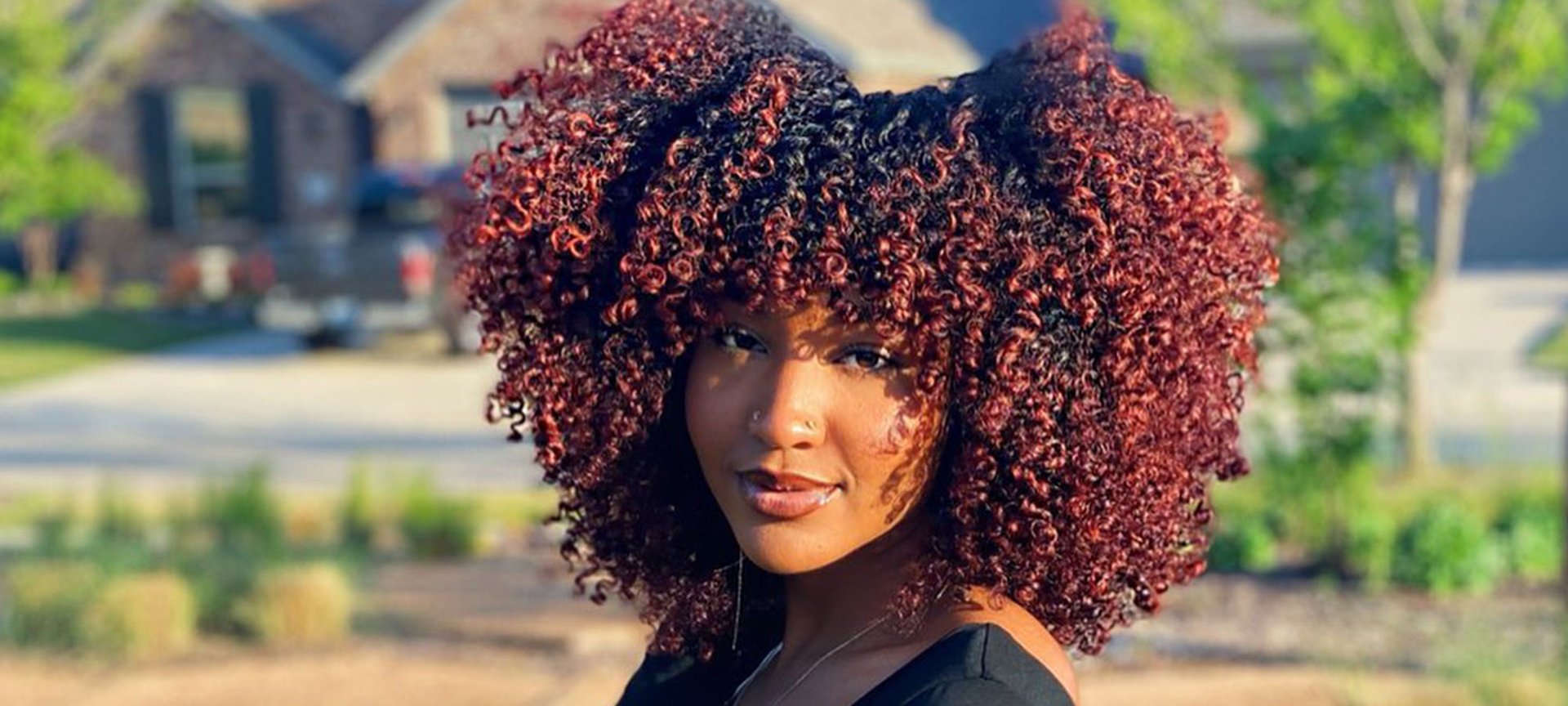 hair color ideas
10 Hair Color Ideas To Spice Up Your Curls
Stuck in a hair rut? Read this.
If you're looking to change up your curly hair, trying a new hair color might be just the refresh you need. With so many hair color trends to choose from, you may be overwhelmed by the idea of deciding which hue is best for you. Here, we've rounded up ten of the best hair color ideas that will leave your curls looking gorgeous.
The Best Hair Colors To Try With Curly Hair
Let's be real, regardless of your hair type or texture, you can rock any hair color. The determining factor of whether or not a hair color will look good on you has little to do with your curl pattern, and almost everything to do with your skin tone and preferences. But, if you have curly hair and you're in the mood to change up your 'do, here are some fun hair color suggestions that are on trend.
#1: Burgundy
A deep red hair color is the perfect hue to jump to when you want a fun change that isn't too bold. Rich burgundy shades are also incredibly flattering on lots of skin tones. If you're fair, this shade will create gorgeous contrast with your skin, and if you have a darker complexion, the cherry tones in this hue will really pop. To get the color, try the L'Oréal Paris Féria in Deep Burgundy—it provides multidimensional color and a chic shimmering effect to the hair.
#2: Bronde
Torn between being brunette and going blonde? Bronde is the perfect shade for you. This sun-kissed color has a base of brown with plenty of warm or cool blonde highlights—opt for whichever will complement your skin tone. If you have cooler skin, icy blonde hues will suit you, and if you have warm skin, warmer blonde shades will flatter you.
#3: Lavender
Lavender hair and pastels are trending lately in everything from clothing to makeup and even hair. This light, bright hue looks gorgeous with curly hair because it catches the light and makes your curl patterns even more visible. If you want to take lavender hair for a spin without any commitment, try the L'Oréal Paris Colorista Hair Makeup Temporary 1-Day Hair Color Spray in Pastel Lavender. You just spray the color onto your hair from four to six inches away, and after one shampoo, the color washes out.
#4: Silver
Whether you have salt and pepper strands or don't have a gray hair in sight, sporting a silver color is chic. That's right, people are going gray on purpose. Embracing silver strands (or opting for them) and pairing the color with natural curls is gorgeous. You can get your silver color by applying the L'Oréal Paris Féria Multi-Faceted Shimmering Permanent Hair Color in Silver.
Editor's tip: To keep your silver strands looking vibrant use a toning gloss like the L'Oréal Paris Le Color Gloss One Step In-Shower Toning Gloss in Silver, which boosts shine and conditions your strands while enhancing your tone.
#5: Mushroom Brown
Mushroom brown hair is trending this year, and given that it combines ashy shades of brown and grey, it's no surprise. Cool-toned hair has become ultra-popular over the last few years, and this take on it is perfect. To learn how to sport this shade, read our article about How to Rock the Mushroom Brown Hair Color Trend.
#6: Oil Slick
Highlight your curls with an oil slick hair color. This intricate color features shades of green, magenta, purple, and blue that resemble the rainbow colors that appear in oil puddles on the pavement. It can be done for a subtle rainbow look, or created with more vibrancy to amp up the style. It's perfect for you if you already have a dark base color as it will make achieving an oil slick look oh-so-easy.
#7: Rose Gold
Rose gold looks beautiful on just about everything—from jewelry to technology to makeup. Why not incorporate this stunning color into your 'do too? The warm, pinky golden hue instantly brightens up the face without being so bold that it's distracting. To test it out sans permanent dye, try the L'Oréal Paris Colorista Hair Makeup Temporary 1-Day Hair Color Spray in Rose Gold.
#8: Golden Copper
While icy hues have been having their moment for some time, warm hair colors will always be classic. To spice up both your curls and your color, give a golden copper hair color a go. It's a unique hue that falls somewhere between red and strawberry blonde, and it's stunning for summer.
#9: Platinum Blonde
If you're looking for a light, bright color to transform your curly hair, try out a platinum blonde hue. You might be surprised to know that there are actually several variations of this popular blonde shade—so if you choose to go platinum, consider whether you want a cool or warm hue. To get a platinum hair color at home, try the L'Oréal Paris Féria Hyper Platinum Advanced Lightening System Bleach, which lightens your strands without wreaking havoc on your hair.
#10: Navy
If ever a color walked the line between subtle and bold, it's this one. Navy blue hair isn't common, so if you're looking for something unique that won't stray too far from natural hues, give navy a go. The L'Oréal Paris Colorista Semi-Permanent Hair Color in Midnight Blue gradually fades after a few hair washes, so it lets you test blue on you without committing right off the bat.
Editor's Tip: If you're unsure which color would suit you best, check out the L'Oréal Paris Haircolor Concierge where you can consult with a color specialist who can give you personalized recommendations. And if you want to see what the color would look like before committing, try out the L'Oréal Paris Hair Color Genius tool where you can upload a photo of yourself or use the live try-on feature.
Next: Why You Should Try Temporary Wash Out Hair Color Before Committing
Written by: Alyssa Kaplan, Photo Credit: Endia/@naturally.endia
Discover more tips & tricks
Keep your skin happy
See all articles
Shop Featured Hair Color products
Discover More