hair color ideas
6 Coral Hair Color Ideas for Summer 2019
May 23, 2019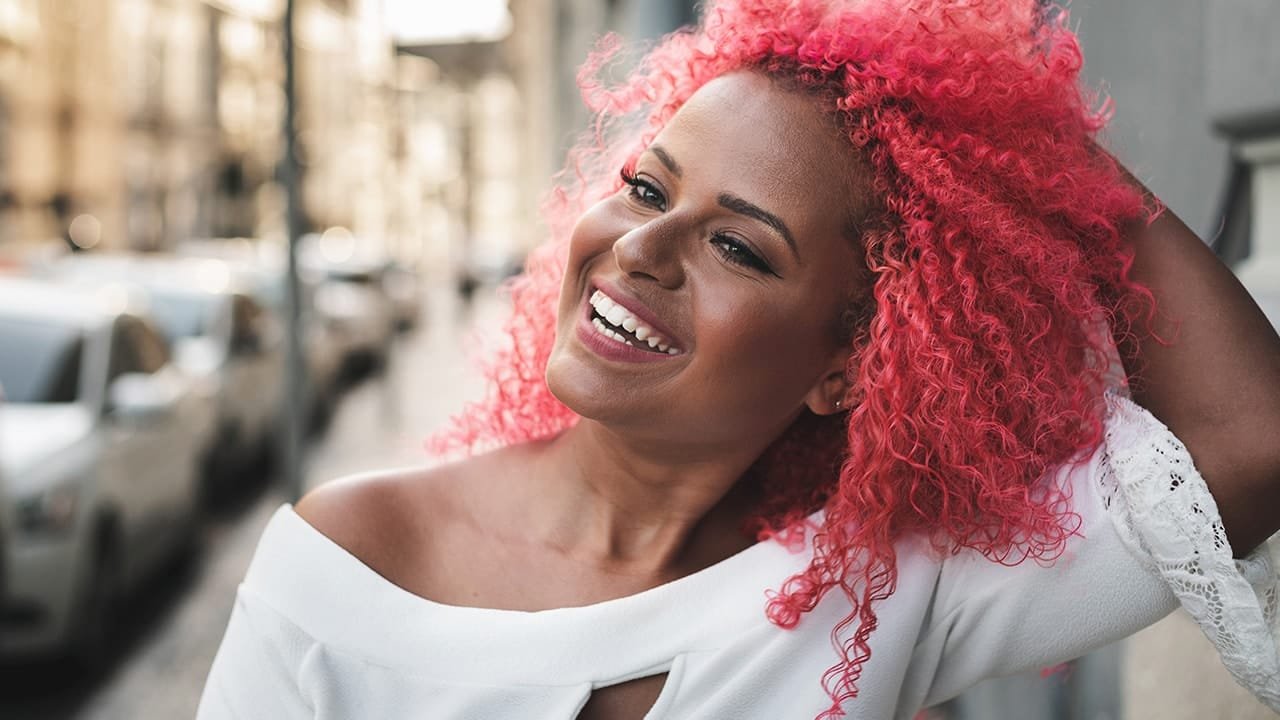 In case you haven't heard, coral happens to be one of the trendiest colors for 2019. And as with most color trends, we're seeing this bright hue show up just about everywhere, including the world of makeup and hair color. And while swiping on a coral lipstick is an easy way to test out this trend, why not take things a little further? If you're looking for a new hair color trend to try, consider opting for a coral mane makeover! There's more than one way to rock this beauty look, so you can go all out or keep it subtle—it's all up to you. Interested? Keep reading for six coral hair color ideas for summer 2019.
CORAL HAIR COLOR IDEA #1: ALL-OVER COLOR
Go bold or go home, right? If you're ready to fully embrace the coral hair color trend, look no further than an all-over coral mane. This color is easy to achieve with the help of an at-home hair color kit, though keep in mind that if you have dark hair, it may require bleaching beforehand in order for your coral color to appear its most vibrant.
CORAL HAIR COLOR IDEA #2: PEEK-A-BOO COLOR
Want your new hue to be a fun, hidden secret? Try a peek-a-boo coral hair color! This hair color trend features your natural hue on the top layer of your hair with a bright coral shade underneath. That way, your pop of coral can go unseen when you want it to, but you can throw your hair into a half-up hairstyle, bun, or ponytail to show off the mane attraction! Piqued your interest? Here's How to Get a Peek-a-Boo Hair Color.
CORAL HAIR COLOR IDEA #3: BALAYAGE
The balayage highlighting technique has taken the hair color world by storm, and it doesn't show any signs of slowing down. Rather than coloring your entire mane, consider blending in some coral dimension with balayage highlights.
CORAL HAIR COLOR IDEA #4: DIP DYE
Looking for a super low-maintenance coral hair color option? Dip dyed hair is where it's at. This hair coloring technique involves coloring just the ends of your mane, eliminating the need for root touch-ups completely!
CORAL HAIR COLOR IDEA #5: OMBRÉ
Another low-maintenance option, ombré hair fades from your natural base color into colorful ends. The difference between this option and dip dyed ends is the gradual transition of color that allows for a seamless look. In contrast, dip dyed ends go directly from your natural hue to the vivid color, making for an edgier look than ombré hair.
CORAL HAIR COLOR IDEA #6: MONEY PIECE
Simply craving a splash of color to brighten up your beauty look? Give yourself a mane that makes a statement with a coral money piece. This coloring technique will involve placing a coral streak at the front of your face. Give it a try and trust us, heads will turn!
HOW TO TAKE CARE OF YOUR CORAL HAIR COLOR
Now that you have a few coral hair color ideas in mind for summer 2019, you may be wondering how to take care of your newly colored mane. With the help of a few hair care tips, you'll be rocking your coral hue all summer long!
STEP #1: USE THE RIGHT HAIR CARE SYSTEM
Our most important tip? Use a hair care system that's formulated for color-treated hair! The L'Oréal Paris Elvive Color Vibrancy Intensive Protecting Shampoo, L'Oréal Paris Elvive Color Vibrancy Intensive Protecting Conditioner, and L'Oréal Paris Elvive Color Vibrancy Repair and Protect Balm work together to deeply nourish and seal-in color vibrancy—exactly what you want with a color as bold as coral!
STEP #2: SKIP THE HEAT
When it comes to styling your hair, ditch your heat tools when you can and opt for heat-free styling alternatives instead. Give the L'Oréal Paris Advanced Hairstyle AIR DRY IT Wave Swept Spray a try. Spritz the hair spray onto towel-dried hair, braid, and allow your hair to air dry. When your hair is dry, remove the braid(s) to reveal loose, effortless waves—sans heat!
STEP #3: BE PREPARED FOR TOUCH UPS
While there are coral hair color ideas that require less upkeep than others, you'll likely be needing to touch up your mane at some point. After all, who wants a faded, muted mane?! Keep a box of hair dye on hand for when your color needs a refresh. If you went to the salon, consider using a wash out hair color, like the L'Oréal Paris Colorista 1-Day Spray or L'Oréal Paris Colorista Hair Makeup 1-Day Color, to give your locks a boost in between appointments. Both of these temporary hair colors will wash out in just one shampoo!
Next, infuse coral into your makeup look! Here are 5 Ways to Wear Coral Makeup.
Discover more tips & tricks
Keep your skin happy
See all articles
Shop Featured Hair Care products
Discover More