hair color application
5 Ways to Expertly Cover Your Roots in Less Than 10 Minutes
No salon trip required.
April 11, 2022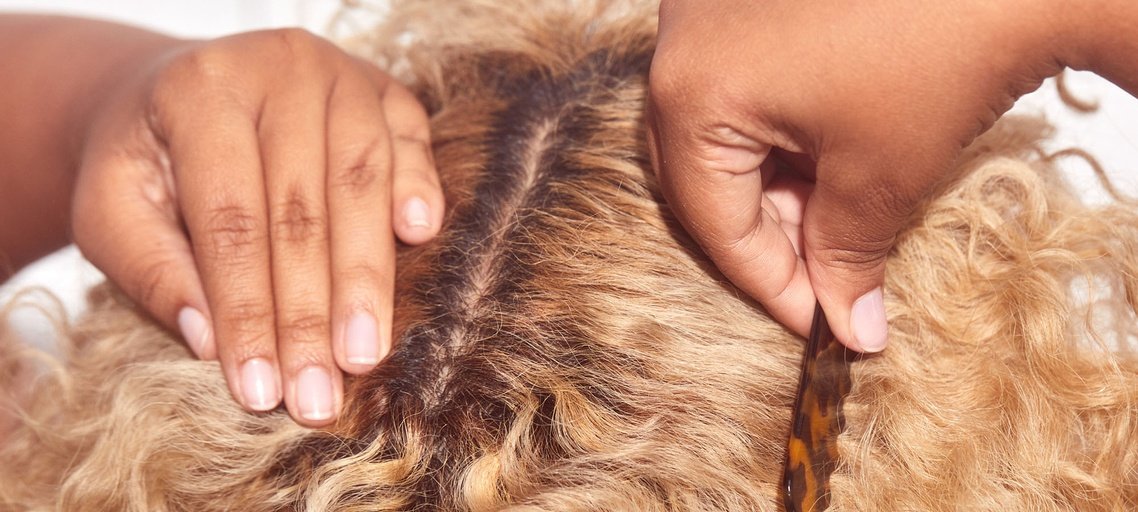 If you dye your hair then you know how much maintenance it requires if you want to keep your color looking fresh. And if your chosen hue is a far cry from your natural color or you've started to go gray, then the hair color maintenance can be even more demanding.
The good news is, that keeping your roots fresh doesn't always require frequenting the salon. Below, we're sharing five ways to cover your roots at home when you're in a pinch. And the best part is, these techniques can be done in just a few minutes.
1. Enlist the Help of a Root Touch-Up Pen
If your next salon appointment isn't as soon as you would like it to be and you're noticing a few stray grays, you can rely on a root touch-up pen to tide you over.
The L'Oréal Paris Magic Root Precision Pen is a great option for addressing small areas of the hair because it has a fine tip that can get close to the roots. You simply brush the product onto your gray hairs to blend them in with the rest of your color. The results will last until your next shampoo session and this easy approach to covering grays takes only a moment or two.
2. Try Root Cover-Up Spray
If you've got larger areas of gray hair that you wish to cover, a root cover-up spray will be your hair color MVP. A spray formula will allow you to cover a larger surface area of your hair.
We love the L'Oréal Paris Magic Root Cover Up because it comes in a variety of shades that help to blur gray hair and lines of demarcation.
All you need to do is section your hair and spray on the product holding the can about five inches from your head.
3. Use Tinted Dry Shampoo
If you're in the need of a super quick fix to slightly blur some grays, try using a tinted dry shampoo, like the L'Oréal Paris Sulfate Free Tinted Dry Shampoo for Brown Hair or the L'Oréal Paris Sulfate Free Tinted Dry Shampoo for Blonde Hair.
In addition to soaking up excess oil and providing volume, this dry shampoo formula slightly tints the hair. It doesn't leave behind any white residue and it makes for subtle gray hair coverage.
4. Try a Root Dye Coloring Kit
If time allows and you're looking for a more long lasting solution, give an at-home root dyeing kit a try. The L'Oréal Paris Magic Root Rescue 10 Minute Root Hair Coloring Kit is a permanent hair dye formula that was designed specifically for covering up your roots.
The precision applicator makes reaching targeted areas easy and the formula is richly pigmented to cover 100 percent of gray hair. It's the perfect solution for in-between salon visits, and the results can be achieved in just ten minutes.
5. Utilize Mess-Free Root Dye
If you or a man in your life are on the hunt for a natural-looking way to cover your roots, you've got to try the L'Oréal Paris One-Twist Hair Color. The formula works to seamlessly blend your grays with your natural hair color to deliver results that last for up to six weeks.
You simply twist the top of the bottle and shake it to mix the formula. Then, crack open the black piece at the top and apply the color to your roots by gently pressing it onto your hair. Once the color is evenly dispersed, let it sit for five minutes before rinsing to reveal your perfected roots.
Next: Should You Wash Your Hair Before Dyeing It?
Written by: Alyssa Kaplan, Photo Credit: Chaunte Vaughn
{ "@context": "https://schema.org/", "@type": "WebPage", "speakable": { "@type": "SpeakableSpecification", "cssSelector": ["speakable-content"] }, "url": "https://www.lorealparisusa.com/beauty-magazine/hair-color/hair-color-application/guide-to-covering-roots" }
Discover more tips & tricks
Keep your skin happy
See all articles
Improve your routine
Show your new look more love:
makeup
{ "@context": "http://schema.org", "@type": "BreadcrumbList", "itemListElement": [ { "@type":"ListItem", "position": 1, "item": { "@id": "/", "name": "Home" } } , { "@type":"ListItem", "position": 2, "item": { "@id": "https://www.lorealparisusa.com/beauty-magazine", "name": "Beauty Magazine" } } , { "@type":"ListItem", "position": 3, "item": { "@id": "https://www.lorealparisusa.com/beauty-magazine/hair-color", "name": "Bold Ideas From Hair Color Pros" } } , { "@type":"ListItem", "position": 4, "item": { "@id": "https://www.lorealparisusa.com/beauty-magazine/hair-color/hair-color-application", "name": "Hair Color Application" } } , { "@type":"ListItem", "position": 5, "item": { "@id": "https://www.lorealparisusa.com/beauty-magazine/hair-color/hair-color-application/guide-to-covering-roots", "name": "guide-to-covering-roots" } } ] }