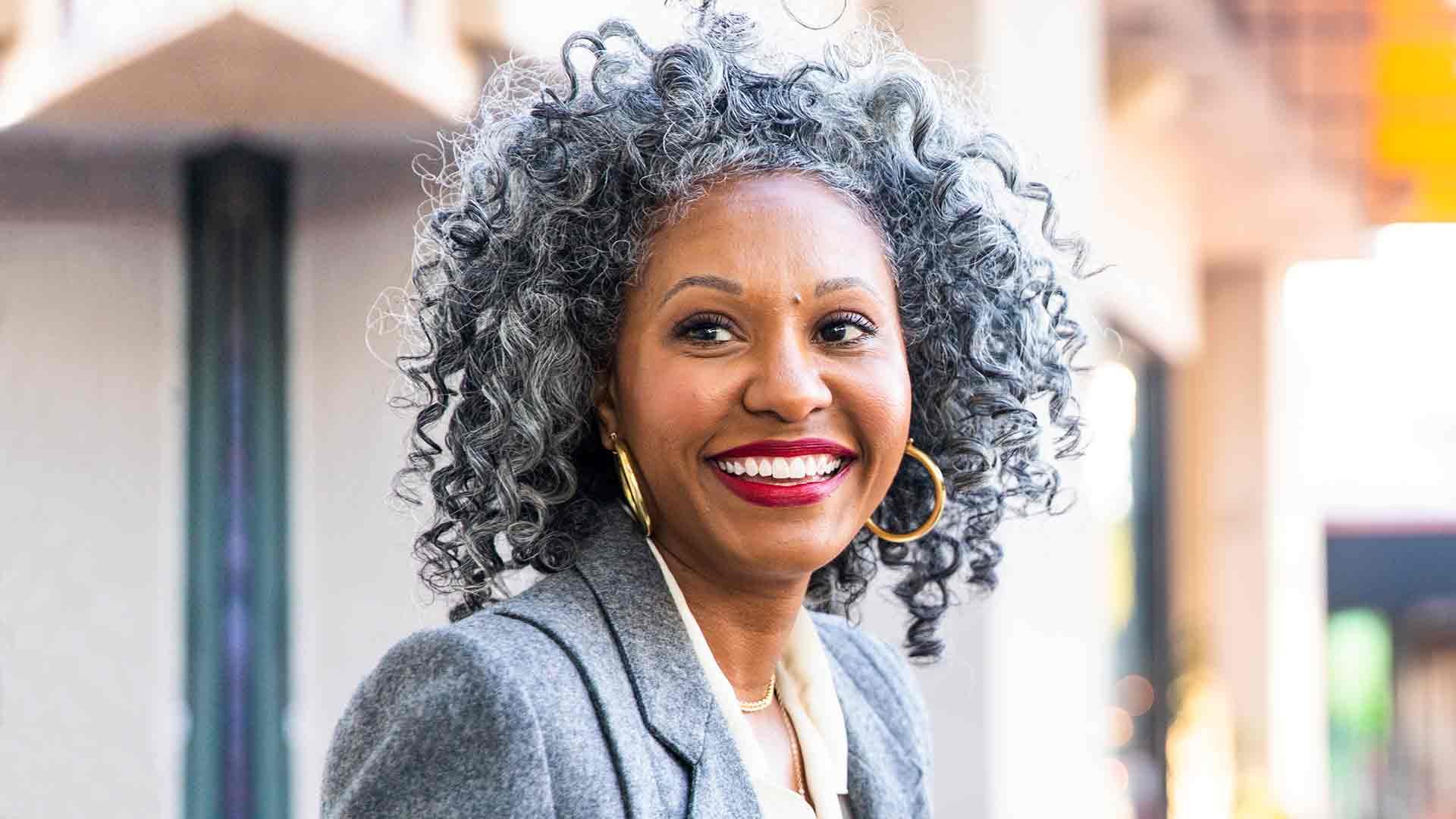 hair color ideas
Can You Reverse Gray Hair?
Like it or not, there are certain things in life that everyone has to deal with eventually. Realizing that you're going gray is one of those things. It's not news that gray hair is a tell-tale sign of aging, but the thought can be very unsettling for some people. That said, it's common to wonder if you can reverse gray hair. While there may be a lot of appeal to the idea, that doesn't mean that it's doable or even worth it. So, if you're having mixed feelings about your newly gray strands, we're here to provide some clarity. Follow along as we give you the lowdown on whether your new shade is permanent, plus we're offering up tips for embracing your grays and boosting your beauty look.
CAN YOU REVERSE GRAY HAIR?
First things first, it's important to address the obvious question: "Can you reverse gray hair?" The truth is, there is no way to ditch gray hair for good. As we mentioned, gray hair is a natural part of the aging process. So, once your hair starts to make the steely change, your best option is to accept it. There's no way to go back in time, and gray hair is the perfect way to put your natural beauty on full display.
WHY YOU SHOULD EMBRACE YOUR GRAY HAIR
We totally get it. Realizing that you're going gray can be much more than a hair color change. It's a sign that you're getting older, and your beauty look will change. However, that doesn't mean that your strands will lose their luster and appeal just because grays are becoming your new normal. As long as you're giving your strands the TLC that they need, your locks can remain in fabulous shape.
Remember, gray hair is something that will become a reality for us all over time. Instead of looking for ways to reverse gray hair, embrace your silvery strands. After all, going gray is not what it used to be. Now more than ever, beauty lovers are trading in their natural hues to flaunt a steely shade that has nothing to do with their age. In fact, hybrid hair colors that blend silver with another shade hues are one of the most popular hair color trends right now. Just check out our article, Go Grey The Most Stylish Way Possible With Steel Gray Hair, for all the proof you need that going gray is trending.
3 TIPS TO EMBRACE YOUR GRAY HAIR
Now that you see the beauty of a steely hue, you can make your mission to reverse gray hair a thing of the past. Instead, there are various ways you can liven things up on the hair color and styling front. Here are three tips that will help you embrace your grays.
1. ADD STREAKS OF COLOR TO YOUR HAIR
There's no harm in playing with color. After all, there are no rules saying you can't rock multiple shades at one time. It's the perfect way to add some personality and creativity to your strands. This is where the L'Oréal Paris Colorista Hair Makeup Temporary 1-Day Hair Color Spray can work its magic. It's a temporary hair color option that comes in various gorgeous shades that only last until your next wash. So, you have free reign to rock bold looks without having to worry about bleaching your strands.
2. BLEND GRAY HAIR WITH HIGHLIGHTS
Combining your grays with highlights and lowlights allows you to embrace your natural beauty while adding dimension, depth, and contrast to your look. Plus, it can add effortless movement to your mane. See what all the hype is about with our article, How To Blend Gray Hair with Highlights and Lowlights.
3. SWITCH UP YOUR HAIRSTYLE
Sometimes all it takes to boost your confidence is to switch things up in the hair-styling department. If you're used to always wearing your hair in sleek 'dos, consider trying out heat-free styles. Nothing says natural beauty like allowing your true texture to do its thing. This is where a hair mousse can really amp things up. Apply a generous amount of the L'Oréal Paris Advanced Hairstyle BOOST IT Volume Inject Mousse to damp strands. Once complete, you'll have a bouncy and volumized mane that's worthy of an Instagram selfie.
If you're working with curly strands, keep a bottle of the L'Oréal Paris Advanced Hairstyle CURVE IT Elastic Curl Mousse handy. This essential will leave you with soft, defined curls.
Next up: Now that you know that there is no need to reverse gray hair, it wouldn't hurt to explore hair-care methods for your graying strands. Check out our article, Finding The Best Shampoo For Gray or White Hair, to get the ball rolling.
Discover more tips & tricks
Keep your skin happy
See all articles