hair color ideas
Can Gray Hair Be Reversed?
Plus, tips on how to rock your silver strands.
April 30, 2021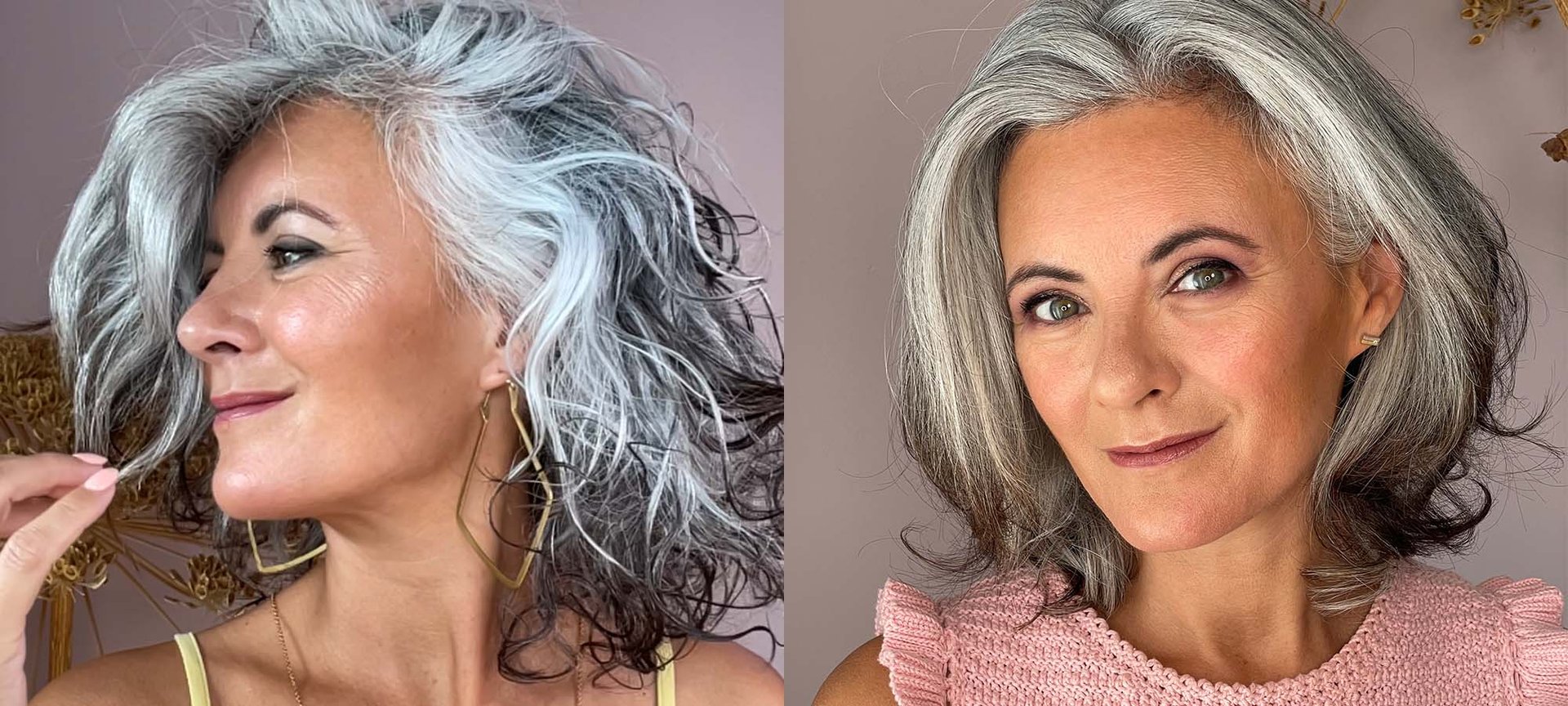 Realizing that you're going gray is one of those things that most people encounter at some point. And while signs of aging are a blessing because they mean you've lived a long life, encountering gray hair can be very unsettling for some people. That said, it's common to wonder what causes gray hair and whether or not you can reverse it. So, we're here to provide some clarity on the graying process. Follow along as we give you the lowdown on whether your new gray shade is permanent. Plus we're sharing tips on how to embrace your gray hue for a gorgeous beauty look.

Is Gray Hair Reversible?
According to the American Academy of Dermatology, gray hair results from a reduction in melanin in the hair which occurs as we age. The truth is, there is no way to ditch gray hair for good, according to the Mayo Clinic. It's a natural part of the aging process, so once your hair starts to change you can accept it or dye it.

How To Embrace Your Gray Hair
Going gray can feel like much more than a hair color change for some. It can serve as a sign that you're getting older, and your looks are changing. But thankfully, the conversation around gray hair is shifting today 一 more people are realizing that there is grace and beauty in aging and in going gray. Instead of looking for ways to reverse gray hair, you can embrace your silvery strands. After all, going gray is not what it used to be.
Now more than ever, beauty lovers are trading in their natural hues to flaunt a steely shade that has nothing to do with their age. Plus, there are so many products on the market to help you enhance the color and texture of your gray hair to keep it healthy and hydrated.

3 Ways To Make Your Gray Hair Look Its Best
If you've decided to embrace your natural new hue, we're sharing our tips to keep your gray hair looking and feeling its best.

1. Tone Your Gray Shade
In order to keep your new color looking vivid and even, it's a great idea to incorporate a hair gloss into your hair care routine. Hair gloss is great for counteracting any brassiness that might pop up in your hair. Try the L'Oréal Paris Le Color Gloss One Step In-Shower Toning Gloss in Silver which works to enhance your gray tone, deeply conditioner the hair and boost shine. Plus, it's an easy, at-home treatment that works its magic in just 15 minutes.

2. Blend Gray Hair With Highlights Or Lowlights
Combining your grays with highlights and lowlights allows you to embrace your natural beauty while adding dimension, depth, and contrast to your look. For a richer look, opt for ash brown lowlights which will provide subtle depth to your hair. If you prefer to brighten up your color, give cool-toned platinum blonde highlights a go.

3. Play Up Your Hairstyle
Sometimes all it takes to boost your confidence is to switch things up in the hair-styling department 一 there are so many gorgeous ways to style your gray hair. If you're used to always wearing your hair in sleek 'dos, consider trying out heat-free styles. Nothing says natural beauty like allowing your true texture to do its thing. Plus, gray hair can be wiry and dry, so avoiding as much heat as possible is ideal. This is where a hair mousse can really amp things up. Apply a generous amount of the L'Oréal Paris Advanced Hairstyle BOOST IT Volume Inject Mousse to damp strands. Once complete, you'll have a bouncy and volumized mane sans the heat damage.
Next: 5 Shades Of Gray Hair Color You'll Want To Try This Fall

Edited by: Alyssa Kaplan, Photo Credit: Fransje, IG/@silver.isthenew.black
Discover more tips & tricks
Keep your skin happy
See all articles
Shop Featured Hair Color products
Discover More