gray hair coverage
How To Transition To Gray Hair When Your Hair Is Colored
Embrace your silver strands.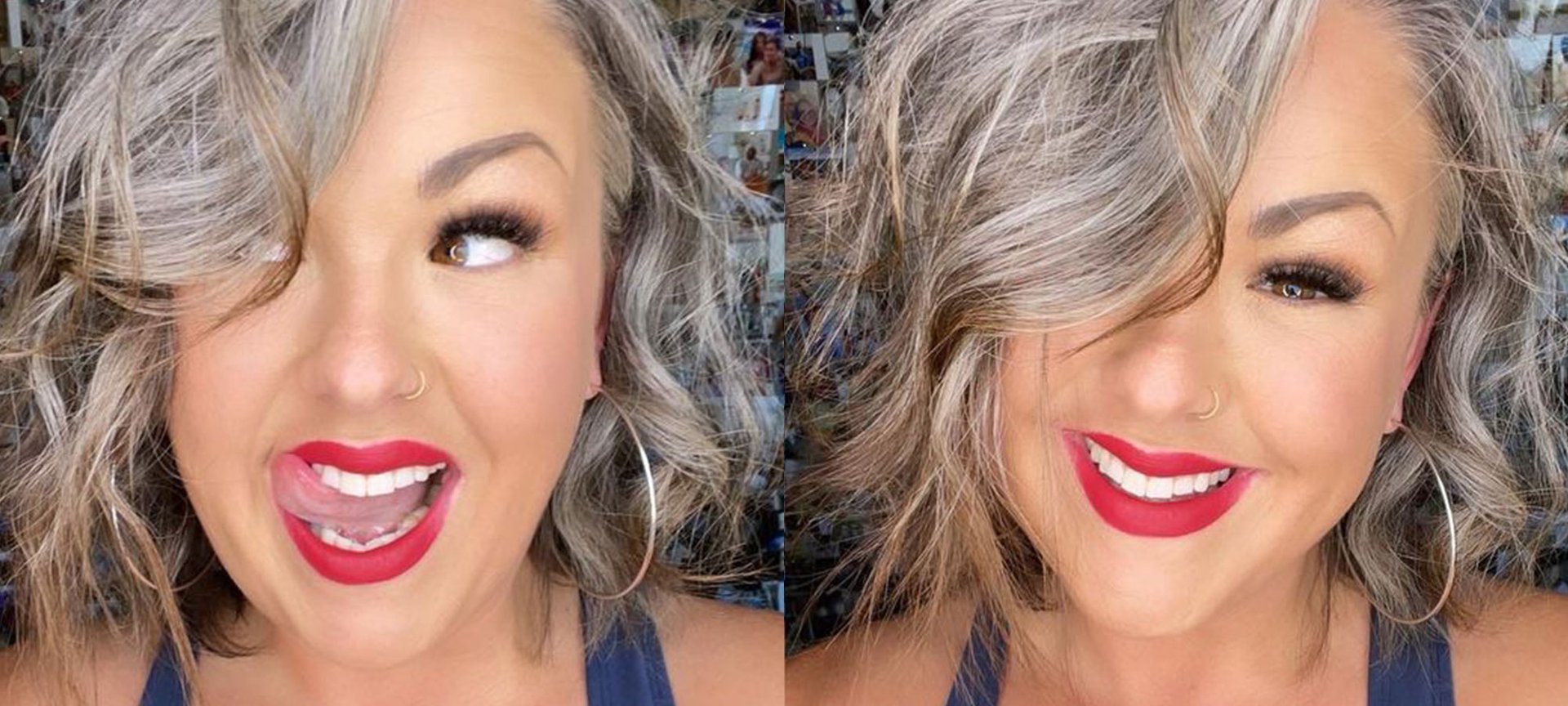 Transitioning to gray hair doesn't have to be as scary as it sounds—embracing your grays can shine a totally different light on your beauty look. In fact, gray hair happens to be one of the most popular trending hair colors at the moment; it's all part of the movement to recognize your natural beauty and age gracefully. Of course, growing out gray hair—especially if you've been coloring it—is easier said than done. No one wants to see harsh lines of demarcation as their roots start to grow, which is why taking the right measures for your gray hair transition can make all the difference! Here, we're sharing tips for how to transition to gray hair when you have color-treated hair.
Tip #1: Go Gray For A Day
If you're not sure you're ready to commit to gray hair permanently, test out the hue by applying a temporary hair color spray like the L'Oréal Paris Colorista Hair Makeup Temporary 1-Day Hair Color Spray in Silver. Mist the color over your mane for a shimmering, temporary silver-gray hair color. When you're ready to part with your temporary mane makeover, simply wash the color out with a single shampoo session.

Tip #2: Embrace Your Roots
If you're looking to take the plunge and go gray, the first step is to embrace your roots. This means no reaching for root cover-up at the first sight of grays. Consider it a different take on the rooted, lived-in hair color trend. If you're worried about a harsh line, you can head to the salon and have your colorist use the root smudging technique with a shade that matches your natural gray strands, allowing for a smooth transition between hues as your roots continue to grow.
Tip #3. Don't Apply All-Over Color
This may seem obvious, but if you're trying to transition to gray hair, you want to avoid an all-over dye job. Instead, have your colorist apply your hair color with foils—much like applying highlights, except you won't be lightening your hair, but simply transitioning between the two shades seamlessly.
Tip #4: Opt For Highlights And Lowlights
Speaking of the foil technique, transitioning to gray hair with lowlights and highlights is a great option for those who aren't quite ready to part with their salon visits just yet. The variation of shades will allow your grays to blend beautifully with the rest of your strands.
Tip #5. Opt For An Updo
When it comes to growing out gray hair that's colored, your hairstyle can be your saving grace for keeping harsh lines of demarcation hidden—especially if you want to forgo coloring your hair altogether. Aside from hair accessories that can hide your roots, updos tend to draw attention away from the line between your grays and the dyed hair. Consider a messy bun or a French braid.
Tip #6: Apply All-Over Permanent Color
With the help of the right at-home permanent hair coloring kit, transitioning to gray hair can be easy. All you need is to dye your strands an all-over gray color—this will seamlessly blend those gray roots you didn't know what to do with in the first place! Take your pick from the options below.
If you want to ease into an all-over gray mane, color your strands with the L'Oréal Paris Fade-Defying Shine Permanent Hair Color in Soft Silver Blonde. This shade walks the line between blonde and gray, and the formula provides vivid color for up to eight weeks.
If you want to dive into an all-over gray mane, color your strands with the L'Oréal Paris Féria Multi-Faceted Shimmering Permanent Hair Color in Silver. This pick delivers gorgeous, dimensional color without being harsh or damaging on your strands.
Editors Tip:If you want advice on which color would suit you best, check out the L'Oréal Paris Haircolor Concierge where you can consult with a color specialist who can give you personalized recommendations. And once you've finally embraced your gray mane, don't forget to use the L'Oréal Paris Le Color Gloss One Step In-Shower Toning Gloss to keep it looking shiny and vibrant.
Photo Credit: Crystal Michelle, IG/@crystal.michelles.mess
Discover more tips & tricks
Keep your skin happy
See all articles
Shop Featured Hair Color products
Discover More