frizzy hair
10 Easy Hairstyles for Frizzy Hair
September 06, 2019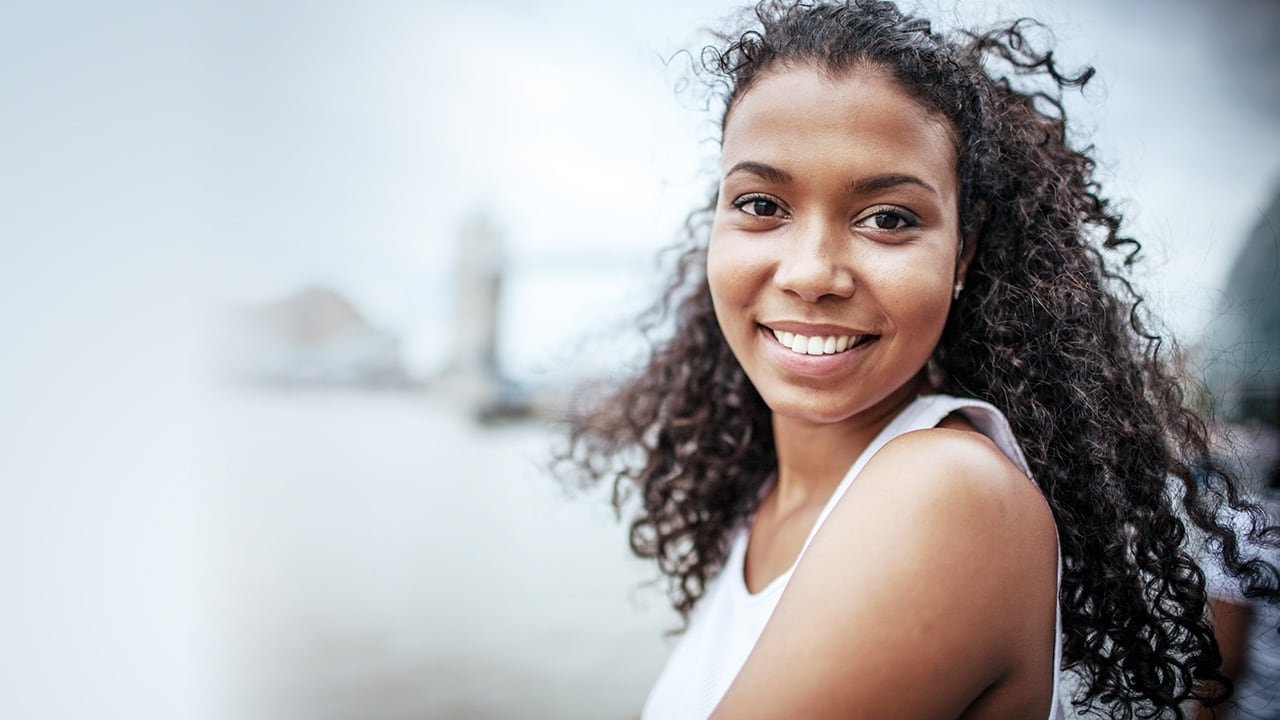 No matter how hard you try to tame frizz with hair styling products like hair creams and hair sprays, sometimes your hair just doesn't want to cooperate. We've all been there. Oftentimes, flyaways have a way of popping up and leaving you with a less than perfect 'do. But who said it has to be that way? Instead of getting bummed about having a hair out of place, we'd say it's better to fake it or embrace it. Whether you opt to smooth back your frizz with some expert styling techniques or rock a perfectly undone look, hairstyles for frizzy hair exist! Just think about your favorite beauty bloggers and celebs—if they can let their added texture work for them, we think you should give it a chance too! You just have to know which hairstyles for frizzy hair will best tame your mane. Below, find 10 chic hairstyles (including hairstyles for curly frizzy hair) that fit the bill.
HAIRSTYLE FOR FRIZZY HAIR #1: BEACHY WAVES
Instead of dreading that your hairstyle will get ruined as soon as you step outdoors into the humid air, why not let the weather work for you? The next time there's rain in the forecast, put your heat tools down. Instead, spritz the L'Oréal Paris Advanced Hairstyle AIR DRY IT Wave Swept Spray onto damp strands, braid your hair, and undo the braid once your hair has dried to reveal effortless waves.
HAIRSTYLE FOR FRIZZY HAIR #2: WET HAIR
In case you haven't already heard, the wet hair look is in full swing. This hairstyle involves the use of hair gel to create the appearance of slick, wet strands—AKA it's the perfect way to style your 'do with no frizz in sight! Learn more about how to get the look in our article, How to Get the Wet Hair Look.
HAIRSTYLE FOR FRIZZY HAIR #3: MESSY BUN
Like the name suggests, this hairstyle is meant to be messy. Sweet! What better way to nail the look than to start with frizzy hair? And the more texture your hair has, the bigger your messy bun will look—nothing to complain about there. To give your hair a bit of a refresher before tying it up, spray the L'Oréal Paris Elvive Extraordinary Clay Dry Shampoo onto oily roots and lightly throughout the rest of your hair, then brush through. Next, pull your hair into a high teardrop bun. Be sure to conceal your hair tie with the ends that are sticking out. For added flair, you can even braid the ends for a tad more style.
HAIRSTYLE FOR FRIZZY HAIR #4: SLEEK, LOW BUN
In contrast, you can opt to tame your frizzy hair with a bun that's smooth and sleek. This is a great hairstyle for work or an interview, occasions where you may want your mane to appear more polished. First, apply the L'Oréal Paris Advanced Hairstyle LOCK IT Clean Style Gel to your strands, slicking them toward the back of your head. Keep in mind that less is more, but add more gel as needed to tame any frizz. Once your hair is smoothed, twist your ends into a low bun, then secure with a hair elastic and bobby pins for a sophisticated, frizz-free look.
HAIRSTYLE FOR FRIZZY HAIR #5: CURLS, CURLS, CURLS
The '80s called, and they want their hair back. Just kidding! Now is as good a time as any to embrace a hairstyle revival. Frizz plays a huge role in big hairstyles from the past and with the '80s and '90s constantly reappearing in modern-day fashion and beauty looks, it's time to set your frizzy hair free. If you have naturally curls, this is the perfect hairstyle for curly, frizzy hair. All you have to do is run a brush through your curls to loosen them up a bit. If you have straight frizzy hair but want the look of curls, simply spray your tresses with a heat protectant, like the L'Oréal Paris Advanced Hairstyle BLOW DRY IT Quick Dry Primer Spray, then curl your locks with an iron or wand. Once you're done, run a wide-tooth comb through your spirals and voila!
HAIRSTYLE FOR FRIZZY HAIR #6: BEDHEAD
We'd argue there are few better ways to embrace frizz than with a messy, bedhead hairstyle. Believe it or not, this undone style is totally on-trend, offering a perfectly imperfect option for styling your strands. To get the look, start by working a dime-sized amount of the L'Oréal Paris Studio Line Overworked Hair Putty throughout your mane. This will define your hair's natural texture and build volume that will complement your frizzy strands.
HAIRSTYLE FOR FRIZZY HAIR #7: TEXTURED BRAIDS
When it comes to braids, frizz is pretty much a lifesaver. The more frizz you have, the more textured your hair will look—and the bigger your braids will appear. And since effortlessly messy braids are the name of the game these days, you won't have to do as much work because your braids will be naturally mussed up already. So, French, Dutch, fishtail, or classic three-strand—no matter what you choose, it will end up looking totally en vogue. We don't blame you if you're compelled to snap a few selfies.
HAIRSTYLE FOR FRIZZY HAIR #8: HEADBAND
Accessories can be total a gamechanger when it comes to hairstyles for frizzy hair. One of our go-to options? A headband! All you need to do is slide one on, and frizzy strands will be held back and kept out of your face. You can leave the rest of your mane down, or pull it into a ponytail or bun for convenience.
HAIRSTYLE FOR FRIZZY HAIR #9: MESSY PONYTAIL
Ever wonder how some women seem to be able to pull off messy ponytails so easily? No, it doesn't take much skill—but it does take a good amount of frizz! To get this coveted look, add an egg-sized dollop of the L'Oréal Paris Advanced Hairstyle BOOST IT Volume Inject Mousse to your roots while your hair is damp. This will help enhance your hair's natural shape. Let your hair air dry, then pull it into a high ponytail and tease your product-free ends with a fine-tooth comb. The more you tease your pony, the more bedhead-y volume it will have. Frizz, FTW!
HAIRSTYLE FOR FRIZZY HAIR #10: SLICK PONYTAIL
Prefer to combat your frizz? For a style that can hide your frizz, look no further than a sleek, smooth pony. Just like with a sleek bun, all you have to do is apply some hair gel to slick your strands backward, then pull your length into a ponytail. Use a bobby pin to secure any flyaways, and you're good to go!
Next up: Loving how messy and imperfect some of these looks are? There's more where that came from! Here are 20 Messy Hairstyles for Men and Women.
{ "@context": "https://schema.org/", "@type": "WebPage", "speakable": { "@type": "SpeakableSpecification", "cssSelector": ["speakable-content"] }, "url": "https://www.lorealparisusa.com/beauty-magazine/hair-care/frizzy-hair/easy-hairstyles-for-frizzy-hair" }
Discover more tips & tricks
Keep your skin happy
See all articles
Shop Featured Hair Style products
Discover More
{ "@context": "http://schema.org", "@type": "BreadcrumbList", "itemListElement": [ { "@type":"ListItem", "position": 1, "item": { "@id": "/", "name": "Home" } } , { "@type":"ListItem", "position": 2, "item": { "@id": "https://www.lorealparisusa.com/beauty-magazine", "name": "Beauty Magazine" } } , { "@type":"ListItem", "position": 3, "item": { "@id": "https://www.lorealparisusa.com/beauty-magazine/hair-care", "name": "All Things Healthy Hair" } } , { "@type":"ListItem", "position": 4, "item": { "@id": "https://www.lorealparisusa.com/beauty-magazine/hair-care/frizzy-hair", "name": "Frizzy Hair Care" } } , { "@type":"ListItem", "position": 5, "item": { "@id": "https://www.lorealparisusa.com/beauty-magazine/hair-care/frizzy-hair/easy-hairstyles-for-frizzy-hair", "name": "easy-hairstyles-for-frizzy-hair" } } ] }