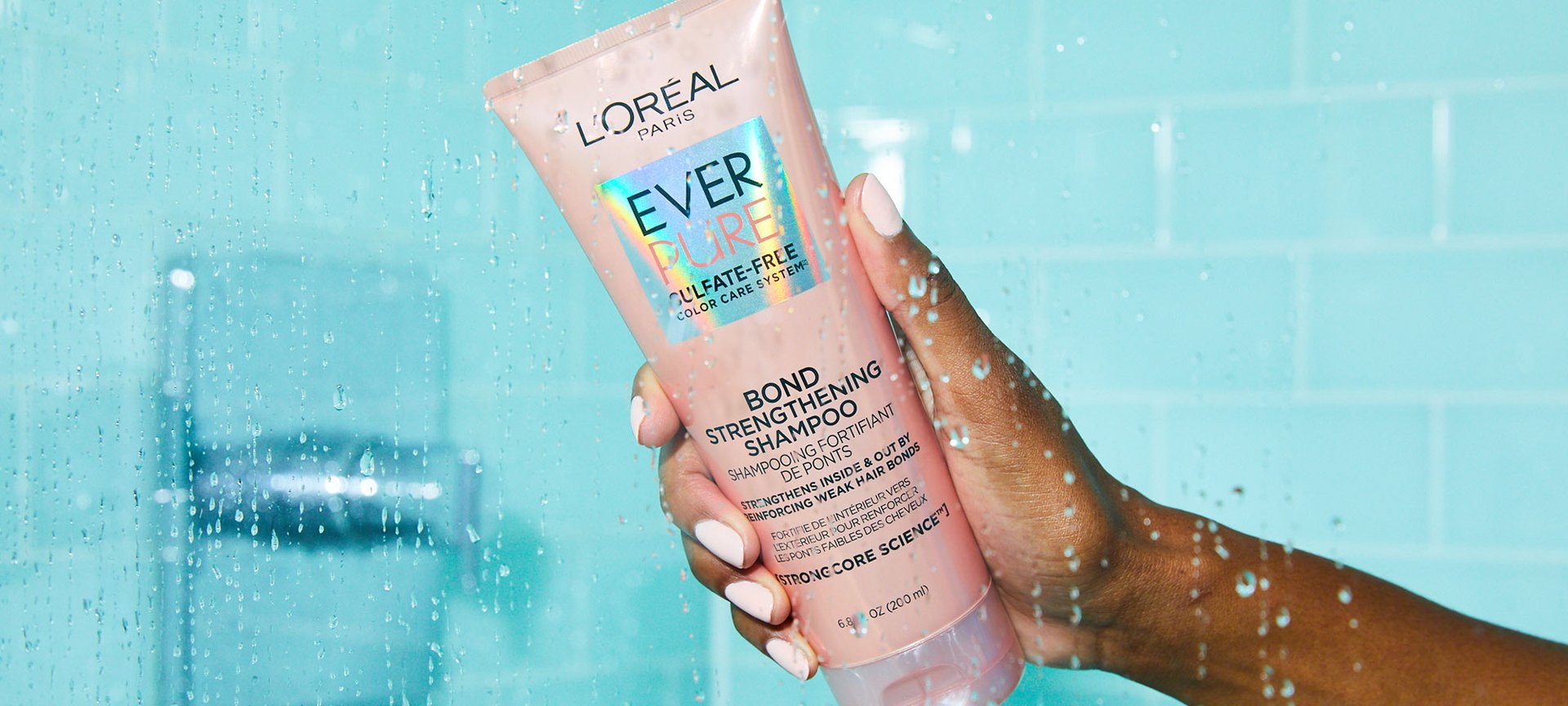 damaged hair
How This Bonding Shampoo and Conditioner Saved My Split Ends
No splits ahead!
Throughout my entire life, I've struggled to find the right shampoo and conditioner for my hair. Let me explain: I have split, damaged ends and greasy roots, so I need a formula that both moisturizes my dry ends while removing excess oil. It sounds rather simple, but formulas that target dryness end up over-moisturizing my strands and leave my roots greasier than before while shampoos that help fend off oiliness can dry out my ends. Enticed by the bonding technology behind the L'Oréal Paris EverPure Sulfate Free Bond Strengthening Shampoo and the L'Oréal Paris EverPure Sulfate Free Bond Strengthening Conditioner, I couldn't wait to put the duo to the test to see how it would bond my ends and if it would help refresh my roots, too. Keep reading to check out my experience with the bonding shampoo and conditioner, ahead.
When I'm trying out any shampoo and conditioner duo, I like to see how it stacks up with my three main priorities: how it cares for my oily roots, how it mends my dry ends and how it smells. When I hopped into the shower with the bonding shampoo and conditioner, I opened the bottle and squirted the product into my hands. Immediately, the shampoo already checked off an important box — I loved how sweet and refreshing it smelled without being overpowering. After lathering it through my hair, I could instantly tell that I would like it for my greasy roots because it wasn't too drying. In the past, I've used overly-drying shampoos to combat oiliness, only to have an irritated scalp and ends that feel as brittle as a broom. With this formula, though, my greasy roots felt clean and my scalp felt refreshed without being stripped of its natural (and necessary) oils. I can rest assured knowing that I can use the shampoo as frequently as I want without worrying that I'm doing more damage to my hair than good.
The final test — and perhaps the most important one — was to see how it worked on my split ends. My ends are broken and splitting in all different directions, making my hair look (and feel) even drier than it really is. After using both the shampoo and the conditioner, I was ready to make my final judgement. In order to see if the bonding shampoo and conditioner worked its magic, I wanted to wait until my hair was dry, so I used a blow dryer to give myself a quick blow out. Before putting my hair anywhere near heat, though, I spritzed it with some of the L'Oréal Paris Elvive Dream Lengths Heat Slayer Heat Protectant Spray, which I've incorporated into my anti-breakage hair care routine. I love using this heat protectant spray because it's formulated to prevent future damage from happening so that I can feel confident that my hair won't get fried even more. Once my hair was styled to perfection, I took a look in the mirror to analyze the state of my ends. I could certainly tell a difference, especially with how soft and silky my split ends felt. They were no longer rough, coarse and in need of hydration.
After a month of using the shampoo, the conditioner and the heat protectant spray in my daily hair care routine, I'm happy to report that my frazzled ends are smoother and less parched while my greasy roots look clean and cared for. At my most recent hair appointment, my hairdresser was about to trim my ends and paused. She looked at me in the mirror and gave me the ultimate compliment: "Your hair looks so healthy, what shampoo have you been using?"
Photo Credit: Photography: Chaunte Vaughn, Senior Art Director: Melissa San Vicente-Landestoy, Associate Creative Producer: Becca Solovay, Makeup Artist: Jonet Williamson, Hair Stylist: Akihisa Yamaguchi, Wardrobe Stylist: Adriana Perez-Bell, Digital Tech: Paul Yem
Discover more tips & tricks
Keep your skin happy
See all articles
Improve your routine
Show your new look more love:
makeup