braid hairstyles
10 Jumbo Braided Hairstyles That Are Perfect For Any Season
March 03, 2021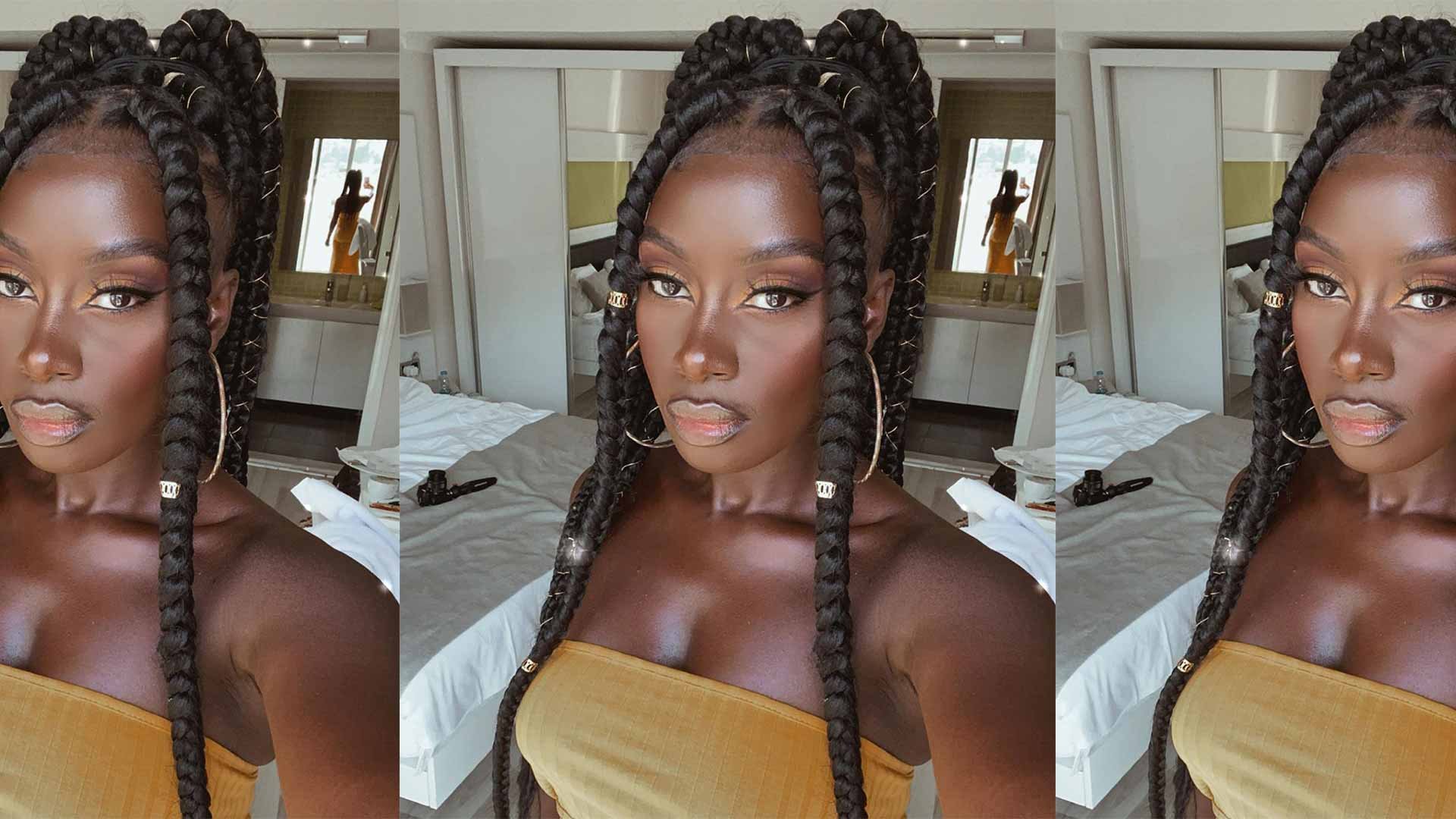 There's no denying that braids are one of the most popular hairstyles to try for good reason. While there are so many ways to wear them, jumbo braids are the style you should go for when you want an easy and chic version. We love them because big braids cut down on the time spent in your braider's chair but they still bring the same gorgeous flair to your look. So, it's no surprise that beauty gurus and A-listers alike can't get enough of these hairstyles. Looking for ideas? Below, we've rounded up a list of 10 jumbo braided styles, that will work great for any occasion, year-round.
Hairstyle #1: Jumbo Braid Bob
Love the look of short braids? Prepare to turn heads with the jumbo braided bob. This look helps you keep your mane short while flaunting a beautifully woven pattern. For this look, we recommend checking out some online tutorials that can help you create multiple bob-length braids throughout your head.
Hairstyle #2: Jumbo Braids With Ring Shell Clips
If you're looking for a way to add a playful touch to your jumbo braids, accessorizing with shell clips is the perfect place to start. Make sure to spread out the shells on different braids and clip them onto any piece that will frame your face. Ring shell clips come in various colors and finishes including gold, silver, and pink, so you can experiment and dress them up however you want.
Hairstyle #3: Jumbo Updo With Wispies
If you're a fan of updo styles, you'll definitely need to try a stunning jumbo "wispy" updo. Start by sectioning off two jumbo braids that frame the front of your face—those serve as your wispies. Then gather the rest of your braids into one high ponytail, letting the lengths cascade down your back. To enhance the style, add some gold accents throughout the braids.
Hairstyle #4: High Jumbo Braid Bun with Head Wrap
Jumbo braids are flexible and easy to style into versatile updos. We love the classic braided bun updo since there are so many ways you can enhance it by using colorful headscarves. Simply form a bunas normal, and secure it with a large hair tie. Then wrap the headscarf around the bun to spice up your look (you can change up the look by changing up the length of the scarf).
Hairstyle #5: Classic Jumbo Braids
For those that prefer to stick to traditional styles, the classic jumbo braid look won't steer you wrong. Equal parts versatile and chic, this hairstyle will complement everyone. This style will also require neat parting throughout your head, so be sure to section off your hair properly before starting the braiding process.
Editor's Tip: Don't forget to finish off the look by adding in a few clips or hair jewelry to enhance the hairstyle.
Hairstyle #6: Jumbo Braided Ponytails
For a simple and easy jumbo braided hairstyle, try creating four jumbo braided ponytails across your entire head. It's like an adult version of the pigtails you might have rocked as a little girl. These are not your daughter's jumbo braids.
Editor's Tip: After you've created your four braids, gently pull apart some of the strands to give them a bit of texture.
Hairstyle #7: Jumbo Box Braids With Curly Ends
Jumbo box braids with teased or curly ends adds a great twist to the traditional box braid style. Start by parting your hair neatly and creating ponytails all throughout your head. For this style you'll need a set of foam rod, braiding hair, arm strength and patience—but it's easy to achieve. You can also visit your local hair braider or stylist to save time. Wear the up or down—both ways will look great!
Editor's Tip: Finish off the look by using some gel to style your baby hairs in front. Try the L'Oréal Paris Lock It Extreme Style Gel Lock It Clean Style Gel and use a fishtail comb to lay those hairs down.
Hairstyle #8: Colorful Ombré Jumbo Braids
It's never a bad idea to experiment with color, and colorful ombré jumbo braids are the perfect way to do that. We recommend using a few different shades of the same color to add dimension to the braid. To get the look you can use colored braiding hair extensions or color the braids yourself using a mix of colors from the L'Oréal Paris Colorista Hair Makeup Temporary 1-Day Hair Color Spray.
Editor's Tip: If you want to add a few stylish details to your look, ask your stylist to part your hair in triangle shapes.
Hairstyle #9: Extra Jumbo Braid Ponytail
We love a classic ponytail, but to make it even better, go for an extra-jumbo sized braid ponytail to give it more volume and length. You can even weave in braiding hair that's a different shade than your base to help add a pop of color to your look. For this style, apply a generous amount of the L'Oréal Paris Studio Line Clean Gel to your hair and brush your strands into a smooth and sleek pony. Wrap some braiding hair extensions around your ponytail and begin weaving your mane and braiding hair into one jumbo braid.
Hairstyle #10: Jumbo Fishtail Braid
Are intricate braiding styles your forte? Then you may want to add the jumbo fishtail braid to your must-try list! Flaunting a seriously stunning woven technique, this style adds a whimsical and romantic vibe to your look that you'll adore. Fishtail braiding may seem complicated, but looks can be deceiving. It's also a versatile style that is worn in a high or low ponytail.
Remember to be kind to your hair while braiding it, braids that are too tight can cause tension at the roots and result in hair breakage. Be sure to switch up your styles here and there to give your hair a break.
Photo Credit: Jetsetter Jackie, @jetsetterjackie
,
Discover more tips & tricks
Keep your skin happy
See all articles
Shop Featured Hair Color products
Discover More