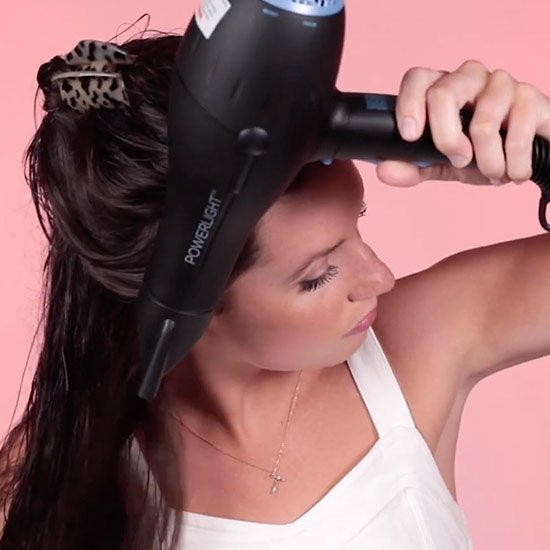 all hair types
How to Blow Out Your Hair at Home
If you're wondering, "What is a blowout?", we'll let you in on a little secret: A hair blowout is an instant way to boost your confidence through your hairstyle! Yes, you read that right—having a bouncy, voluminous-looking blowout hairstyle that you can flip from side to side? There's nothing better! The thing is, you might not always have time to hit up your local salon to get your hair done. Sometimes, you have to take matters into your own hands.
With that said, blow-drying your hair at home is easier said than done. How is it that a stylist can create the appearance of smooth, shiny hair with just the right amount of curl at the ends—but when you attempt to blow dry hair on your own, you look like you have poufy, frizzy hair? It turns out there's quite a technique to doing a blowout at home. Thankfully, it's one we're confident you can master. Ready to get schooled? Follow the steps below the next time you break out your blow-dryer.
WHAT IS A BLOWOUT?
Still now sure exactly what a blowout hairstyle refers to? A blowout is the process of drying your hair with the help of a hair brush after washing to achieve a smooth and sleek style. The overall idea is to get shiny and manageable locks without the help of other heat-styling tools. Typically, you'll receive a blowout after getting your hair cut or even as a salon service in its own right, but you can also learn how to blow dry your own hair—which is why we're here.
ARE BLOWOUTS BAD FOR YOUR HAIR?
It's easy to think that with so much heat being used to style your strands, a blowout could be bad news for your hair. The truth is, it really depends on the health of your hair and how often you have the service done. See, with most blowout sessions, stylists work with super hot temperatures that will help you achieve a great style but can damage your strands if done too frequently. And in some cases, the right heat protectant is not used, which also works against maintaining a healthy mane.
The key to flaunting this style without sacrificing your strands is to save blowouts for special occasions—air-drying your hair most of the time—and to use a heat protectant when you do break out your blow-dryer.
HOW TO DO A BLOWOUT
This is your easy blowout hair tutorial. Follow along with the video above and use these steps to master blowing out your hair.
Step #1: Prime Your Hair
Since your hair is going to be styled with a blow-dryer, you want to make sure that your strands are protected. Start by using the L'Oréal Paris Advanced Hairstyle BLOW DRY IT Quick Dry Primer Spray to kick things off. Be sure to spray evenly through clean, damp hair for maximum protection and to help cut down on drying time.
Step #2: Detangle Your Strands
Brush through your hair from root to tip to detangle your strands. This helps to ensure that your strands are nice and smooth, which is key for achieving the perfect blowout.
Step #3: Section Your Hair
Now that your hair is detangled, it's time to section off your strands. Start by parting your hair into two even sections and secure the top half with a hair clip. Next, split the bottom section into two even parts and allow each side to fall over your shoulders. The goal is to keep the sections that you're not working on out of your way to make things more manageable.
Step #4: Blow Dry
Starting with one of the bottom sections, rough dry your hair until it's about 80 percent dry. Repeat on the other side. Next, using a brush, focus your blow-dryer near your roots, and work your way down to your ends. Be sure to use a controlled technique. Repeat on the other side. Release the top half of your hair and continue the drying process. Once complete, twist your hair and focus the blow-dryer on your length.
Not completely clear on what you should be doing with your brush and the blow-dryer? Well, that will vary somewhat on the look you're going for.
For a pin-straight blowout…brush your hair forward toward your face while following with the blow-dryer. After a few passes, brush it toward the back of your head. Finish up by drying your hair straight downward, directly angled to the floor for a super straight finish you'll love. And that's how to blow dry hair straight like a pro!
For a blowout with curly ends…start by brushing your hair forward toward your face while following with the blow-dryer. After one or two passes, blow dry down the length of your hair and as you reach the ends, twist the brush to create a curl. Continue the process for a few more passes to define your curly ends, and you're all set.
Step #5: Finish It Off
Now it's time to turn up the volume. Using the L'Oréal Paris Advanced Hairstyle BOOST IT High Lift Creation Spray, spray evenly through your hair for a full-bodied, blown-out look. Voila!
MORE TIPS ON HOW TO BLOW DRY HAIR
Still don't feel like a blowout expert? Keep these tips in mind next time you pick up your blow-dryer.
Tip #1: Use a Volumizing Hair Care System
Have thin or fine hair that always appears to fall flat? Use a system of volumizing shampoo and conditioner, like the L'Oréal Paris EverPure Volume Shampoo and L'Oréal Paris EverPure Volume Conditioner, in the shower before attempting your blowout. Apply the shampoo to wet hair, massaging it into a thick lather, then rinse. Follow up by applying the conditioner and leaving it on for one to two minutes before rinsing.
Tip #2: Use the Right Brush
When it comes to a quality blow out, the brush you use can make or break your look. The general rule of thumb: The bigger the brush you use, the smoother the finish you can expect to achieve. Want to know how to tame flyaways? Try a boar or nylon bristle brush to help distribute the natural oils from your roots to your ends. To help add volume or curl, pick up a round brush. On the other hand, paddle brushes can help you create a straighter, sleeker look. It's all about your personal preferences!
Tip #3: Your Blow Dryer Nozzle is Your Friend
Remember that mysterious nozzle that came with your blow-dryer when you first bought it? It's time to put it to use! The nozzle helps with heat distribution to give your strands a smoother and sleeker finish. Be sure to use as low of a setting as your hair type allows so that you can prevent any unnecessary damage. If you have thick hair, you could actually need a higher heat setting, but if you have thin hair, you may be able to get away with using less heat.
Just like we promised, you're now a blowout aficionado. Your next step? Making sure to keep your strands as healthy as possible. Read our article, Our 21 Best Hair Care Tips for Every Hair Type, to upgrade your hair care game.
Discover more tips & tricks
Keep your skin happy
See all articles
Shop Featured Hair Style products
Discover More