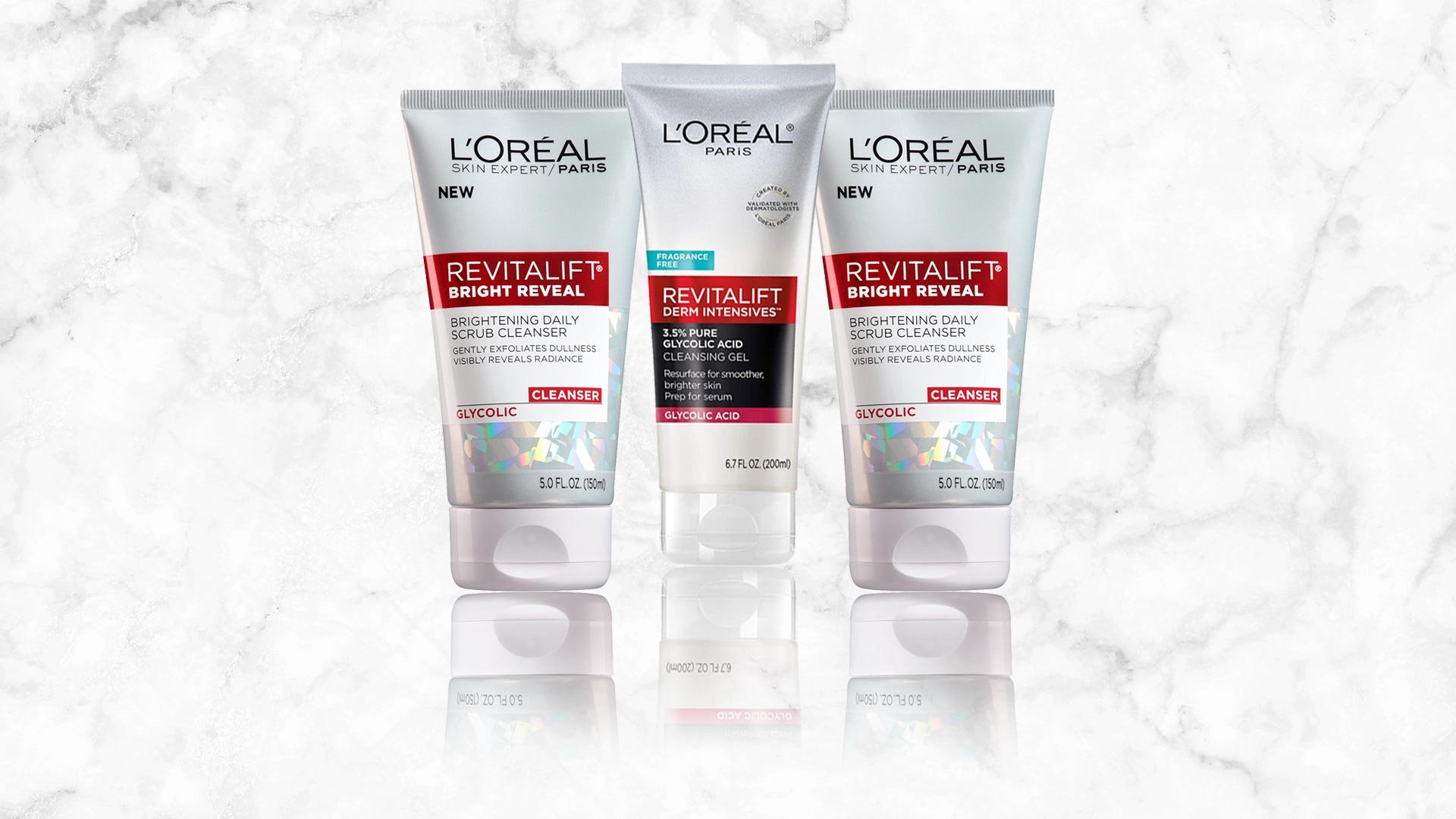 If you stay up-to-date with the trendiest skin care ingredients and products, chances are you've heard the buzz around glycolic cleanser. Touted in beauty round-ups and Reddit threads alike, you may be wondering if glycolic acid cleanser is the secret to a flawless complexion. Well, it could very well be. Ahead, we share the details of our best glycolic acid face wash formulas, including how to use them and the benefits of adding either glycolic cleanser to your skin care routine.
What Is Glycolic Acid Cleanser?
Let's take a step back for a sec. Glycolic cleanser is exactly what it sounds like—cleanser that contains glycolic acid—a popular alpha-hydroxy acid—in its formula. Thanks to this handy ingredient, glycolic cleansers help chemically exfoliate your skin in addition to cleansing, making them an ideal option for those who are prone to buildup or could simply use a brightening boost.
Our Best Glycolic Acid Face Wash Formulas
Without further ado, allow us to introduce you to our two glycolic acid face wash formulas.
L'Oréal Paris Revitalift Derm Intensives 3.5% Glycolic Acid Cleanser: This daily exfoliating cleanser contains 3.5% pure glycolic acid, salicylic acid, and aloe extract. It works to resurface your skin by gently dissolving the protein that holds dead skin cells together and removes excess oils and makeup. The formula has been dermatologist-validated and designed for daily use to reveal smoother, brighter skin and minimize the appearance of pores.
How to use it: Lather a small amount into wet hands and gently massage onto skin using a light circular motion in the morning and evening. Rinse thoroughly with warm water and pat dry.
L'Oréal Paris Revitalift Bright Reveal Brightening Daily Scrub Cleanser: Thanks to the gentle micro-pearls and glycolic acid in its formula, this cleanser exfoliates dullness and impurities to improve the look of skin tone, texture, and clarity. The glycolic face wash works to reveal visibly brighter, more radiant skin that is optimally prepared to absorb treatments and moisturizers.
How to use it: Lather the cleanser into wet hands every morning and evening. Then, gently massage the formula onto your skin in a circular motion, avoiding the delicate eye area. Rinse thoroughly and pat dry.
How to Complete Your Glycolic Cleanser Routine
Of course, you'll need more than glycolic acid cleanser in your skin care routine. After cleansing, follow the steps below for brighter, more beautiful-looking skin.
Step #1. Smooth On a Serum
To truly reap the benefits of using a glycolic acid cleanser in your routine, we recommend using a glycolic acid serum, too. After rinsing off your face wash, apply the L'Oréal Paris Revitalift Derm Intensives 10% Pure Glycolic Acid Serum. It contains 10% pure glycolic acid and absorbs quickly to visibly even skin tone and reduce the appearance of wrinkles, fine lines, and dark spots. Apply four to five drops in the evening.
Editor's note: If you have sensitive skin, work your way to nightly use. Start by applying four to five drops two to three times per week so your skin can acclimate.
Step #2. Amp Up The Hydration
Next, you'll want to give your skin a moisture boost. At night, smooth on an overnight mask, like our L'Oréal Paris Revitalift Triple Power Anti-Aging Overnight Mask. The formula contains vitamin C, Pro-Retinol, and hyaluronic acid to visibly reduce wrinkles, and firm and brighten skin.
In the morning, make sure to apply a moisturizer with SPF, since glycolic acid can make your skin more sensitive to the sun. We recommend using the L'Oréal Paris Revitalift Triple Power Day Lotion SPF 30.
Step #3. Pop On Eye Cream
One last step: eye cream. Dot the L'Oréal Paris Revitalift Triple Power Eye Treatment around your eyes using your ring finger. It's formulated with hyaluronic acid, vitamin C, and Pro-Retinol to visibly reduce wrinkles, de-puff, and brighten the eye area.
Next up: Add another popular ingredient to your routine by reading up on these 5 Over-the-Counter Retinol Creams To Try From L'Oréal Paris.
{ "@context": "https://schema.org/", "@type": "WebPage", "speakable": { "@type": "SpeakableSpecification", "cssSelector": ["speakable-content"] }, "url": "https://www.lorealparisusa.com/beauty-magazine/skin-care/skin-care-essentials/glycolic-face-wash" }
Discover more tips & tricks
Keep your skin happy
See all articles
Shop Featured Skin Care products
Discover More
{ "@context": "http://schema.org", "@type": "BreadcrumbList", "itemListElement": [ { "@type":"ListItem", "position": 1, "item": { "@id": "/", "name": "Home" } } , { "@type":"ListItem", "position": 2, "item": { "@id": "https://www.lorealparisusa.com/beauty-magazine", "name": "Beauty Magazine" } } , { "@type":"ListItem", "position": 3, "item": { "@id": "https://www.lorealparisusa.com/beauty-magazine/skin-care", "name": "Skin Care For Every Age" } } , { "@type":"ListItem", "position": 4, "item": { "@id": "https://www.lorealparisusa.com/beauty-magazine/skin-care/skin-care-essentials", "name": "Skin Care Essentials" } } , { "@type":"ListItem", "position": 5, "item": { "@id": "https://www.lorealparisusa.com/beauty-magazine/skin-care/skin-care-essentials/glycolic-face-wash", "name": "glycolic-face-wash" } } ] }