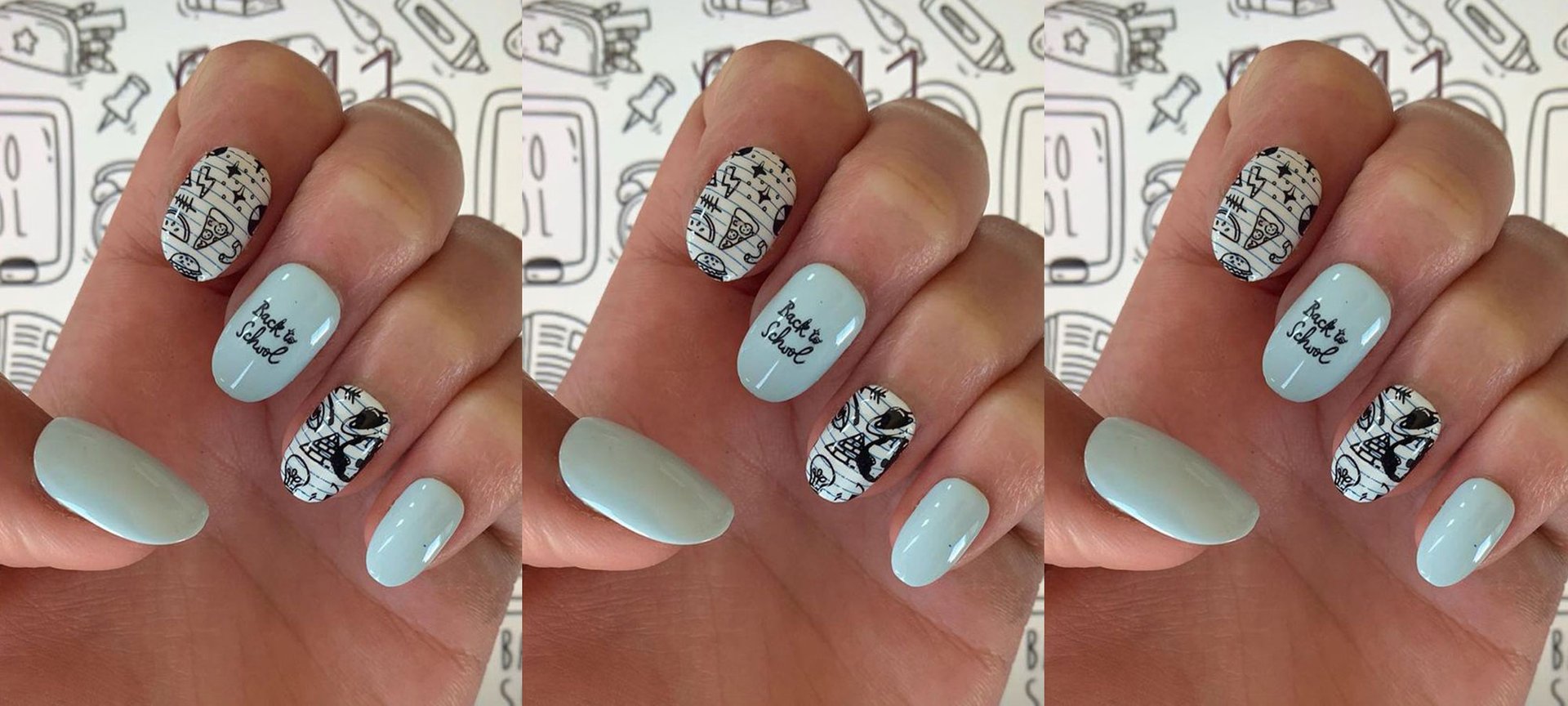 beauty trends
9 Nail Designs To Upgrade Your Back To School Look
Looks that stand out virtually and in person.
While you may be enjoying the last days of summer vacation, it's hard not to get a little excited about going back to school with the return of in-person learning. Campuses will be bustling and the hallway may become a runway once again. And with this at the front of your mind you've likely started brainstorming your back to school beauty look—even down to your nails. You're bound to spend countless hours jotting down notes, punching numbers into your calculator, and typing away on your laptop, which is why treating your nails to a manicure upgrade is a must—after all, we all spent too much time neglecting that part of our beauty routines last year. You might consider yourself a scholarly beauty lover but you're about to get schooled on some of the hottest ideas for back to school nails that will take you into this academic year in style.
1. Modern French With Neon Tips
The modern twist on the French manicure is showing no signs of slowing down when it comes to dominating our social media feeds. Since there are so many ways to mix it up with this classic, you'll never run out of ways to try it. For your back to school French manicure give your tips a bright upgrade with trending neon hues.
2. Unconventional Polka Dots
Dots serve as the foundation for so many nail art designs and polka dots is another timeless style that we continue to recreate. It's one of the reasons why we keep dotting tools (and DIY versions) handy when we create cute at-home manicures. For unconventional polka dots you may want to take a trip to the salon to have a professional complete this elevated look.
3. School Elements
Nails that include your basic school reminders, such as rulers, notebook paper and chalkboards are a cute way to welcome a new semester. The best part about this snazzy mani is that you can get the design with press on nails and nail stickers, so it'll take you just minutes to complete the set.
4. Nerdy Nails
Speaking of school elements, your favorite subjects can make for interesting nail art too. Whether you're into periodic tables, complex math equations, or coding is your thing, make your professors proud by rocking a nail design that pays homage to their life's work.
5. Apples
We can never really get enough of fruit nail art, and nothing says back to school like a shiny red apple. Fall is also the season of cider and apple picking so get in on the fun with your activities and your nails.
6. Extracurricular Activities
From soccer to football, bowling and even debate, every extracurricular activity has its appeal and you can represent your team with a cool nail set. You can even sport a different look on each nail for a great indie nail art design if you participate in several activities.
7. Yin and Yang Indie
When we think of Yin and Yang we typically draw on the idea of duality and balance—and there's no better time to draw on balanced energy than the start of a new school year. Summon the power of this ancient philosophy starting with your fingertips. Mix it up with an indie spin by painting the Yin and Yang symbols in different colors on each nail.
8. '70s Nails
After more than a year of ups and downs and unknowns you might just be ready to get psychedelic with your nails and try a pattern that represents that feeling. The '70s offered everything from lava lamps in earth tones to flashy metallic dresses and jewels, and of course, flower power prints that adorned everything. Enjoy these designs on your nails for some back to school fun that nods to this decade filled with eclectic style.
9. School Colors
What better way to get into the school spirit than by rocking your school colors or school logo? You don't need to spend a small fortune stocking up on sweatshirts and other apparel—your nails can do just the trick. Try a set in any design with your university colors or get your mascot painted onto one or more of your nails for an accent that shows off your school pride.
Next: 15 Hairstyles And Haircuts To Try For Back To School

Photo Credit: IG/@nailsbyneihamarie
Discover more tips & tricks
Keep your skin happy
See all articles
Improve your routine
Show your new look more love:
makeup