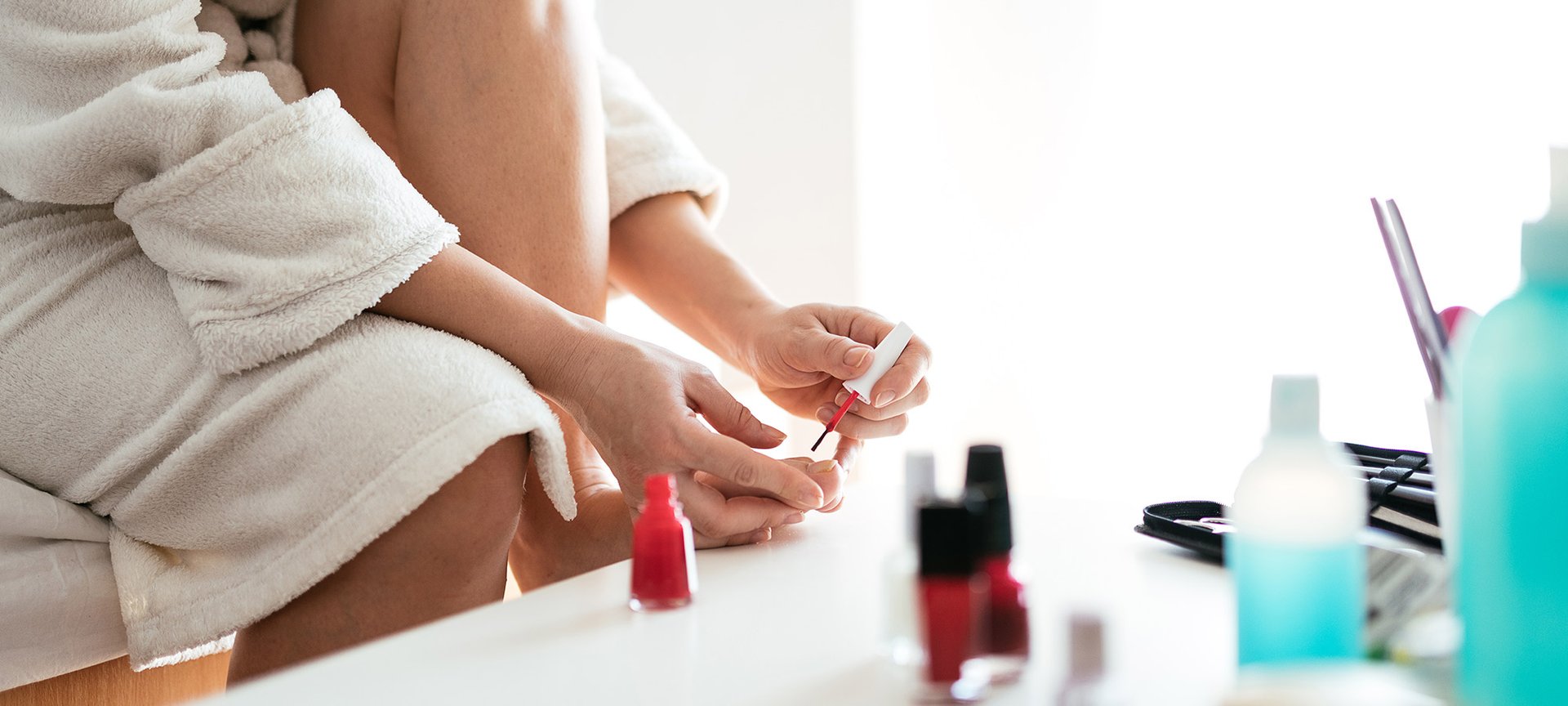 beauty looks
10 Toe Nail Art Ideas To Inspire Your Next Pedicure
Dip your toes in these designs—literally!
When it comes to raising the bar on your next pedicure, there are many toe nail design ideas to choose from. And there's no shortage of photos on social media to illustrate just how cute these designs can look on any pair of feet. But let's be honest, scrolling through countless photos of strangers' toes can be as uninspiring as it sounds—especially if other people's digits are just not your thing. Spare yourself the grid of all those little piggies and check out these design ideas that can inspire your next pedicure. Whether you opt to try them on one accent nail or on all ten toes, your feet will look so pretty you may be moved to post a foot selfie!
1. Hearts Have Eyes
We love heart nail designs, and adding eyes to those hearts feels very on-trend and high fashion. What's more, executing the design on toe nails allows for more space to make the hearts larger and the eyes pronounced. Add lashes and perfected brows if you really want to get into it. It's like your toes are greeting everyone with looks of love.
2. Crushed Metallics
Take a trip (back) into the disco era with this sparkly eye-catching nail art design. Unlike glitter nail polish, this design sports a more dramatic look—think silver or gold foil nails with texture you can feel. It's so stunning and striking, it may turn a foil fetish into a foot fetish. You've been warned!
3. Scalloped Tips
Another modern twist on the French manicure, this style transforms the classic look into an edgy, but elegant upgrade for your feet. Keep the base neutral as you would with any French manicure, and give your white (or colorful) tips scalloped shapes of different sizes. If you really want to make it funky, set some off to the side for an unexpected twist on the already twisted style.
4. Black Cherries
Let's face it, we will never get tired of fruit nail designs, and cherries have reigned as a favorite for years now. Make the design extra seasonal and opt for a deeper hue of red to mimic the look of black cherries. It's a fun fall spin on the summery, bright red and green versions we see during the warm weather months.
5. Vines
Your bathroom isn't the only thing you can deck out with some green to make it special. Whether you're a plant parent or haven't quite cultivated your green thumb, you can draw on your favorite shrubs and perennials for your next pedicure. You can even try vine outlines in matte black on a neutral base for a take on the look that's subtle and romantic.
6. Half-Plaid
The '90s are super on-trend right now, and prints from the era are finding their way onto everything, including our beauty looks — and nails are no exception. Luckily, '90s throwback plaid designs look especially stylish on toenails. Just try a half plaid design in small, busy prints (with the reminder of the toe in a solid base color), and large patterns if you want to go full toe. It has as much impact as chevron nails but with more detail.
7. Marble Ombre
Combining the marble nail trend and ombré nails, this design is understated and charming and perfect for the toes. Try it in one of fall's trendiest colors or do it up in a few different hues. It's easy to DIY if you can't make it to the salon. Just grab your favorite gel nail kit, a couple of liner brushes and some rubbing alcohol to help spread out your marble pattern.
8. Paint Splatter
For the ultimate DIY pedicure, try an artsy paint splatter design. This abstract look lets you channel your inner Pollock with polish (and sans skills). The beauty in this look is how imperfect it is so don't worry about mistakes and have fun freestyling it.
9. Argyle
Unlike '90s plaid, this toe nail design brings in more texture — think the woven winter sweater of a college professor, with raised elements. The intricate patterns might need the touch of a professional to give them that soft, embossed feel, so make an appointment with your nail tech. Choose a single color for all your toes or try different color combinations on each, making your big toe the accent.
10. Sweet Treats
Your favorite candy might be top of mind since it's trick or treat season, but there's a way to indulge in sweets without rotting your teeth. Try a pedicure that sports the chocolates, gummies or toffee of your dreams. The best part is there's no wrapper, no gooey mess, and no guilty feeling after it's all done.
Next: 5 Tips For Making Press-On Nails Look Like A Pro Manicure
Written by: Shalwah Evans, Photo Credit: iStock
Discover more tips & tricks
Keep your skin happy
See all articles
Improve your routine
Show your new look more love:
makeup