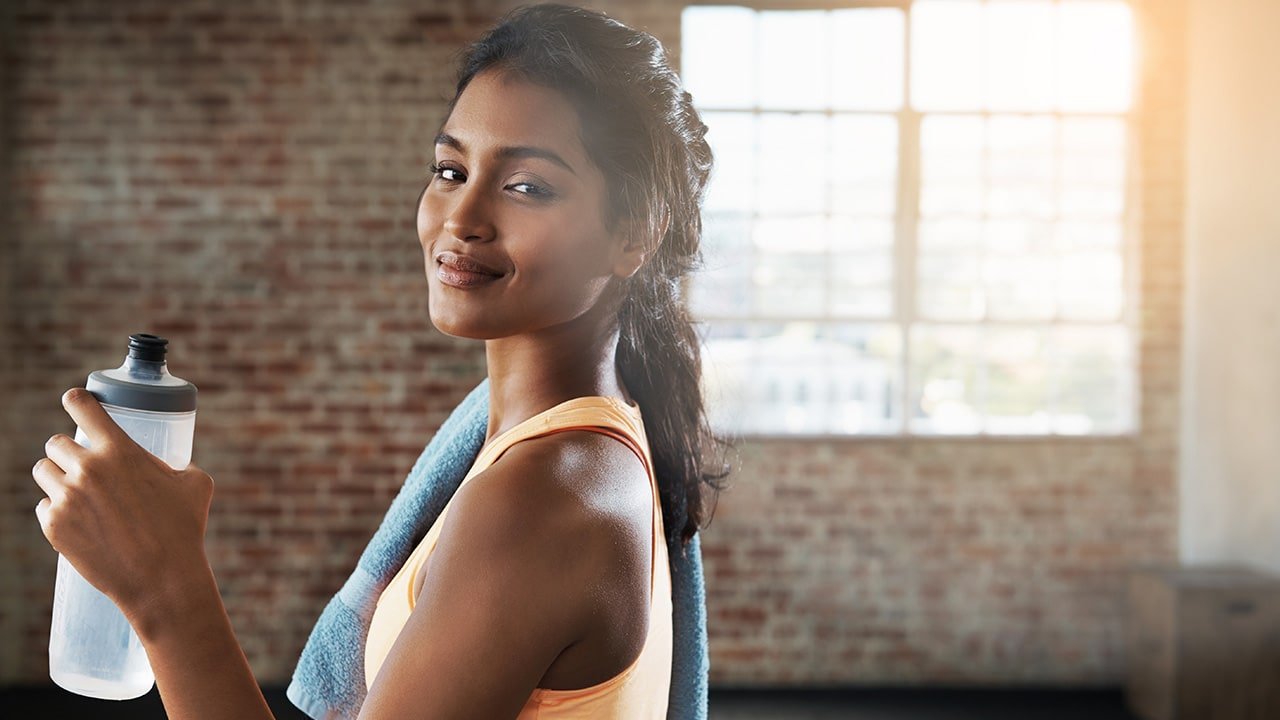 skin care essentials
The Super Simple Post-Gym Beauty Routine
Getting to the gym isn't always easy. In fact, doesn't it always feel like something comes up that prevents you from making it there? So, when you do get your sweat on, it's quite the accomplishment. But then you have to think about how you're going to ensure you look fresh and put together afterward—which can be particularly tricky if you have plans post-workout. We're here to share a super-easy post-gym beauty look—covering everything from your makeup to your hairstyle—to help you look your best after a major sweat sesh!
1. CLEANSE YOUR FACE
Even if you don't have time to rinse your entire body, opt for quickly cleansing your face in the locker room with micellar water—it doesn't require rinsing, so you'll cut down on your post-workout routine. Try the L'Oréal Paris Micellar Cleansing Water Complete Cleanser - Normal to Oily Skin, L'Oréal Paris Micellar Water Complete Cleanser - Normal to Dry Skin, or the L'Oréal Paris Micellar Cleansing Water Complete Cleanser Waterproof - All Skin Types. Simply saturate a cotton pad with the micellar water of your choice and wipe the pad across your face. Micellar water is a gentle cleansing option, as it's powered by tiny micelles—oil molecules—suspended in water that help to lift dirt, oil, and makeup up and away from the skin.
2. MOISTURIZE
Regardless of your skin type, slather on a moisturizer after cleansing. Remember: Moisturizing is one of the best things you can do to keep your complexion happy! Try the L'Oréal Paris Hydra Genius Daily Liquid Care - Normal to Oily Skin, L'Oréal Paris Hydra Genius Daily Liquid Care - Normal to Dry Skin, or the L'Oréal Paris Hydra Genius Daily Liquid Care - Extra Dry Skin, which are formulated with hyaluronic acid and aloe vera water to help provide long-lasting hydration.
3. SPRITZ ON DRY SHAMPOO
Have sweaty locks after a hard workout with no shower in sight? No problem! Toss a can of dry shampoo in your gym bag. Try the L'Oréal Paris Hair Expert Extraordinary Clay Dry Shampoo, which is formulated for fine, oily hair with three refined clays to help absorb excess oil at the roots. Hold the can six to eight inches away from your hair and spray it directly onto oily roots and lightly through the rest of your hair. (Remember to use dry shampoo in moderation and still regularly wash your hair.)
4. BRAID YOUR HAIR
Once you're done with the dry shampoo, go ahead and rock a pretty braided ponytail—the more texture your hair has, the cooler the style will look! We're fans of the side braided pony—while it's easy to create, it's anything but basic.
Get the look by following these simple steps:
Step 1: Create a French accent braid
Part your hair very far to one side. On the smaller side of your part, create a French braid from your hairline to your ends.
Step 2: Make a ponytail
Gently pull all of your hair back into a ponytail, including the braid.
Step 3: Hide your hair tie
Wrap a teeny section of hair around your hair tie to keep it hidden. And that's it—you have the hairstyle portion of your beauty look handled!
5. APPLY BB CREAM
Unless you're going home immediately post-gym, there's a good chance that you don't want to leave the locker room barefaced. Instead of reaching for a heavy foundation, opt for a lightweight BB cream, like the L'Oréal Paris Magic BB Anti-Redness (For All Skin Tones). Apply it using the L'Oréal Paris Infallible Blend Artist Foundation Blender for a seamless finish.
6. COLOR CORRECT
If there are any areas or spots on your face that you want to mask post-workout, use a color correcting concealer, like the L'Oréal Paris True Match™ Color Correcting Crayon. Apply your concealer shade of choice (peach to hide dark circles, green to hide redness, yellow to hide discoloration, or purple to hide dullness) and be sure to blend out using your makeup blender.
7. ADD MASCARA
Keep your eye makeup minimal with a simple swipe of mascara to open up your peepers. Want to make a colorful statement? Wear the L'Oréal Paris Voluminous Original Mascara in Deep Burgundy for a little pop that's seriously on-trend.
And just like that, you're ready for the office, happy hour, or anything else on your agenda! Now that you have your post-gym routine down, head over to our article, An Easy, 3-Step Pre-Gym Skin Care Routine, for its predecessor.
Discover more tips & tricks
Keep your skin happy
See all articles
Shop Featured Skin Care products
Discover More