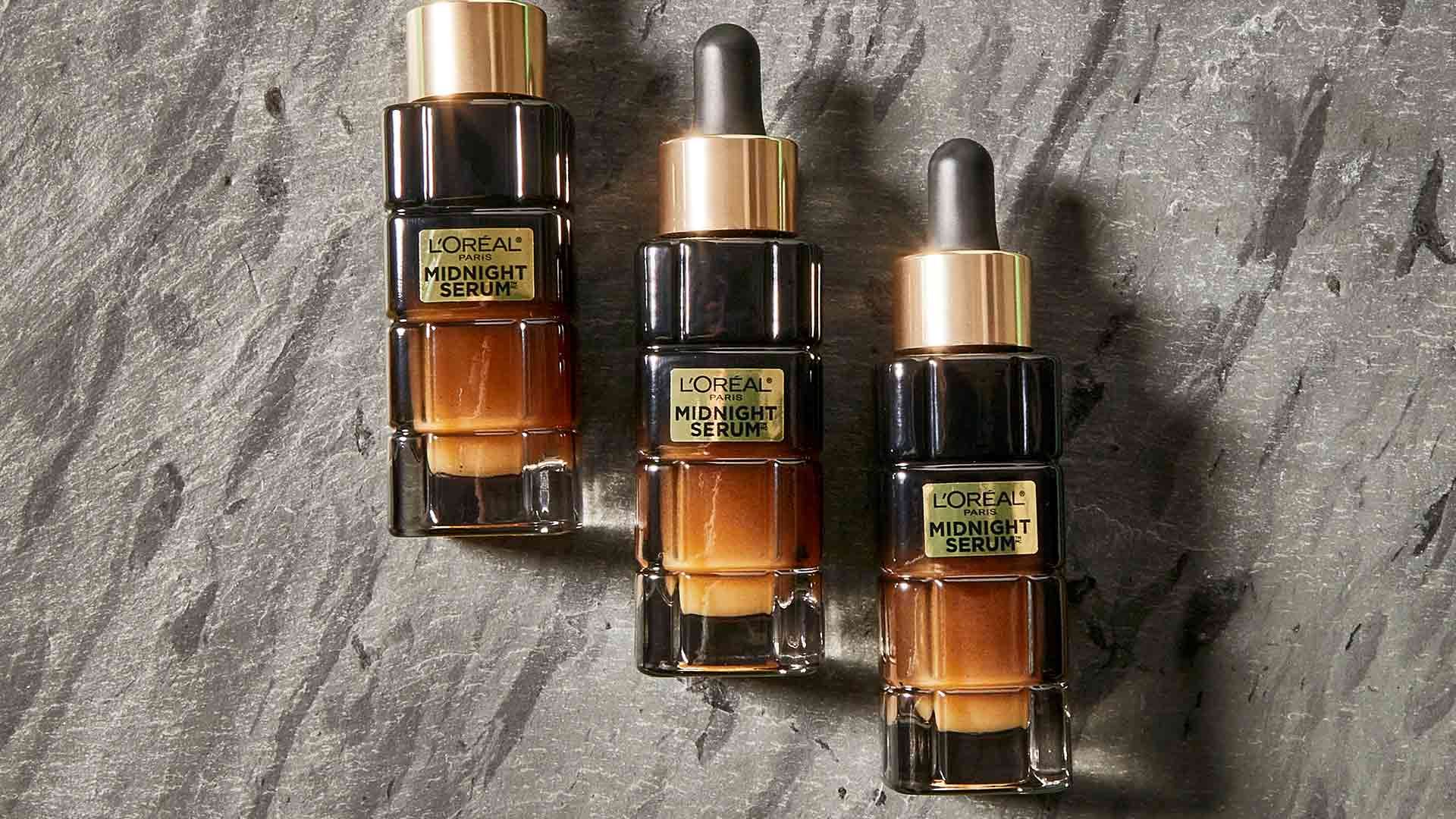 Following a skin care routine is key to keeping your skin looking its best. And one of the most essential products in that routine is a facial serum. With so many serums available it can be tricky, not to mention pricey, trying to find a serum specifically for daytime, and one tailored for your nighttime routine. That's where a day-to-night serum comes in handy. And the new L'Oréal Paris Age Perfect Cell Renewal Midnight Serum is a must-have you'll want to keep on your vanity this summer. Read on to find out more about this day-to-night serum, complete with benefits and a guide on how to use it to keep your skin healthy and youthful-looking.
The Benefits Of Midnight Serum
Facial serums are typically known for having potent doses of active and good-for-you skin care ingredients such as vitamins C and E. However, many of them tend to be specifically formulated for either day or nighttime use, which means you still need to stock up on another serum. Although the name might make you think otherwise, the L'Oréal Paris Age Perfect Cell Renewal Midnight Serum is designed to be used in the morning and evening, providing twice the amount of antioxidants that help protect the skin. Its ingredients include an exclusive L'Oréal patented antioxidant recovery complex, which works to reinforce the skin's moisture barrier. Each drop of this lightweight serum helps to give the skin intense hydration while leaving it feeling soft. The formula also quickly absorbs into the skin and won't clog pores or leave behind any sticky residue.
Using the midnight serum during the day will help give your skin the protection it needs. The antioxidants in the formula will work to block out and shield the skin from the sun's harmful rays and other external aggressors like pollution and smoke. At night the skin enters a resting mode, where it will work to generate new cells and repair damage. And since there are fewer aggressors while you sleep (no sunlight and less pollution inside), the skin has more time to focus on repairing itself without having to deal with any outside factors. The antioxidant recovery complex will also help replenish the skin's antioxidant levels (which boost the skin's renewal process overnight), smooth out wrinkles, and lock in moisture thanks to its dose of hyaluronic acid.
With continued use, you'll begin to notice a softer, visibly younger, more radiant-looking complexion.
How To Add Midnight Serum Into Your Skin Care Routine
Not only does the L'Oréal Paris Age Perfect Cell Renewal Midnight Serum work to hydrate the skin, but it also brightens your complexion. The formula offers other anti-aging benefits such as smoothing out wrinkles and improving firmness in the skin, making it a must-have year-round. Adding it to your daytime and nighttime skin care regimen is as easy as following the steps below.
Step 1. Cleanse Your Skin
It's important to cleanse your skin twice daily to get rid of impurities like oil, dirt, and makeup. Use the L'Oréal Paris Age Perfect Nourishing Cream Cleanser, formulated to cleanse the skin without over-drying. Wet your skin with water first and then lather the formula into your hands. Massage it into the skin with gentle circular motions, then rinse thoroughly.
Step 2. Apply The Midnight Serum
After cleansing the skin, follow up with the L'Oréal Paris Age Perfect Cell Renewal Midnight Serum. Apply three to four drops of the serum into your hands and massage it gently into the skin—in the morning, use it as a preventative measure to help your skin defend itself from daily aggressors like the sun and pollution. And at night you can use it as a repair treatment to correct and repair any damage created during the day by external aggressors like the sun and pollution. The antioxidants in the formula will also work to replenish the skin's antioxidant reservoirs helping to boost its natural repair process.
Step 3. Moisturize Your Skin
During the day, follow up with a moisturizer such as the L'Oréal Paris Age Perfect Rosy Tone Broad Spectrum SPF 30 Sunscreen. This ultra-hydrating cream is infused with imperial peony extract and LHA to instantly revive skin's rosy tone while protecting it from the sun's rays with SPF 30. At night, reach for the L'Oréal Paris Rosy Tone Cooling Night Moisturizer to seal in moisture and prevent any overnight dryness. Its formula absorbs quickly, instantly cools the skin, and provides lasting hydration with a non-greasy feel.
Editor's Note: The L'Oréal Paris Age Perfect Cell Renewal Midnight Serum also has a versatile texture that allows it to layer nicely under your moisturizer and makeup. So no need to worry about any weird lumps or pilling.
Next: 4 Must-Have Anti-Aging Creams and Moisturizers


Photo Credit: Photography: Matthew Zach, Senior Art Director: Melissa San Vicente-Landestoy, Associate Creative Producer: Becca Solovay
{ "@context": "https://schema.org/", "@type": "WebPage", "speakable": { "@type": "SpeakableSpecification", "cssSelector": ["speakable-content"] }, "url": "https://www.lorealparisusa.com/beauty-magazine/skin-care/skin-care-essentials/cell-renewal-midnight-serum" }
Discover more tips & tricks
Keep your skin happy
See all articles
Shop Featured products
Discover More
{ "@context": "http://schema.org", "@type": "BreadcrumbList", "itemListElement": [ { "@type":"ListItem", "position": 1, "item": { "@id": "/", "name": "Home" } } , { "@type":"ListItem", "position": 2, "item": { "@id": "https://www.lorealparisusa.com/beauty-magazine", "name": "Beauty Magazine" } } , { "@type":"ListItem", "position": 3, "item": { "@id": "https://www.lorealparisusa.com/beauty-magazine/skin-care", "name": "Skin Care For Every Age" } } , { "@type":"ListItem", "position": 4, "item": { "@id": "https://www.lorealparisusa.com/beauty-magazine/skin-care/skin-care-essentials", "name": "Skin Care Essentials" } } , { "@type":"ListItem", "position": 5, "item": { "@id": "https://www.lorealparisusa.com/beauty-magazine/skin-care/skin-care-essentials/cell-renewal-midnight-serum", "name": "cell-renewal-midnight-serum" } } ] }