skin care essentials
How to Get Beautiful Skin Before Thanksgiving Dinner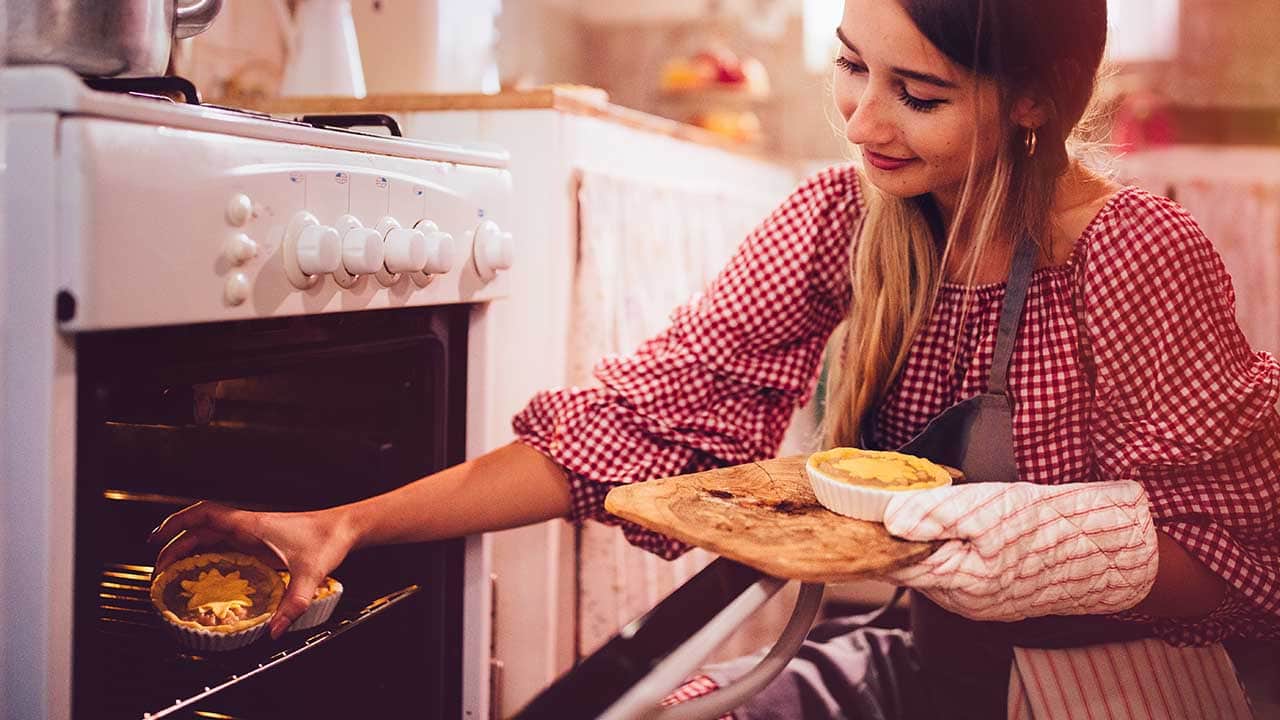 You might be equipped with the perfect recipe for a delicious turkey and have a few gorgeous gourds at the ready for your tablescape, but is your skin equally as prepared for this Thanksgiving? Utilize your time in the kitchen wisely by addressing your skin concerns and doing part of your skin care routine while you prepare your meal. By incorporating a few smart skin care products into your routine, you can be glowing, with beautiful skin, by turkey time. You're likely going to spend the whole day, or more, getting your meal together, so be sure to squeeze in a little space to get yourself ready too—you deserve it!
THANKSGIVING SKIN CARE PREP #1: START FRESH WITH MICELLAR WATER
You might have built up a sweat while chopping, brining, and baking all your festive food favorites, so avoid going right to applying your makeup when you start to get yourself ready for dinner. Instead, focus on preparing your skin for the night ahead. With the help of micellar water, wash away surface dirt, oil, and sweat that may have accumulated while you were cooking up a storm. Micellar water offers a hydrating way to cleanse skin, thanks to its moisturizing properties, which makes it a well-suited match for skin that is dry from spending hours in a hot kitchen. Simply moisten a cotton pad with a few drops of micellar water, wipe it across your skin and let it air-dry—you'll have clean skin in no time. Try the L'Oréal Paris Micellar Cleansing Water Complete Cleanser Waterproof - All Skin Types.
THANKSGIVING SKIN CARE PREP #2: EXFOLIATE WITH A GLYCOLIC ACID PEEL PAD
Help remove dry, dead skin cells from skin's surface; they could be covering up your skin's natural glow. It only takes a minute or two to swipe a pre-soaked chemical exfoliating peel pad across your forehead, nose, and chin. Alpha hydroxy acids, like glycolic acid, can work to put an end to flaky, dull skin cells and reveal the younger, brighter-looking skin that was buried underneath. Use the L'Oréal Paris RevitaLift Bright Reveal Brightening Daily Peel Pads for fresh, smooth skin.
THANKSGIVING SKIN CARE PREP #3: APPLY A FACE MASK
If there's one thing we know about Thanksgiving, it's that there is plenty of delicious comfort food to be had. Now, to really ramp up your beautiful skin potential, apply a face mask that gives your skin that same level of comfort. Apply the L'Oréal Paris Pure-Clay Clear & Comfort Face Mask Clear & Comfort, then let it rest on your skin for ten to fifteen minutes while you continue your meal prep, whether that's slicing up some veggies or filling your pie with apples. Then rinse it away with a lukewarm washcloth.
THANKSGIVING SKIN CARE PREP #4: MOISTURIZE FOR GLOWING SKIN
Promote the look of a luminous glow with a hydrating face serum and cream. First apply a lightweight hydrating serum, like the L'Oréal Paris RevitaLift Derm Intensives 1.5% Pure Hyaluronic Acid Serum. Then, for max moisture, layer your face cream over top. Try one that's formulated with antioxidants and helps boost skin's natural look of radiance. The L'Oréal Paris Age Perfect Hydra Nutrition Manuka Honey Day Cream fits the bill. Use gentle, upward motions when applying your moisturizing and hydrating skin care products. If you want to promote the look of even more nourished, glowing skin, apply a few drops of facial oil to your cheekbones. The luminous skin care product can act as a highlighter, attracting light to any areas of your skin where you apply it.
THANKSGIVING SKIN CARE PREP #5: ADDRESS DRY HANDS CAUSED BY KITCHEN CLEAN-UP
Once all the pots and pans have been rinsed and dishes are washed, treat your hands to a super moisturizing balm, like the L'Oréal Paris Age Perfect Hydra Nutrition Manuka Honey All Over Balm - Face/Neck/Chest/Hands. This all-over balm can be used on your face, neck, chest, and hands to provide soothing moisture for mature, very dry skin. We have a feeling you'll need it!
THANKSGIVING SKIN CARE PREP #6: PROTECT YOUR SKIN
You'll be spending a good portion of the day cooped up in the kitchen, but we bet there will be a last-minute errand that sends you outdoors. That's why it's a must to remember sunscreen. Either layer a sunscreen over your moisturizer or opt for a moisturizer that's formulated with broad-spectrum sunscreen. Even if the air is a little chilly and the sky a bit cloudy, the sun's harmful rays can still reach and negatively impact your skin. Foster and maintain your most beautiful skin so that you can look and feel your best when it's time to finally carve that turkey. You won't only be receiving compliments on your delicious meal but on your beautiful skin too.
For more Thanksgiving-inspired beauty advice, read our article, 6 Beauty Products We're Thankful For.
Discover more tips & tricks
Keep your skin happy
See all articles
Shop Featured Skin Care products
Discover More