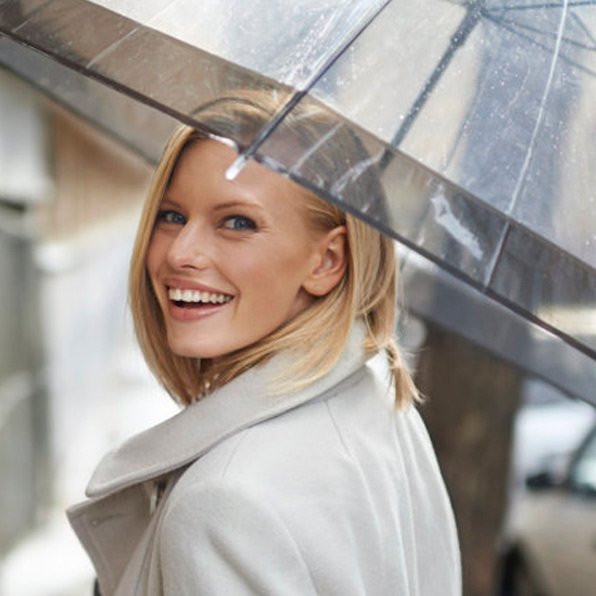 makeup looks
7 Rainy Day Beauty Rules
We know that April showers bring more than May flowers. Think: runny makeup and frizzy hair—lots and lots of frizz. But this spring, we won't let inclement weather keep us from looking gorgeous. We've done some intense research on the subject, and turns out, there is a lot you can do to prepare for drizzly days. Here are seven ways to keep your beauty game on point during the often wet, but blissfully warm, season.
1. Get Creative With Eyeliner
While you can rock a smoky-eye look any season, it's tough to touch up on the go (something you should always be ready to do when rain is on the forecast). Eyeliner, especially a brightly colored pencil, has the same wow-factor plus fits in any bag from a work tote to a night-out clutch.
2. Choose Long-Wear Lipstick
If you're only planning to swap out one of your beauty routine regulars for this savvy weatherproof list, make this switch. Nothing pulls a look together like the perfect pout. So, you want lipstick that will hold up from coffee until cocktails—rain or shine.
3. Apply Slip-Proof Foundation
Pick a foundation that can withstand springtime humidity. Look for lightweight, long-wear formulas with a shine-free matte finish, which prevents skin from looking oily. Bonus: lightweight formulas let your skin breathe.
4. Mist Your Makeup
Like a nail polish topcoat or hairspray that seals in your style, no makeup look is complete without makeup setting spray. Think of it as the finishing touch for your face. And while we know it's a bit scary to spray your face after creating a flawless cat eye, setting spray is sheer, so it won't change the color or texture of your look. In fact, it helps keep your application looking spotless for much longer.
5. Use Straightening Shampoo
Even if the natural texture of your hair is relatively straight, a hint of humidity can cause frizz. Give your hair an advantage by showering with a shampoo that helps you achieve straighter strands. Then hit your hair with a flatiron to secure ultra-sleek style.
6. Lock in Your Curls
If you have naturally curly hair, embrace the fabulous, and focus your energy on tackling frizz. Use your fingers to apply frizz-taming serum to damp hair, which helps lock in moisture and keep out humidity. The result is natural curls that look lush, hydrated and puff-free. Top off your final look with a weather control hairspray.
7. Opt for Waterproof Mascara
Runny mascara selfies no more. For the love of lashes, reach for the most classic rainy day makeup that fits any beauty routine: waterproof mascara.
Discover more tips & tricks
Keep your skin happy
See all articles
Shop Featured products
Discover More