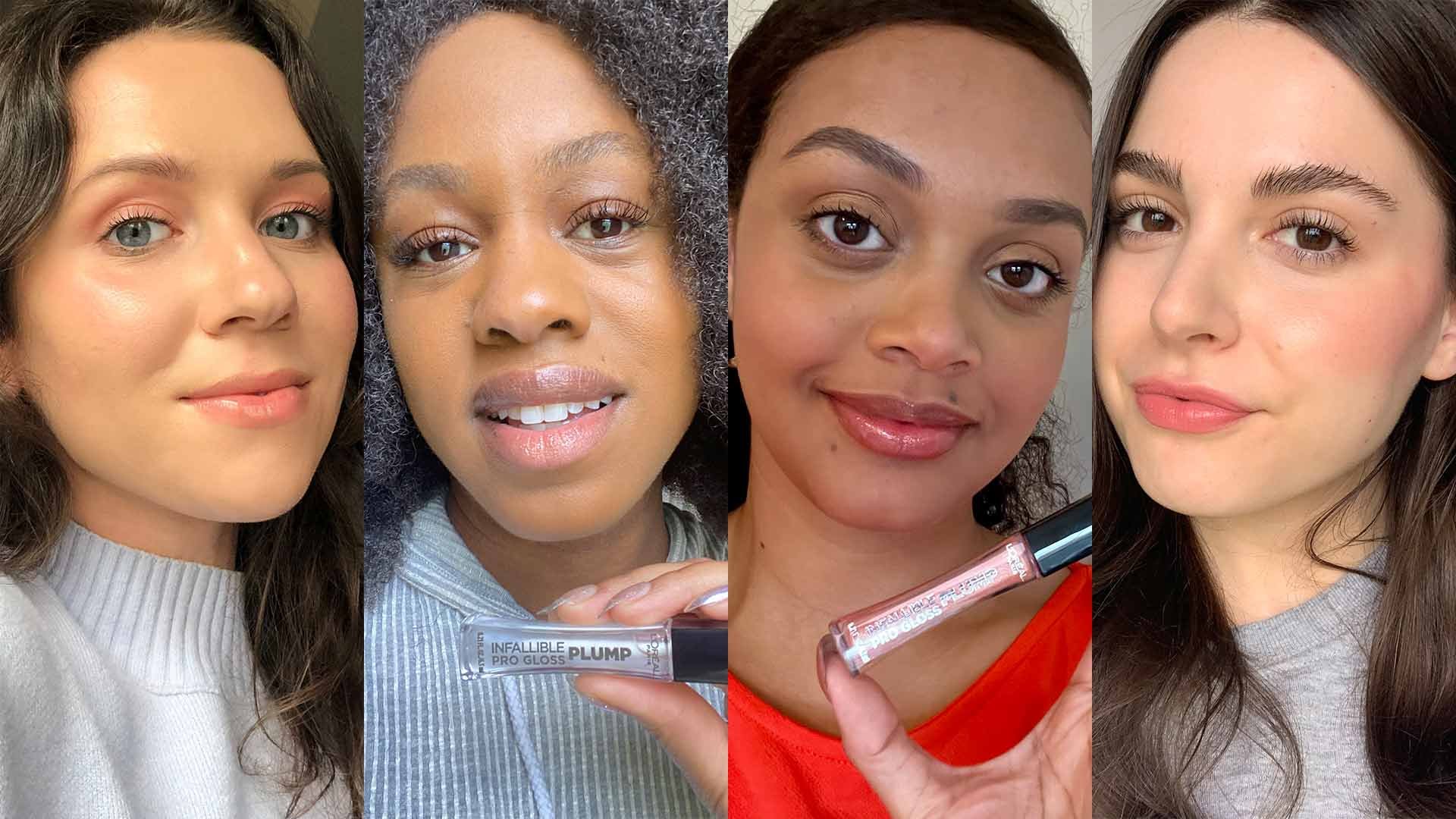 lip makeup
5 Editors Put The L'Oréal Paris Infallible Pro Gloss Plump To The Test
We're seeing more and more plumped-up glossy lips making an appearance on our social media feeds, and if you're anything like us, this likely has you wanting to pick up a new tube ASAP. However, with so many plumping lip gloss formulas available, it can get tricky trying to pick out the right one for you. So, allow us to introduce you to the L'Oréal Paris Infallible Pro Gloss Plump for all your glossy lip plumping needs. This lightweight gloss provides sheer coverage and instant hydration thanks to its dose of hyaluronic acid. To give you a better understanding of this product, we're sharing the thoughts of five beauty editors who put this pro gloss plump to the test and can't get enough of it. Read on to learn why this L'Oréal Paris lippie is a summer beauty must-have.
Shauna, Shade: Lucid Glow
Lip glosses have glowed up a whole lot over the years and for that, I am grateful—especially since glossy lips are always a part of my makeup routine. And after testing out this new Pro Gloss Plump in the shade Lucid Glow, I was instantly hooked. This lip gloss provides shine like no other and this specific hue has a light pink base with golden shimmery flecks that work both on bare lips or over lipstick. I also like that the plumping formula did not cause any burning sensations (like I've experienced with other plumping glosses), instead, my pout looked more full and felt hydrated. I will definitely be adding a few more shimmery shades to my shopping cart!
Alyssa, Shade: Moonlit Rose
I love a good glossy lip, so I'm always on the hunt for new shades and formulas. This gorgeous rosy shade is the perfect year-round pink that would be flattering on many skin tones. When first applying this gloss, I noticed how smooth and balm-like it felt while providing excellent color payoff and a shiny finish.
Caitlyn:, Shade: Nude Twinkle
I'm a lip gloss fanatic, so I jump at the opportunity whenever I get the chance to test a new formula. After getting my hands on the Pro Gloss Plump in the shade Nude Twinkle. I dabbed it on my lips using the angled applicator. I was blown away by how easily (and precisely!) it painted color onto my lips—making application on my pointy cupid's bow a breeze. Within seconds, my lips looked plumper and more full. You can bet I'll be adding this shimmery gloss to my beauty bag this summer.
Alanna, Shade,: Sunlit Shimmer
I love a bronzy, plump lip look for summer, so I was stoked to give this new formula a try. The first time I gave it a go, I immediately loved how lightweight and non-sticky it felt on my lips. It's very hydrating as well, so it won't make your lips feel chapped or dry throughout the day. The color blew me away too—it's the ultimate shiny bronze that looks like liquid metal on your mouth. I cannot wait to reach for this one all summer long—it's hard to beat!
Shalwah, Shade,: Mirror
I'm a huge lipstick lover but lately I've been skipping it after too many instances where I've removed my protective face mask and was left with lipstick all over my cheeks and nose. This gloss has turned out to be the perfect alternative. It pairs so well with my subtle, skinimalist makeup style and it doesn't leave a mess all over my face (or face mask). I love how smooth it is and the cooling sensation of the plumping agent feels amazing on a hot day. My favorite shade is mirror because I can wear it solo to enhance my natural lips or layer it over my favorite lipstick when I'm ready for a post-vaccination glam pick-me-up.
Photo Credit: Caitlyn Martyn, Shauna Beni, Alyssa Kaplan
Discover more tips & tricks
Keep your skin happy
See all articles