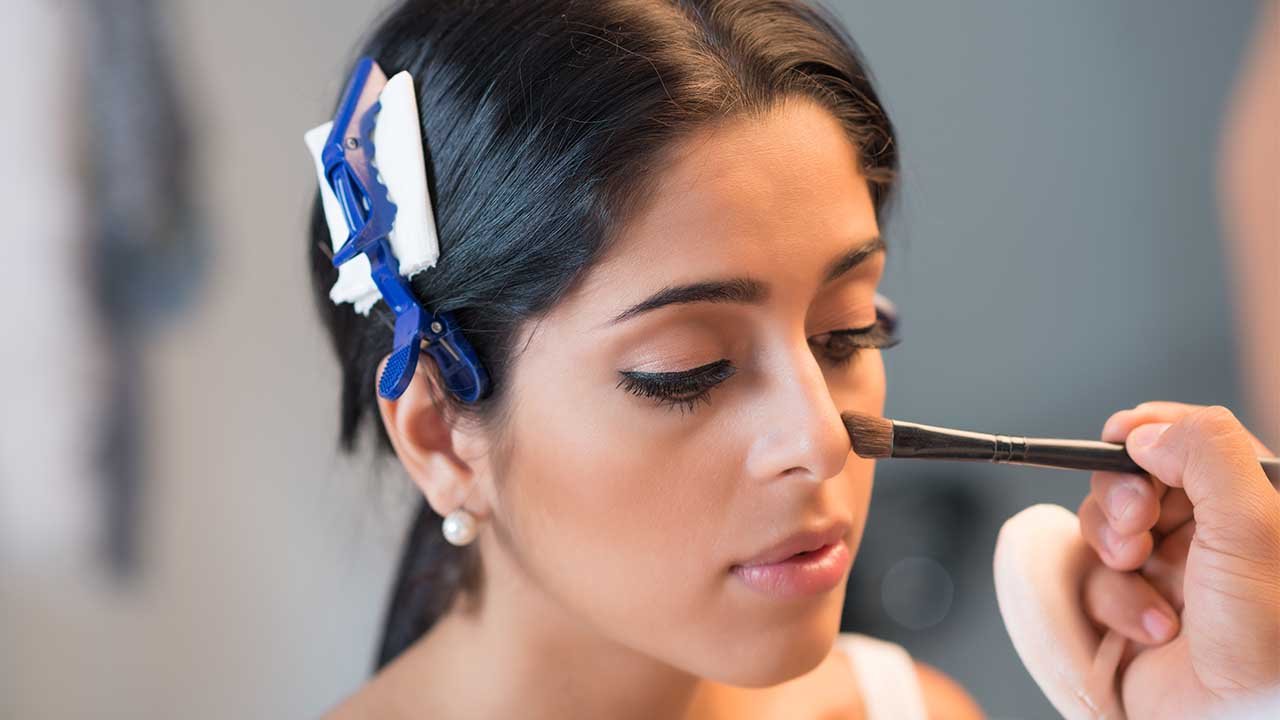 face makeup
How to Contour Your Nose and Make It Look Smaller
If you've ever looked in the mirror and wondered how to make your nose smaller, know that there are steps you can take for your reflection to receive your seal of approval. While you can't change the shape of your nose with the snap of your fingers, you can use makeup to alter its appearance temporarily. Yep, you can make your nose look smaller by expertly wielding a nose contour brush and makeup blenders. For real, the perfect nose contour and highlight can make all the difference! Stay tuned for a step-by-step tutorial on how to contour your nose and a few additional tricks for changing the look of your nose with makeup. Just remember, your nose will look gorgeous whether you decide to contour it or not!
HOW TO MAKE YOUR NOSE LOOK SMALLER WITH MAKEUP
Want to make your nose look smaller? Follow these nose contour tips to do so temporarily.
STEP #1: PREP YOUR FACE
Before you start contouring, create a base by applying your favorite foundation and concealer.
STEP #2: HIGHLIGHT
You can help reshape the look of your nose with a bright highlight. Using a creamy highlighter that isn't too shimmery, draw a line directly down the center of your nose, then blend out with your fingertip. Try using the L'Oréal Paris Infallible Longwear Highlighter Shaping Sticks to achieve your ideal illumination. Available in two hues, pick the shade that best suits your skin tone.
STEP #3: CONTOUR
Start with a cream contour color, picking your perfect shade from the L'Oréal Paris Infallible Total Cover Concealing and Contour Kit, or blend and mix multiple hues together to create a custom color. In addition to providing coverage, the palette is perfect for transforming the look of your nose. Dip a thin nose contour brush (or any small contour brush) into a color that's one to two shades darker than your skin tone and paint a line on either side of your nose. The closer together you place the lines, the thinner your nose will look. It may be tempting to leave barely any space between the two lines, but keep in mind that it won't make for a very natural look. Once you're happy with your work, use the L'Oréal Paris Infallible Blend Artist Foundation Blender to bounce and blend the lines out. The sponge will help soften your contour and prevent it from looking overly harsh.
STEP #4: SET WITH POWDER
To keep your contour and highlight in place, sweep the L'Oréal Paris Infallible Pro-Sweep & Lock Loose Setting Face Powder over your nose.
STEP #5: SCULPT YOUR CHEEKS AND TEMPLES, TOO
Why stop at contouring your nose? The best way to create balance is to use the same products and colors to shade other spots. Start by contouring your forehead and cheekbones. Follow with an illuminator, applying it above your cheekbones and cupid's bow to help give your complexion a radiant glow.
HOW TO MAKE YOUR NOSE LOOK THICKER
If you're in search of nose slimming tricks and tips, it's probably hard to imagine that there are people out there actually trying to make the bridge of their nose appear thicker—but it totally happens! If you want your nose to look more substantial, all it takes is making a simple adjustment to the aforementioned steps. Here's what to do: Place the lines of your contour further apart and fill in the space in-between with highlighter. The larger the highlighted space, the wider your nose will seem.
HOW TO MAKE YOUR NOSE LOOK STRAIGHTER
The steps for achieving a straighter look are, again, similar to the ones used to slim the look of your nose. The major difference is that instead of drawing lines that follow the shape of your nose, you'll want to draw two straight lines that ignore your nose's actual shape. For your highlight, stick with a reflective illuminator that will draw attention (and light) away from the uneven shape of your nose.
HOW TO MAKE YOUR NOSE LOOK SHORTER
This might sound crazy, but hear us out: You can shorten the look of your nose with a little contour powder. Use a concealer brush to place the powder on the tip of your nose, going around the curves of your nostrils. Darkening the end of your nose can help visually raise the tip for a shorter appearance.
HOW TO MAKE YOUR NOSE LOOK LONGER
On the flipside, if you'd like your nose to look longer, that's possible, too. Instead of darkening the tip of your nose, add a highlight. Try a powder with a pretty shimmer finish, like the L'Oréal Paris True Match™ Lumi Powder Glow Illuminator. With a blending brush, dust the powder onto your nose as if punctuating its tip.
Want more makeup tricks? Read our article on How to Make Your Eyes Look Closer Together with Makeup and everyone will start to wonder whether you're some sort of makeup magician.
Discover more tips & tricks
Keep your skin happy
See all articles
Shop Featured Makeup products
Discover More